Fukuoka one-day tour
Fukuoka-city is the Heart of Kyushu
Fukuoka-city is the biggest city in Kyushu and the energetic city bustling as the center of Kyushu's
politics, economy, culture, fashion as well as tourism. Fukuoka-city has many kind of fascinating
tourist attractions and abundant tourism materials which are different from the other destinations
in Kyushu. For this tour, we take you to historical places and local traditional areas for introducing
the real Japan.
---
 Location of Fukuoka-city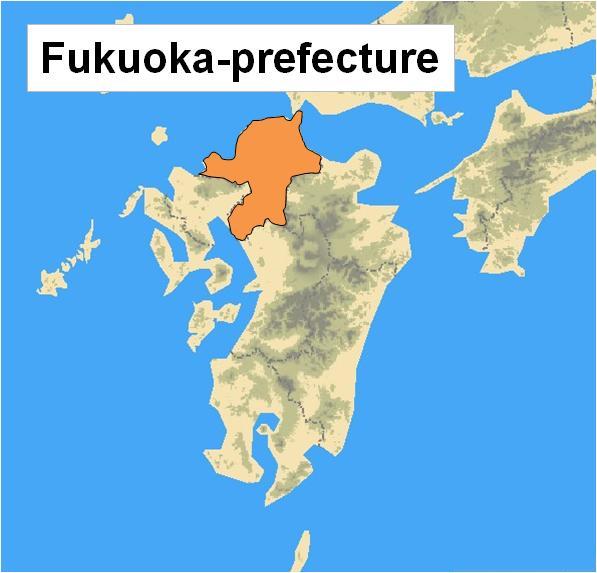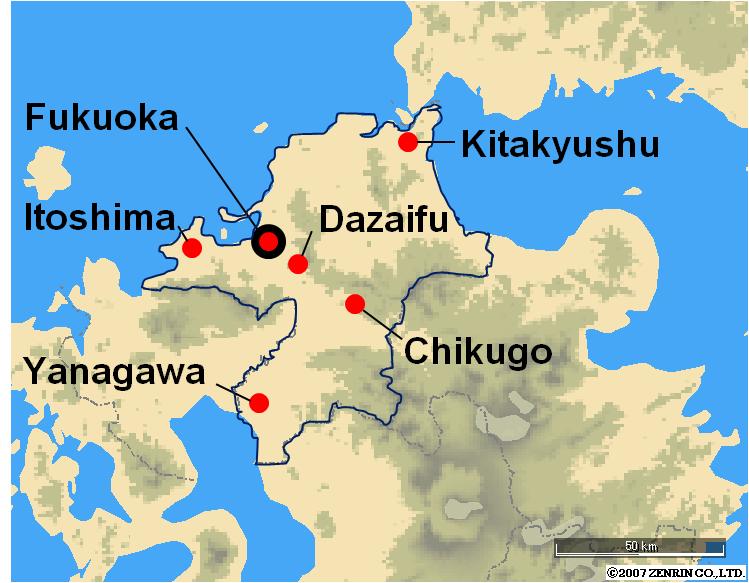 ---
Tour condition 
The tour is the private tour exclusively for your group.
・Minimum number : 4 person
・Maxum number : 30 person
・Start and end of the tour is 

Fukuoka–city

, please specify the place where you want
・Tour date : please specify the date
・English, Chinese or Korean speaking guide is accompanied
・Chartered vehicle is utilized such as a taxi or bus as per number of person
    if you use a taxi, a foreign language (English, Chainese or Korean ) speaking driver
    can be arranged.    
---
Itinerary  
9:00 depart the Hotel in Fukuoka-city
Exploring Kawabata-dori Shopping Street and lunch at birth place of Nagahama Ramen
Yusentei Garden, enjoy tea ceremony
16:00 Arrive the Hotel in Fukuoka-city
---
Where to explore
Kushida Shrine
The most exciting summer festival in Kyushu, Hakata Gion Yamagasa is held in the shrine
in July. The tall Kazari Yamakasa, a luxuriously decorated float, is always displayed. 
The float was constructed without using even a single nail.
---
It is a folk museum depicts the life and culture of Hakata Fukuoka. Exhibition hall, many faces 
and facets of the Hakata way of life can be found, Machiya hall, is a superb example of traditional
architecture and has been moved here and restored to provide a glimpse into  the past.
---
The Temple was founded in 806 by Kobo-daishi Kukai and it is the oldest temple of the Shingon
sect in Japan that  Kobo-daishi set up. The Fukuoka Daibutsu called Great Buddha of Fukuoka
completed in 1993 stands 10.8 meters tall and is the largest seated wooden image of Buddha in Japan.
---
Japanese traditional Shopping Street where you can find a lot of Cool Japan.
​Enjoy lunch, Hakata Ramen at the birth place of Nagahama Ramen.
---
Fukuoka castle, was built in 1601.  Part of stone wall and canal, and the Tamon tower are still
left intact as they were back then. There is also a nice view of the city from the former main
Parts of the castle's former moats were used to construct nearby Ohori koen Park.
---
The Japanese traditional Garden; it was originally built in the 1754 for Kuroda Tsugutaka who was
the lord of Fukuoka clan. You can feel Japanese traditional cultures and enjoy Tea Ceremony.
---
Should you need further information please feel free to contact us.
Your equiry can be sent by selecting the Enquiry Form link below.
You can also contact us by e-mail at info@japan-kyushu-tourist.com
Tel :  +81-93-521-8897, Fax :  +81-93-521-8898
Address :  AIM buiding 6th floor, 3-8-1 Asano, Kokura-kitaku, Kitakyushu-city, Fukuoka-prefecture 
---
Tour results
We are offering various types of tours, and the tour results up to now are shown links below.
Tailor-made tour      Study tour       Golf tour 
---