Aso travel guide
Aso region is one of the most popular tourist destination in Kyushu.
The world's largest caldera and the active volcano give a lot of excitements.
And numerous unforgettable experiences in the rural area can be mede including Onsen,
variety of sports and local cuisines.
---
Where to explore
The largest active volcano in Japan
Its peak is 1592 m above sea level. Its caldera is 25 km across north to south and 18 km 
across east to west. The caldera has a circumference of around 120 km, although sources
vary on the exact distance
| | | |
| --- | --- | --- |
|  Japan's largest active volcano |  Look down the Crater |  Around the Crater |
|   | | |
---
The beautiful prairie of 785,000 square meter in the crater
Spreads in northern part of Mt. Eboshi that is one of the Aso Five Mountains.
A big pond at its center and grazing horses round about make an idyllic scene
---
The perfect spot view the five peak of Mount Aso 
Daikanbo literally means a big observatory peak.
The circumference of the Aso caldera is about 130 kilometers. From the observation site,
you can clearly see its conical shape
---
---
---
Tourist Tram  Minami Aso Rail Way
Enjoy the magnificent scenery of Aso
The Minami Aso railway is a private railroad offering a very scenic ride from Takamori to
Nakamatsu in the south east of the caldera.
Lovely and magnificent scenery can be enjoyed.
| | | |
| --- | --- | --- |
| | |   |
---
Featured restaurant / Takamori Dengaku-no sato 
Enjoy Aso beef and local cuisines  
The restaurant uses the old private house with thatched roof built more than 200 years ago.
Bake the meat and local ingredients with charcoal at a Japanese traditional style fire place.
---
Enjoy short trekking in the Nature.
Kikuchi Valley is located in Aso Kuju National Park and underground water flows out of the
subsoil for 4km along the valley floor.  It is also called the Kikuchi water source and its water
was selected as one of the 100 best waters in Japan
---
                 Location of Aso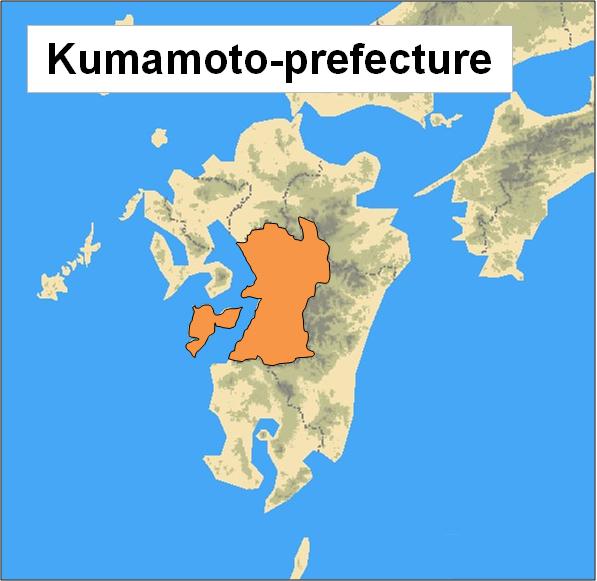 ---
General information
Address

City hall : 504-1 Miyaji, Ichinomiya, Aso-city, Kumamoto-prefecture

Access

70 minutes by a vehicle from Kumamoto-city

70 minutes by a vehicle from Takachiho

140 minutes by a vehicle from Fukuoka-city

Population

234,000   Population density 540
---