Yanagawa
A beautiful canal town Yanagawa
Canal boat cruise can be enjoyed while experience the atmospheres of Japanese castle town
and rural Japanese  life style. The estuary town facing the Ariake Sea through the Chikugo
River and Yabe River. 
People started to live here since ancient times and the agriculture and fishery have been 
engaged in by making Horiwari literary means the artificial canal. Surprisingly, 60km lengh
canal in total was constructed in the town of Yanagawa and the Yanagawa prospered as a 
castle town because the canals were used for the moats, which was the protection of enemy
during Edo period.
---
Yanagawa Canal boat cruise is to board a small boat called the Donkobune and slowly 
go down the river skillfully maneuvered by a boatman with bamboo pole.
| | | |
| --- | --- | --- |
| | | |
---
Listed on National Scenic Landmark, was built in 1697 as the villa of the Fourth Lord
Tachibana Akitora. At that time the region was called Hanabatake (Field of flower), so
the villa was named Ohana or Flower.
---
Birthplace of Hakushu Kitahara
Yanagawa is the birthplace of renown poet Hakushu Kitahara, whose accomplishments 
are marked by a memorial park and the many stone monuments bearing his works placed
throughout the city
---
| | | |
| --- | --- | --- |
| Local Market |   |   |
|      Taraditional local market |       Vegetables & fruits |      Ariake bay fishes |
---
| | | |
| --- | --- | --- |
| Local Cuisines |   |   |
|      Local restaurant |         Eel cuisine |    Ariake bay Sea food |
---
The festival is held from February 11 through April 3 in Yanagawa. Hina dolls are displayed by families
with girls to pray for safe growth of their children, in Yanagawa
---
             Location of Yanagawa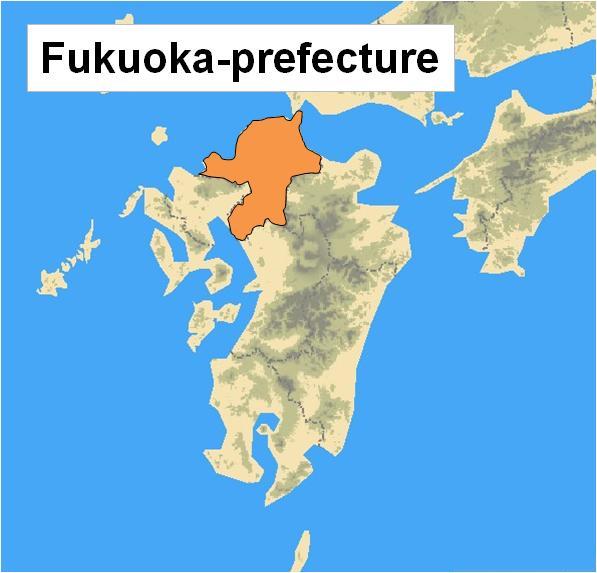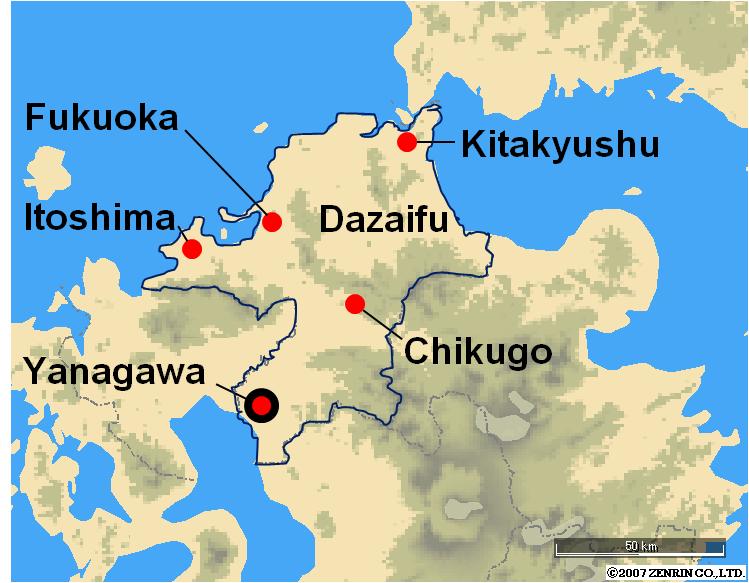 ---
General information
Address

City hall : 87-1 Honmachi, Yanagawa-city, Fukuoka-prefecture

Access

70 minutes by a vehicle from Dazaifu

80 minutes by a vehicle from Fukuoka-city

110 minutes by a vehicle from Kitakyushu-city

50 minutes by Nishitetsu train from Nishitetsu Tenjin (Fukuoka)

Transportation

Nishitetsu train

Population

66,000   Population density 850