Kyushu Tours
Kyushu is the destination like a Treasure Chest of Japan
Japan KYUSHU Tourist has prepared various Tours and welcome your visit to Kyushu.
We are offering Tailor-made tour exclusively for you.
Your own tour can be planned based on your purpose and interest of journey.   
---
Exploring Kyushu Tours
The itinerary is covered featured

destinations and must see

places throughout Kyushu

Saga, Nagasaki, Shimabara,

Unzen, Kumamoto, Aso,

Yufuin, Beppu, Kitakyushu

Kagoshima, Chiran, Ibusuki, Nichinan, Miyazaki, Huga, Takachiho
---
Saga, Nagasaki, Shimabara, Unzen, Yanagawa, Kitakyushu, Fukuoka

Kumamoto, Aso, Kurokawa, Takachiho, Kuju, Kusu, Usa, Kunisaki Peninsula, Fukuoka

Asakura, Ukiha, Okubungo, 

Yufuin, Beppu, Usa, Kunisaki

Peninsuka, Kitakyushu, Fukuoka
---
 One-day Tours from Fukuoka-city​
Wlorld Heritage

the Sacred Island Okinoshiam

and Associated sites 

Chikugo region 

tour

Toho Village, Asakura, Akizuki Ukiha, Tanushimaru and Yame.

Yanagawa is beautiful canal

town, Dazaifu is historical place

time back to 1300 years ago 

 
---
| | | |
| --- | --- | --- |
| The Resort town belonging to Genkai Quasi National Park  | Nagasaki-city is one of the most popular destination in Kyushu | beautiful harbor Sasebo & Netherland palace Huis ten Bosch |
| | |   |
---
the northwestern part of Kyushu,

next to Fukuoka-prefecture

located eastern part of Oita-

prefecture

 

Two World Heritage sites: 

Atomic Bomb Dome and Itsukushima Shrine 

 
 
---
Fukuoka & Kitakyushu Tours
Long history as commercial town & castle town, find real Japan

Industrial Innovation city with

many different fascinating feature

Kitakyushu has many Industry Modernization Heritages

 
---
Study Tour
Registered on Wlorld Heritage

To learn the Christian faith continued even during the ban

on Christianity

Kitakyushu-city is the best place

for the Study tour. Various things

can be learn including state-

of-art technologies.

KAIZEN is one of the most important key word for modernization & world leading industries.

 
 
---
---
Featured Destinations map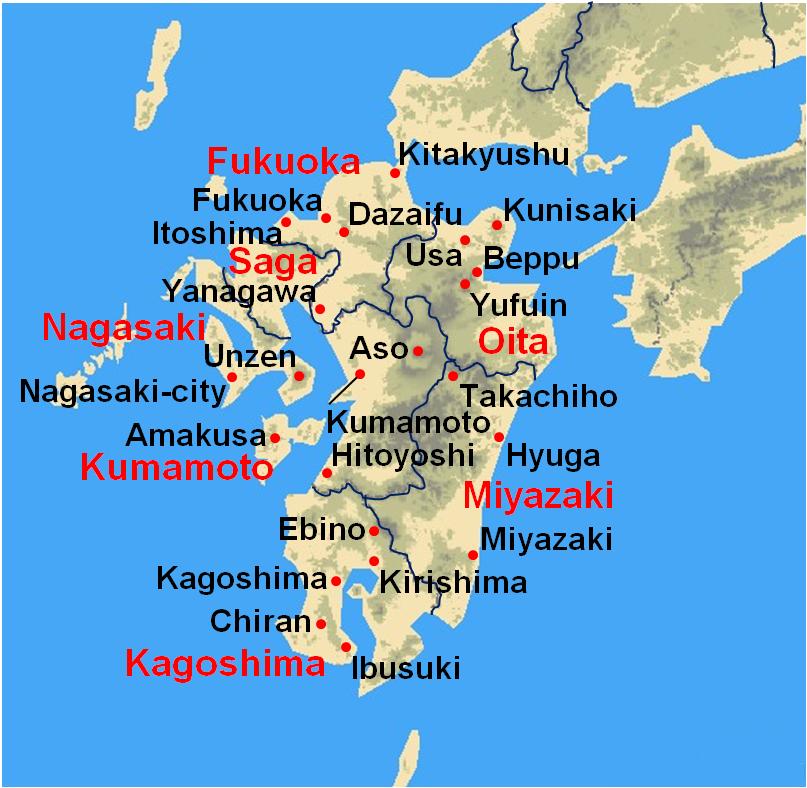 Note
  Red letters indicates Prefecture
  Black letters indicates Destinations
Tour condition
Start & end of the tour is Fukuoka-city
English speaking guide 
Local experienced and knowledgeable
guide escorts the tour
Chartered vehicle is utilizes
Jumbo taxi or bus
---
Please send your enquiry by selecting the Enquiry Form link below.
You can also contact us by e-mail at info@japan-kyushu-tourist.com
And we would love to chat about your travel plans on the phone as well,
please ring our office a call.  ☎ +81-93-521-8897
---
---