Kyushu travel Suggested itineraries
---
●Travel planning
Elaborated itinerary to suit your requirement will be provided 
based on the suggested itinerary.  In order to make enjoyable journey, 
your own trip will be planned in consideration of whether to use 
chartered vehicle or public transportations.
---
Make an Enquiry   
You can contact us by e-mail at info@japan-kyushu-tourist.com
We would also love to chat about your travel plans on the phone,
so why not give our office a call.  ☎ +81-93-521-8897
---
Suggested itinerary 

One-day tour in Fukuoka-city   (福 岡)
Let's find COOL Japan
Fukuoka-city is a fascinating cosmopolitan city and and has a 
lot of historical places.
Our guide takes you captivated places and introduce real 
Japan.  more…

 
---
One-day tour to Yanagawa & Dazaifu  (柳川 & 太宰府)
The tour takes you to two popular destinations.




Yanagawa

:  a beautiful canal town, where you can enjoy the 


Canal boat cruise

.




Dazaifu

 : time back to 1300 years ago, Dazaifu is historical 
place where yeneral ou can find cool Japan.

more

…

 

---
The Resort town belonging to Genkai Quasi National Park 
located next to Fukuoka-city.  Itoshima is facing Genkai Sea 
that the dynamic wave makes beautiful coast line scenery, and 
on the other side is surounded majestic Seburi mountain range 
makes beautiful country side landscape. 

more

…



---
One-day tour in Kitakyushu (北九州)
The

Industrial Innovation

city Kitakyushu,

with

many

different 


fascinating feature.  The breathtaking panoramic view from 
the top of Mt. Sarakura, UNESCO World Cultural Heritage in 
Higashida, Kokura Castle,  the most popular tourist destination 
Mojiko-retro, Kanmon Pedestrian Tunnel.  

more

…



---
In Kitakyushu, there are many Industry Modernization 
Heritages, including above mentioned World Heritage.
The tour offers how Japan became the world's leading Industrial 
country by visiting Industrial Modernization Heritages sites.


more

…



---
5 days North-Eest Kyushu  (東九州)

---
5 days North-West Kyushu  (西九州)
---
5 days Central Kyushu  (中九州)
---
5 days Southern Kyushu  (南九州)
---
3 days Hiroshima & Miyajima  (広島 & 宮島)
---
11 days throughout Kyush  (九州全域)
The itinerary is covered must visit and must see places 
throughout Kyushu. Discover many things you never seen 
and never experienced before such as the unappalled natural
beauty, traditional buildings, hot spring, Japanese culture, 
local cuisines, state-of-the-art technologies. 

more

 …

---
Trip planning procedure
Please tell us the following for your customized travel. 
1. What level of accommodation would you like?
  Styles accommodation; Japanese style inn called 
  Ryokan or Western style hotel 
  Levels of accommodation; 
   comfort  (3 star ), superior (4 star), or deluxe (5 star)

---

2. What transport would you like to use?  
  This can include a wide variety of options depending on 
  your destination and number of pax such as chartered 
  vehicles or public transportation.

---

3. Do you require a tour guide?
  We offer a tour guide by qualified guide-interpreters; 
  languages can to spoken are English, Chinese, 
  or Korean.

---

4. Do you want to play golf?
  Golfing can be included to play at magnificent golf courses 
  or hidden gems courses. more …

---

5. Do you want to include Japanese cultural experience?  
  We offer Japanese cultural experience such as dressing 
  in Kimono, tea ceremony and rickshaw riding at 
  Kokura Castle.

---

6. What other excursions would you like to include?
  We can arrange various excursions such as fruits picking, 
  Sake brewery, boat cruising, cycling, trekking, shopping as 
  well as farm stay. 
  If you have any particular activities or hobbies you would 
  like to incorporate into your trip please let us know.

---

7. Meals
  We offer Japanese cuisines, special local cuisines, 
  Japanese local beefs as well as food stalls.
---
Useful information for Trip
---
Many activities and 
fun things to do 
more…
---
Let's meet real
Japan
more…
---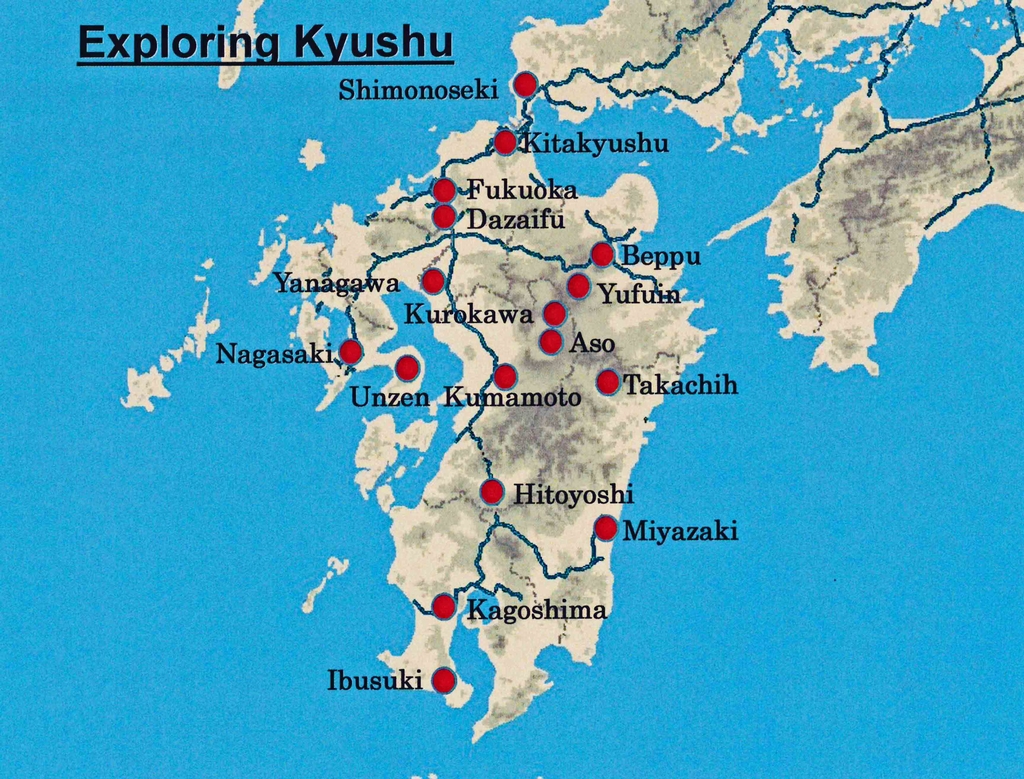 ---
About us Tailor-made tour Self-guided tour Golf tour Study tour Contact us 
Kyushu Travel Guide Suggested itinerary Blog & local News About Japan 日本語


---