3 days Hiroshima & Miyajima tour
Exploring the World Heritages
Hiroshima is located in southwestern part of the Japanese archipelago and face to
the Seto Inland Sea.
It has two World Heritage sites: the Atomic Bomb Dome and ItsukushimaShrine, 
both of which attract many visitors.
---
Travelling route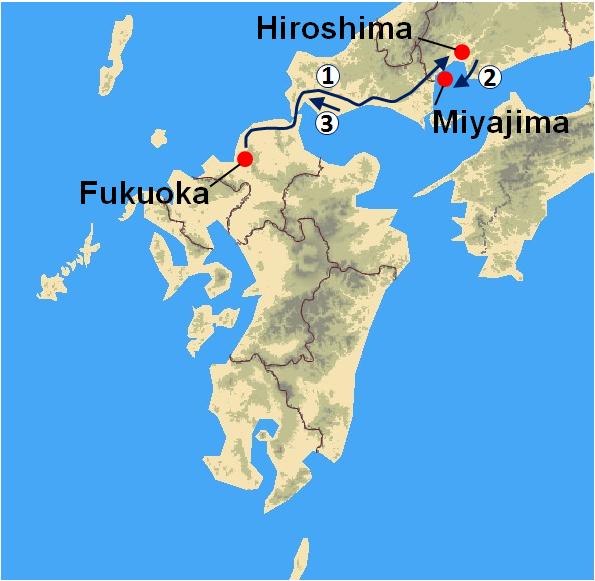 Note
The number in the circle indicates
 the day of travel
  If you have specific themes, places
  and things, you can include those
  items in the itinerary
---
Day 1  Hiroshima  
Hiroshima is facing the beautiful Seto Inland Sea and is largest city in the Chugoku region of
western Honshu.
And Hiroshima is best known as the first city in human history, where the atomic bomb was
dropped on August 6, 1945.
Schedule
Arrive at Fukuoka 
Travel to Hiroshima by Shinkansen (Bullet train) ,  70 minutes
Explore Hiroshima : Atomic Bomb Dome, Peace Park and Hiroshima Peace Memorial Museum
Lunch at Hiroshima: local specialty Okonomiyaki 

Stay at Hiroshima 
---
Jewel of the coast, Miyajima Island is symbolized by a looming vermilion Torii Gate set in the Sea,
which denotes that the whole is land is Sacred. There are no maternity wards or cemeteries because
no one is permitted to give birth or die due Miyajima.
Felling trees is also forbidden ; the island is covered in virgin forest, which provides a habitat for
scores of bird species. Tame deer are allowed to roam at will.
| | | |
| --- | --- | --- |
| | | |
|        Torii Gate |        Itsukushima Shrine |     Five-story Pagoda |
Schedule
Travel to Miyajima by JR train 
travel to Miyajima Island by the ferry boat
Explore Miyajima : Miyajima Torii gate, Itsukushima Shrine, Five-story Pagoda
Lunch : local specialty Anago meshi
Travel to Miyajima-guchi by the ferry boat
Travel to Fukuoka by a JR local train and Shinkansen
Stay at Fukuoka 
Day 3  Fukuoka
Fukuoka-city has a long history as commercial town and castle town, and prospered as important
district to Asian Continent for many years.   Now, Fukuoka-city is the International bub of Kyushu,
the nation's fourth largest economic zone. 
In other words, Fukuoka-city is the heart of Kyushu against various things,
such as food culture, shopping, entertainment, economy and international business.
       

Tenjin

area 
        

Nokonoshima Island

              

Nakasu
Schedule
Expolre Fukuoka
   There are lot of tourst attaractions, select from Fukuoka Travel Guide
Dinner : we will recommend for your best one from lot of choices 
Stay at Fukuoka, western style Hotel, breakfast included
---
Day 4  Travel to another destinations or leave Fukuoka to Home
---
 

You can contact us by e-mail at

info@japan-kyushu-tourist.com


We would also love to chat about your travel plans on the phone,




so why not give our office a call.  ☎ +81-93-521-8897