5 days Southern Kyushu tour (南九州)
Where to Explore 

・Kagoshima:Kyushu's southernmost major city where Mt. Sakurajima

      can be seen; raises the smoke across the Kagoshima Bay.


・Chiran : called a small Kyoto in Kagoshima, offer you a fine collection of

      Samurai houses

・Ibushuki : best known for its steaming sand baths along the beach
・Kirishima : base of majestic mountain are blessed with dynamic Onsen resort.

・Miyazaki : facing the Pacific Ocean with a beautiful coastline
・Amakusa : beautiful five bridges, collectively named Amakusa Gokyo

・Fukuoka  : a fascinating cosmopolitan city and the biggest city in Kyushu  
---
Day1   Kagoshim
・Arrive at Fukuoka

・Travel to Kagoshima by JR Shinkansen (Bullet train) , 1 hour & 40 minutes 

・Explore Kagoshima 

・Stay at Kagoshima-city, Western style Hotel, breakfast included
・Enjoy local dinner in Kagoshima
---
・Leave Hotel in Kagoshima

・Travel to Chiran

・Explore Chiran

   Castle town Chiran

・Travel to Ibusuki, via Kaimonsdake Mountain

 ・Sand bath experience at Kinko-wan bay    

・Stay at Ibusuki  

    Western style Hotel, dinner and breakfast included
---
---
Day 4 Transfer to Fukuoka  
There are two alternative for transfer to Fukuoka

Alternative 1

Shinkansen is used from Kagoshima to Fukuoka   
・Arrive at Fukuoka by noon, and free time can be made in the afternoon

・Stay at Fukuoka
---
Alternative 2  
 Chartered  vehicle is used
 You can select a favorite place from the following. 
One of the most beautiful sea in Kyushu and located in a southern part of

Kumamoto, and consists of Shimo-jima, Kami-jima and many other islands

varied in size. 

Where to visit : Amakusa Gokyo ,  enjoy sea food

Kumamoto city is a major urban area in Kyushu only smaller 
in size than Fukuoka. It is home to an historical castle town
and is blessed with a diverse natural beauty.
Where to visit : Kumamoto Castle, Suizenji-koen Park

Chikugo region consists of Asakura, Ukiha, Yame, Hita,

The Kyushu's largest Chikugo plain spreading in the Chikugo River basin,

where people live from ancient time and the various cultures have been

created.  
---
Day 5  Fukuoka  
・Explore Fukuoka

    There are lot of tourst attaractions, chose from Fukuoka Travel Guide.
    We will recommend the lunch as per your preference.

・Dinner : we will recommend for your beat one from lot of choices 
・Stay at Fukuoka, western style Hotel, breakfast included
---
Day 6  Leave Fukuoka to Home


---
Make an Enquiry   
You can contact us by e-mail at info@japan-kyushu-tourist.com
We would also love to chat about your travel plans on the phone,
so why not give our office a call.  ☎ +81-93-521-8897
---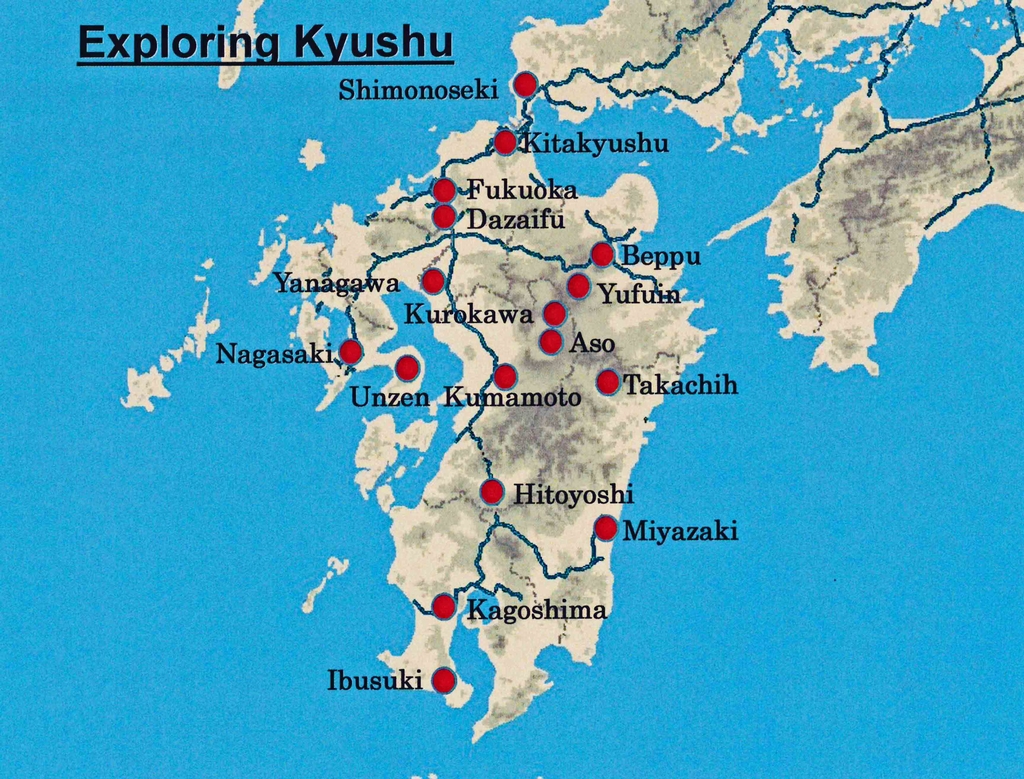 ---
About us Tailor-made tour Self-guided tour Golf tour Study tour Contact us 
Kyushu Travel Guide Suggested itinerary Blog & local News About Japan 日本語


---