Kunisaki peninsula
Rural area centered on mount Futago
   pilgrimage, trekking, onsen, local cuisines
Kunisaki peninsula began to develop 1,300 years ago as a sacred religious ground influenced by  mountain and nature worship, Buddhism, and
Usa shrine rising in the region.  Here remains in Bungo-takada city the historical
background for "home of prayer" consecrating a mass the Shinto deity, Buddha, 
and ancestral spirit. And one of major industry is agriculture and entire area of 
Kunisaki peninsula including Usa are listed on the World Agricultural Heritage.
---
Welcome to Kunisaki Peninsula
| | | |
| --- | --- | --- |
|           Lover's (koikana) Road |                     Rural area |          Shiitake mushrooms |
---
Exploring Kunisaki Peninsula
The era that lasted till about 30 years ago in Japanese history, Bungo Takada was
the most prosperous in Kunisaki Peninsula for over 300 years from the Edo period up to 1900.
Here remains various old structures and remnants of regional Japanese.
---
Fuki-ji Temple
The temple is a Tendai Buddhist temple located on the slopes of Mount Futago. The temple was
established in 718 and the temple building is the oldest extant wooden structure in Kyushu
| | | |
| --- | --- | --- |
|                Entrrance |            Stone lantern |         Temple mail building |
---
Nagasaki-bana
The resort park features a beach, a campsite, restaurant and more. The entire premises gets
painted beautifully with colors of each and every seasonal flower in season.
---
Onieno-sato
     Image of the god Fudo

          Temnemji temple

     Place of Shugendo

     Religious training
---
Tashibu-no-sho
This district was once considered the most important estate of Usa Shrine. It has been ascertained
from ancient documents that the rural landscape seen today has remained unchanged since Heian
period. Now included this are, Kunisaki peninsula is listed on the World Agricultural Heritage.
| | | |
| --- | --- | --- |
|      World Agricultural Heritage |                Paddy field |               Farmers houses |
---
Kumano magaibutu
Hewn in a rock Mt. Tahara are two of largest Buddhist stone carvings in all Japan.   A Fudo-myu-o
8 meter in heigt and Dainich-nyurai 6.8 meter height. Said to have been carved in the Heian period,
they have received government designation as Important Cultural Properties.
| | | |
| --- | --- | --- |
|                     Entrance |                 Daiichi nyorai |                    Fudo myoou |
---
Futago-ji Temple
---
Choan-ji Temple
---
Makino odo
The temple houses nine Buddhists images said to be masterpieces of the Heian period,
including the Maki-Odo Seated Amida Nyorai (Amitabha). Figure and statues of the Four Devas.
All are designated as important national cultural properties.
---
               Location of Kunisaki peninsula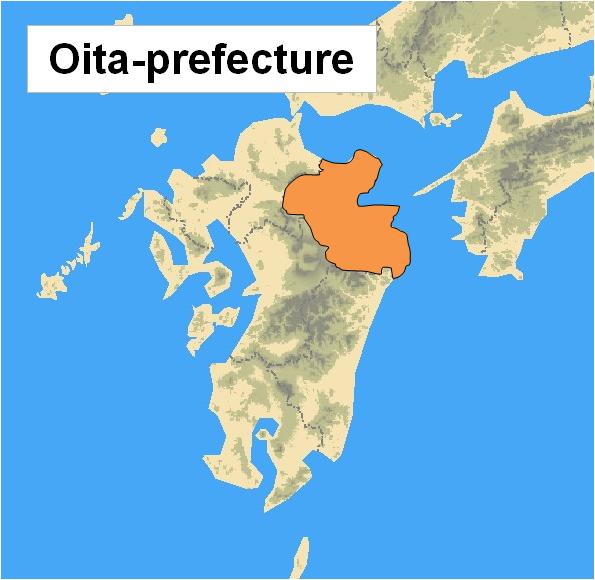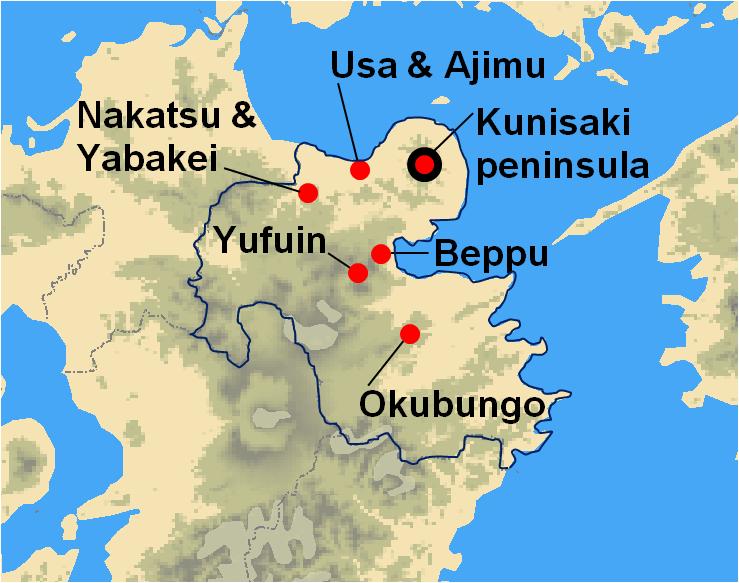 ---
Featured tours related to Kunisaki peninsula
・6 days North-East Kyushu tour