Japan travel / Tailor-made short duration tours
Many kind of fascinating tourist destinations are concentrated in northern part of  Kyushu. and you
can enjoy a short journey from Fukuoka-city. The starting and finishing place of the tour is Fukuoka-city.
If required, the starting place of the tour can be changed to Kitakyushu-city.
---
The Heart of Kyushu and the energetic city bustling as the center of

Kyushu's politics, economy, culture, fashion as well as tourism.

Fukuoka-city has many kind of fascinating tourist attractions and

abundant tourism materials which are different from the other

destinations in Kyushu. For this tour, we take you to historical places

and local traditional areas for introducing the real Japan.
---
Yanagawa & Dazaifu one-day tour
Explores two popular destinations in Fukuoka-prefecture, Yanagawa

and Dazaifu. Yanagawa is the beautiful canal town where the Canal

boat cruise and local cuisines can be enjoyed. Dazaifu is the most

recommended place to visit in Fukuoka-prefecture where has 1300

years history, featured spot is Dazaifu Tenmangu Shrine.
---
The Industrial Innovation city where greatly contributed to Japan's

industrial modernization.

And also is blessed with spectacular &

stunning natural feature. The tour explore the many

featured

places

in Kitakyushu-city.
---
A Resort town located next to Fukuoka–city and facing Genkai Sea ; 

the dynamic wave makes beautiful coast line scenery, and on the

other side is surrounded majestic Seburi mountain range makes

beautiful country side landscape.
---
Agricultural industries area spreading in the Kyushu's largest Chikugo

plain. Let's meet real Japan by enjoying Japanese traditional

countryside landscape, local cuisines, breweries, fruit picking and

cultures of Japanese towns & villages.
---
The city in harmony with foreign countries cultures. The cultures of

Nagasaki have been created since Japan began exchanging with

foreign countries during the National isolation period. The city

have many oversea countries cultures and also the significant

Japanese histories like no other areas.
---
Dynamic and beautiful Takachiho Gorge and here is the birthplace of

Shinto which is Japanese indigenouse religion. Takachiho is located

almost center of Kyushu, in the northernmost part of Miyazaki-prefecture,

bordering Aso , Kumamoto-prefecture. You can enjoy the dynamic and

beautiful nature of Takachioho Gorge and find the roots of Japanese

culture in the birth place of Japanese indigenouse religion
---
Yufuin & Beppu Onsen 2 days tour
Exploring the most recommended Onsen Resorts Beppu and Yufuin. 

Two Onsen Resorts are located in Oita-prefecture, and have different

fascinating features. Oita-prefecture is on the north-eastern area of

Kyushu and a representative Onsen Resort area in Japan, total

boasting hot spring sources and hot spring flowing volume are both

Japan's largest.
---
The dynamic nature of Aso and Takachiho where is spreading around

Mt. Aso. Mt. Aso is the largest active volcano in Japan, and is among

the largest in the world. Mount Aso has a fairly large caldera which is

one of the largest caldera in the world. The present Aso caldera formed

as a result of four huge caldera eruptions occurring over a range of

90,000 to 300,000 years ago. 
---
Other featured Sightseeing tours
Munakata & Fukutsu one-day tour  UNESCO World Heritage sites
Yame & Hishino village one-day tour
---
Featured destinations map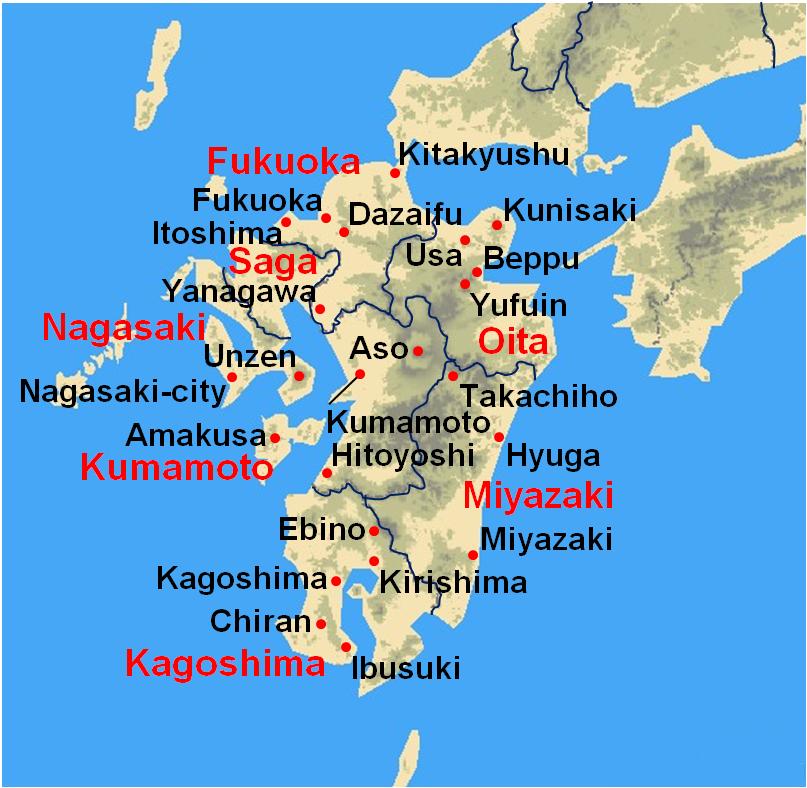 Note
  Red letters indicates Prefecture
  Black letters indicates Destinations
---
Tour results
We are offering various types of tours, and the tour results up to now are shown links below.        
Tailor-made tour       Study tour       Golf tour 
---
Should you need further information or assistances please feel free to contact us.
Your equiry can be sent by selecting the Enquiry Form link below.
You can also contact us by e-mail at info@japan-kyushu-tourist.com
And we would love to chat about your travel plans on the phone as well,
please ring our office a call in English    Tel : +81-93-521-8897
Address :  AIM buiding 6th floor, 3-8-1 Asano, Kokura-kitaku, Kitakyushu-city, Fukuoka-prefecture 
---
 HOME    About us   Our Services    Terms and Conditions
---