Dazaifu travel guide
Dazaifu is the highly recommended tourist destination near Fukuoka-city. Must visit place
is Dazaifu Tenmangu Shrine dedicated to the deity of lerning. Dazaifu is a historical place,
about 1300 years ago, in Dazaifu, there was a government office to manage the entire
Kyushu  for a long period of 500 years at the present  Dazaifu. There are numbers of
historical sites which reflect to the ancient history of Dazaifu, including ruins of the Dazaifu 
itself. 
---
Where to visit  
The Shrine dedicated to the deity of learning. Many Japanese visit the Shrine to pass the
examination successfully. Built on the site of grave of Sugawara Michizane, who is deified
as the Deity of scholarship.
| | | |
| --- | --- | --- |
|    Entrance Gate |     Main Building of Shrine |     Shamusho, Shrine office  |
---
Shrine Approach path  
The road leading to the Shrine is lined with many souvenir shops unique to Japan including
Starbucks and Umegae mochi shops.
| | | |
| --- | --- | --- |
|      Torii Gate  |      Approach path |      Approach path  |
Starbucks at Approach path
The restaurant was designed by renown architecture designer Kengo Kuma in 2011. The
concept of the design is Harmony of Modern and traditional by natural material; 2000 cedar
timber is assembled in a traditional wood structure without using nails. Enjoy the luxurious
time in the warmth of wood and the scent of coffee.
---
| | | |
| --- | --- | --- |
|     Daruma doll |     Gourd |      Ema tablet |
---
| | | |
| --- | --- | --- |
|    Sacred Cow |     Entrance Bridge |    Chozusha, Purification place |
---
Umegae-mochi, local speciality
Umegae-mochi rice cake is a specialty of Dazaifu; rice cake filled with sweet bean paste, stamped
in the shape of plum blossom and baked lightly.
---
Featured restaurant, Shoseikan
The restaurant is located right behind the Dazaifu Shrine.
---
The Zen temple famous for its beautiful stone garden. It was built during the Kamakura period
just next to Dazaifu Tenmangu Shrine and is within walking distance of Nishitetsu Dazaifu station.
---
Kyushu National Museum was opened in 2005 in Dazaifu-city next to Dazaifu Tenmangu
Shrine, as Japan's fourth national museum after Tokyo, Kyoto and Nara.
---
Site of Dazaifu Government Office
Government site of Ancient Kyushu, Known as TOFURO, the site was used during the Nara
(710 to 794 AD) and Heian (794 to 1185 AD) period. The Dazaifu was responsible for supervising
Japan's maritime frontier, as well as for administering the nine provinces and two island of the 
Saikaido (modern Kyushu).
---
Featured festival  
Tenmangu's history is recalled by events such as the New Years Exorcism, Fire Festival
(Oni-sube),  Kyokusui-no-en that means Spring Water Poetry Festival, and Jinko-shiki
(Annual God-Procession Festival) which takes place in the Autumn.
---
 Location of Dazaifu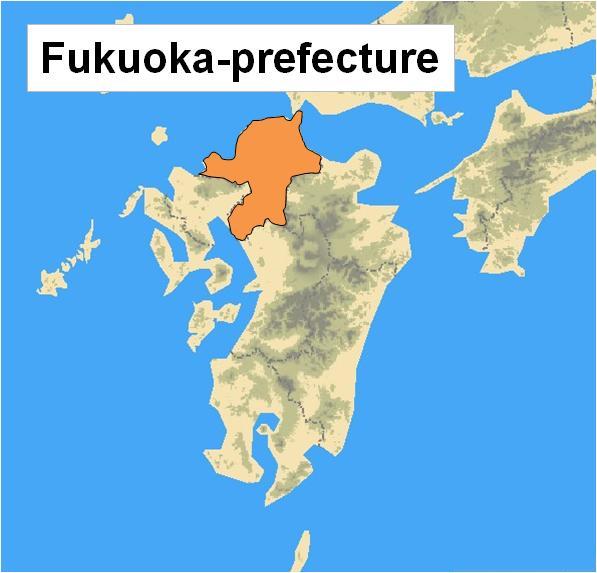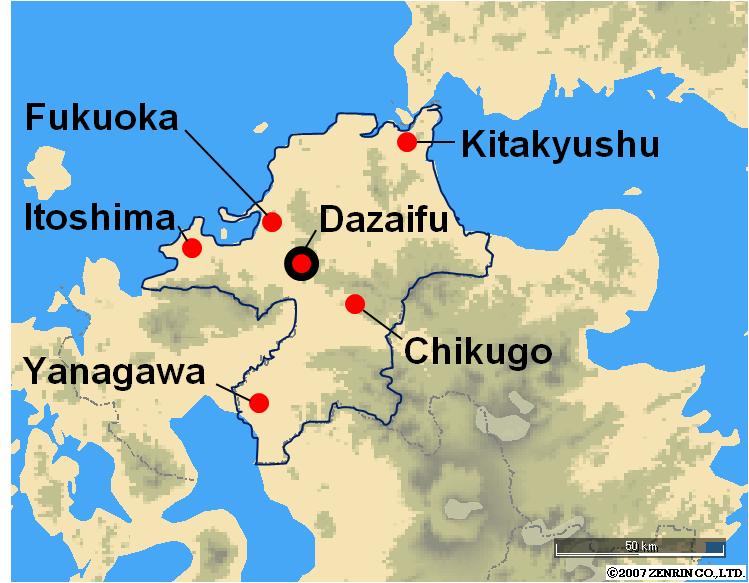 ---
General information  
Address

City hall : 1-1-1 Kanzeonji Dazaifu-city, Fukuoka-prefecture

Access

30 minutes by car using Fukuoka Urban Express Way from Fukuoka-city

35 minutes by Nishitetsu train from Tenjin (Fukuoka) to Dazaifu

Transportation

Nishitetsu train

Population

72,000   Population density 2,400
---
Should you need further information please feel free to contact us.
Your equiry can be sent by selecting the Enquiry Form link below.
You can also contact us by e-mail at info@japan-kyushu-tourist.com
Tel :  +81-93-521-8897 , Fax :  +81-93-521-8898
Address :  AIM buiding 6th floor, 3-8-1 Asano, Kokura-kitaku, Kitakyushu-city, Fukuoka-prefecture 
---
Tour results
We are offering various types of tours, and the tour results up to now are shown links below. 
Tailor-made tour       Study tour       Golf tour 
---
 HOME    About us   Our Services    Terms and Conditions
---