Kitakyushu travel guide
Kitakyushu is the second largest city in Kyushu and World leading Environmental Future city, 
and blessed with spectacular & stunning nature.
The city is the Industrial Innovation city greatly contributed to Japan's Industrial modernization.
Now Kitakyushu offers a lot of sightseeing spots such as scenic beauty places,
placed introduce cultures of people
living there, and various historic sites.  
The city is blessed with spectacular & stunning nature feature surrounding mountain
and
Seto inland Sea
as well as Genkai Sea, and is located in the Seto Inland Sea
National Park, Kitakyushu Quasi-National Park ( Mount Sarakura and
Hiraodai Karst Plateau) and Genkai Quasi-National Park.
And the city is the Industrial Innovation city with many fascinating
features.  
---
The beautiful night view is created by combination of industrial zones and rich nature areas

.

 The Three Major Night View of Japan  
---
Kitakyushu-city is the
Camp site of Wales
participating in
Rugby World Cup 2019.
---
Featured Tourist Destinations  
Kokura  
 Kokura Castle Garden
River Walk Kitakyushu 

Kitakyushu's land mark, walking

distance of Kokura Stations

Former site of lord's guest house

located next to Kokura Castle

A large commercial facility near  

Murasaki River & Kokura Castle
---
Uomachi & Kyumachi

Manga Museum

A typical Japanese market, 

the kitchen of Kitakyushu-city

A down town arcade shopping

streets to JR Kokura Station

Introduces the history of manga

with a focus on artists who

have affiliations to Kitakyushu
---
Moji  
The exotic district, developed 

as International trading Port  

The suspended bridge crossing

the Kanmon Straits

Only the place in the world,
can be crossed the strait on foot
---
Higashida & Industrial Heritages  
Birth place of Steel Making

Industry in Japan 

UNESCO World Cultural Heritage

Built in 1899, ahead of production

facilities


It contributed greatly to the 

development of the Japanese

steel industry and was used until 1972
---
Japan's Modern Steel Works

history started here.

Dedicated railway for Yawata

Steel Works connected between 

Yawata and Tobata.

Theme of "innovation," the 

Kitakyushu Innovation Gallery

& Studio opened in Yahata,

Higashida
---
The first-class civil construction 

heritage. The triggered the 

registration of UNESCO World  

Heritage.

The only remaining lenticular 

truss bridge in Japan ( lens type

truss bridge) 

Built in 1910 on the east bank of

the Onga River. It deliver the

industrial water to Yawata via an 

11.4 km pipeline.
---
Nature  
The city is blessed with spectacular & stunning natural feature, about 960,000 people are living
in the area spreding in river basins where surounding Sea and mountains.
The coastline belongs to Seto Inland Sea National Park and Genkai Sea Quasi-National Park
and also the city has Kitakyushu Quasi-National Park. 
The best scenic beauty spot in Kitakyushu-city

One of the three largest karst

plateau in Japan 

Selected as a beautiful place

of the real world 10
---
The city of Kitakyushu is the birthplace of the modern Japanese steel industry which began
operation in 1901, and is now the world's leading environmental future city.
Now it is called industrial and environmental city which is representative of Japan.
Therefore the various things can be learn here.
---
Local cuisines and featured restaurant
Kawara Sobe
Kawara soba is a local cuisine which Soba noodles and meat are cooked together
on a Kawara (stone roof tile) and dipped into a special sauce when eating it.
Yaki curry
Yaki curry latterly means baked curry and is local cuisine in Moji which is curry with rice
topped with cheese and/or egg heated in oven. The melted cheese and soft-boiled egg
combine with the spicy curry to enhance its flavor even more.
Nagahama Ramen, Tonpei
Eel Restaurant, Chikurintei
---
 Location of Kitakyushu-city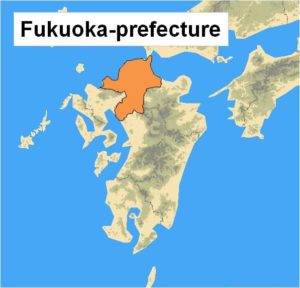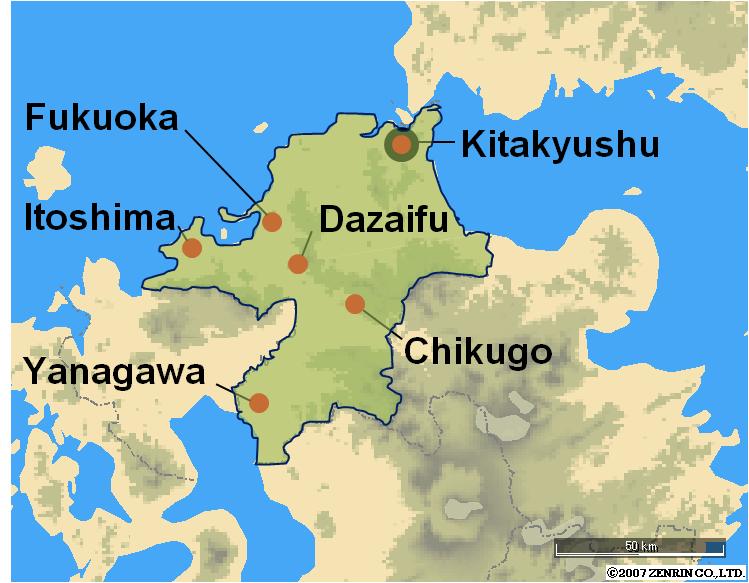 ---
General information  
Address

City hall ; 1-1 Jonai Kokura-kitaku, Kitakyushu-city, Fukuoka-prefecture

Cabinet designate city

Access

70 minutes by a vehicle from Fukuoka Airport in Fukuoka-city

100 minutes by a vehiclefrom Saga-city

160 minutes by a vehicle from Nagasaki-city

100 minutes by a vehicle from Beppu

100 minutes by a vehicle from Yufuin

 

40 minutes by JR Express train from JR Hakata Station

19 minutes by JR Shinkansen (bullet train ) from JR Hakata Station  

Population

945,000            Pupulation density : 1.920 / km2 
Should you need further information please feel free to contact us.
And we would love to chat about your travel plans on the phone as well,
please ring our office a call in English    Tel : +81-93-521-8897
---
Tour results
We are offering various types of tours, and the tour results up to now are shown links below. 
Tailor-made tour      Study tour      Golf tour
---
 HOME    About us   Our Services    Terms and Conditions
---