Yanagawa travel guide
The Beautiful Canal town Yanagawa
Yanagawa is located about 60km south of Fukuoka–city and is a former Castle town facing the
Ariake Sea and spreading in the Chikugo plain. Current main industries are tourism, fishery and
agriculture.
Canal is feature of Yanagawa
It had been constructed for people's lives and agriculture since ancient time and also used for the
moats of the Castle. Surprisingly the total length of the canal is 60 km. Now the canals of the
Yanagawa-city including former Castle town are used as Canal boat cruise for sightseeing.
---
Yanagawa Canal boat cruise is to board a small boat called the Donkobune and slowly 
go down the river skillfully maneuvered by a boatman with bamboo pole.
| | | |
| --- | --- | --- |
| | | |
---
Listed on National Scenic Landmark, was built in 1697 as the villa of the Fourth Lord Tachibana
Akitora. At that time the region was called Hanabatake (Field of flower), so the villa was named
Ohana or Flower.
---
Birthplace of Hakushu Kitahara
Yanagawa is the birthplace of renown poet Hakushu Kitahara, whose accomplishments are marked by a
memorial park and the many stone monuments bearing his works placed throughout the city.
---
Local cuisine 
Yanagawa is the birthplace of Steamed Eel that has more than 300 years history. There are many
restaurants which have their long history and each restaurants have been keeping the traditional
source and brand value.
Yanagawa is facing to Ariake Sea where many fresh and unique fishes are caught.
Japanese cuisine using local delicacies is also reccomended. 
---
Sake breweries
There are two authentic Sake breweries where you can enjoy tasting in Yanagawa.
Yanagawa Shuzo Sake brewery founded in 1890 and Kikubijin Shuzo Sake brewery founded in 1735.
| | | |
| --- | --- | --- |
|      Yanagawa Shuzo |            Kikubijin Shuzo |             Kikubijin Shuzo |
---
The festival is held from February 11 through April 3 in Yanagawa. Hina dolls are displayed by families
with girls to pray for safe growth of their children, in Yanagawa.
---
 Location of Yanagawa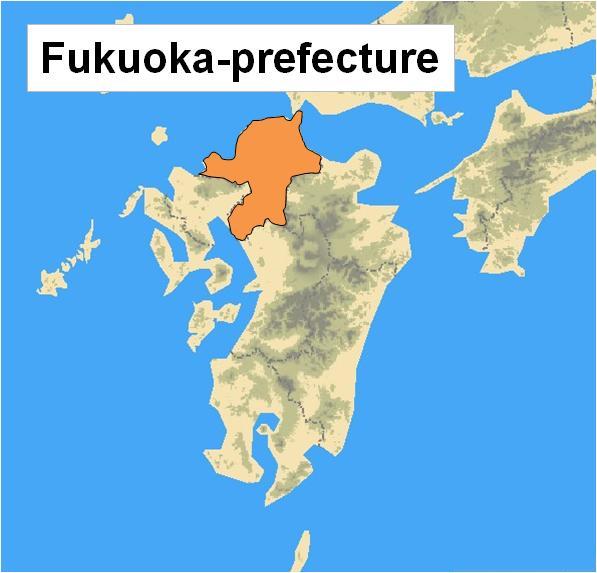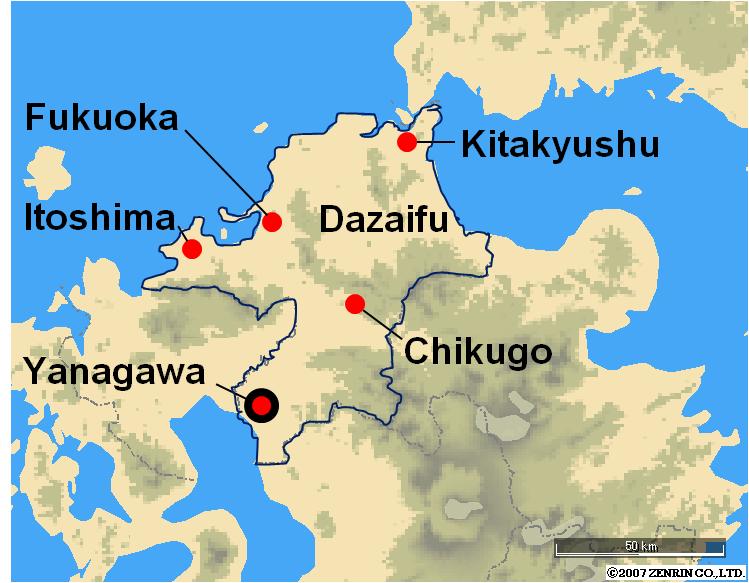 ---
General information  
Address

City hall : 87-1 Honmachi, Yanagawa-city, Fukuoka-prefecture

Access

70 minutes by a vehicle from Dazaifu

80 minutes by a vehicle from Fukuoka-city

110 minutes by a vehicle from Kitakyushu-city

50 minutes by Nishitetsu train from Nishitetsu Tenjin (Fukuoka)

Transportation

Nishitetsu train

Population

66,000   Population density 850
---
Should you need further information please feel free to contact us.
Your equiry can be sent by selecting the Enquiry Form link below.
You can also contact us by e-mail at info@japan-kyushu-tourist.com
And we would love to chat about your travel plans on the phone as well,
please ring our office a call in English    Tel : +81-93-521-8897
---
Tour results
We are offering various types of tours, and the tour results up to now are shown links below. 
Tailor-made tour     Study tour      Golf tour 
---
 HOME    About us   Our Services    Terms and Conditions
---