Kumamoto-city
Kumamoto-city, situated roughly in the center of Kumamoto-prefecture, is the
government and economic center of the prefecture.
From the early 17th century to the end of the 19th century, Kumamoto was prosperous
as a castle town. The Shira-kawa River and its branches run through the downtown area
around Kumamoto Castle.
Therefore, the city is called "City of Woods and Fresh Water."
---
Welcome to Kumamoto
| | | |
| --- | --- | --- |
| Kato Kiyamasa Statue | Shimo-tori Shopping Street | Street tram |
| | | |
---
Exploring Kumamoto
| | | |
| --- | --- | --- |
| Entrance gate  |  Castle tower | Kato Shrine  |
|   |   | |
---
After the Earthquake​
| | | |
| --- | --- | --- |
| Ninomaru-hiroba | Castle tower | Turret |
|   | |   |
---
| | | |
| --- | --- | --- |
| Suizenji-koen Park |   |   |
| | | |
---
                 Location of Kumamoto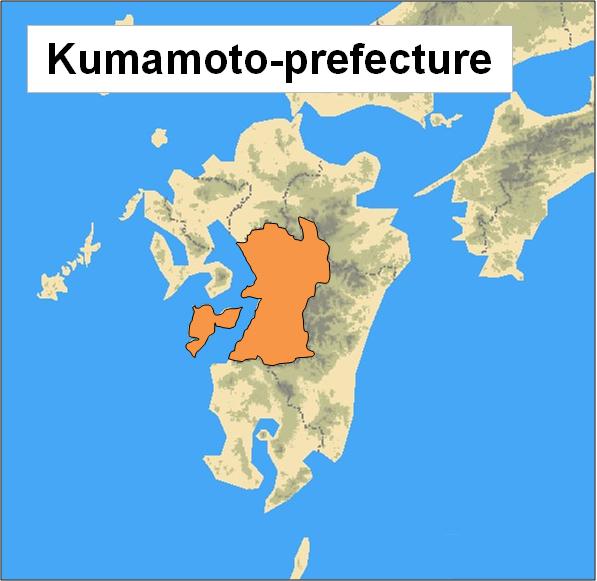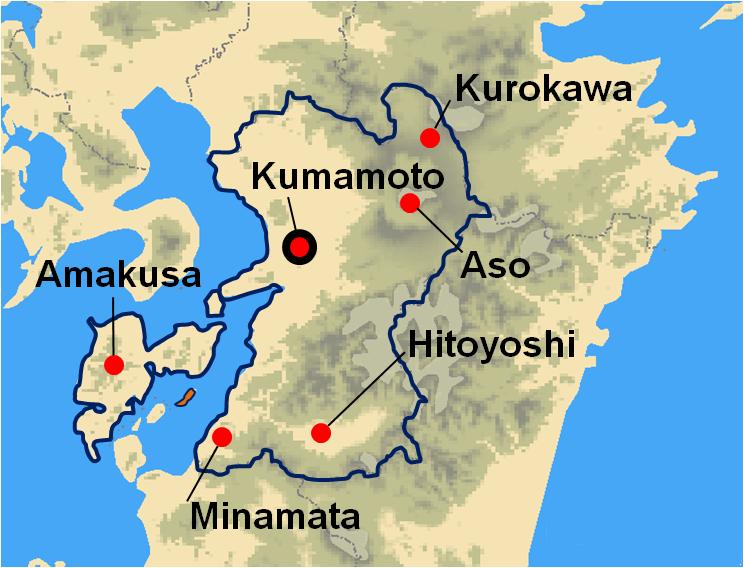 Access to Kumamoto
  by a vehicle
  from Fukuoka-city : 1 hour and 40 minutes
  from Kitakyushu-city : 2 hours and 40 minutes
---
Featured tours related to Kumamoto-city

---
Kumamoto Castle
Kumamoto Castle is one of the three great castles, along with Nagoya Castle and
Osaka Castle and one of the 100 best places in Japan to view cherry blossoms.
The current castle was built in 1601 by Kiyomasa Kato, a great commander and took 
7 years to complete. 
The 980,000-square-meter premises are dotted with many memorable view
such as donjons,
turrets,
turret gates, castle gates and long fences.
This castle is particularly famous for its beautiful curving stonewall called "Musha-gaeshi, which
were built to defend against invading armies. The stone walls have been designated a National
Historic Site and 12 buildings in addition to the Uto-yagura turret have been designated National
Treasure.
---
Kumamoto Castle after the Earthquakes
Suddenly, without any prediction, the series of Earthquakes including magnitude 7.0 main shock
which struck in April 2016 beneath Kumamoto-city.
Then severe damages occurred Kumamoto prefecture including Kumamoto Castle.
Kumamoto Castle sustained damage to its roof and exterior buildings and walls because of the
earthquakes and associated aftershocks.
Several of the castle's shacihoko ornaments were destroyed, and a large number of kawara tiles
also fell from the roof. Now the restoration activities are being performed as fast as possible.
Now, the Kumamoto Castle can be seen from the outside of the moats surrounding the castle.
We will welcome you to our place Kumamoto Castle. 
---
Featured tours related to Kumamoto-city

---
Suizenji-koen Park
Suizenji-koen Park imitated the beautiful scenery of Japan, is a refined circular garden of
Momoyama period style and represents the 53 Stations of the Tokaido Road including Mt. Fuji.
The fresh springs in the garden release clean, cold water, which flows there from Mt. Aso via
underground currents.
In 1636, Tadatoshi, the third Lord of Hosokawa, began its construction as a tea retreat, and he also
built the temple here for Priest Gentaku called Suizenji.
This beautiful Momoyama style garden evolve during the reigns of the fourth and fifth Lords.
In all it took about 80 years to complete.
---
Featured tours related to Kumamoto-city

---