7 days Central Kyushu tour
Where to Explore  
Amakusa → Kumamoto → Aso → Takachiho → Kuju → Kokonoe → Yufuin
Asakura → Akizuki → Ukiha → Fukuoka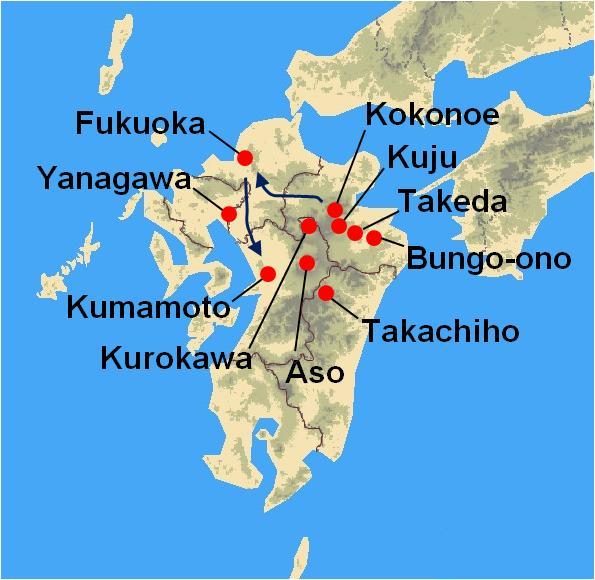 ---
Day 1  Amakusa
An archipelago located west side of Kumamoto, beautiful landscape, seafood and 
local delicacies and marine activities can be enjoyed.
Amakusa are connected to Shimabara by the Ferry and to Kumamoto by the bridges.
9 inhabited islands & numerous 

islands floating on a tranquil sea

Main islands are connected with

Amakusa Five bridge, Pearl line

Hidden Cristian site of Oe

Cathesral and Sakitsu Village
The Castle in Amakusa Island

built in 1605

One of the most exciting

exprience in Amakusa

Amakusa Onsen

There are two Onsen,

Matsushima and Shimoda
---
Schedule
Arrive at Fukuoka 
Travel to Amakusa
Explore Amakusa Islans
Stay at Amakusa Onsen
---
From the early 17th century to the end of the 19th century, Kumamoto was prosperous as a castle town.
The Shira-kawa River and its branches run through the downtown area around Kumamoto Castle.
Therefore, the city is called "City of Woods and Fresh Water." 
The third most populous city in

Kyushu, called city of the forest

 One of Japan's three great

 Castle, built in 1600

 Under restoration work, can be 

 visited from the outside
Suizenji-koen Park  Imitated the beautiful scenery 

 of Japan

The largest shopping district in Kumamoto-prefecture

Main destinations are connected from JR Kumamoto Station
---
Schedule
Travel to Kumamoto
Travel to Kumamoto
Explore Kumamoto :  Kumamoto Castle, Suizenji-koen Park
Stay at Kumamoto
Aso, the world's largest caldera and the active volcano give a lot of excitements and numerous
unforgettable experiences in the rural area can be mede including Onsen, variety of sports 
and local cuisines.
Enjoy numerous unforgettable

experiences in the rural area

The perfect spot view of Aso

region, Caldera & Mount Aso 

The beautiful prairie of 785,000 square meter in the crater 
The largest active volcano in Japan, and is among the largest in the world. Its peak is 1592 m
above sea level. Its caldera is 25 km across north to south and 18 km across east to west.
| | | |
| --- | --- | --- |
|   Mt. Aso, around the Crater  |  Look down the Crater |  Nakadake Crater |
One of the oldest and most

prominent shrines in Japan

The best places to enjoy the

atmosphere of real Japan

Very unique waterfalls, can be

climbed behind the falls
---
Schedule
Explore Aso :  Daikanbo, Kusasenri-ga-hama, Mt. Aso, Aso shrine 
Stay at Kurokawa Onsen, Japanese style accommodation, Ryokan 
Local cuisine can be enjoyed at Ryokan's dinner
Takachiho is located in the center of the Kyushu mountain area where about 40km away from
Aso and is steeped in Japanese mythology.
The narrow chasm cut through the rock by the Gokase River. The nearly sheer cliffs lining the gorge
are made of slow forming volcanic basalt columns which resemble the scales of a dragon where the
stone twisted and flowed as it formed.
 Located just west of the town center, is nestled in a grove of tall cedars. During the day the shrine's 
nondescript, unpainted buildings blend in naturally with the surrounding trees. The light that filters through,
brings with it an air of calm, peaceful reverence.
Legends of Japanese mythology. In the story, Amaterasu, the Shito sun goddess, became so outraged
by her brother's cruel pranks that she hid herself in a cave, refusing to come out and depriving the
world of her life-giving light. 
---
Schedule
Travel to Takachiho, 1 and half hours by vehicle 
Exploring Takachiho :   Takachiho Gorge, Takachiho Shrine, Amano Iwato Shrine 
back to Kurokawa Onsen
Stay at Kurokawa Onsen
---
Nature-blessed region at Ono River basin and the northern part is surrounded by Aso & Kuju Mountains
Okubungo region is located in south-east side of Oita prefecture, and consists of Takada, Kuju, 
Bungo-ono, Kusu and Kokonoe.
The region is on the way to Yufuin and Beppu from Aso, the travelling route can be proposed
as per your preference.
The area is a nature-blessed region at Ono River basin, and the northern part is surrounded by
Aso & Kuju Mountains
A magnificent and beautiful

scenery of Kuju plateau

 Yamanami Highway, best

driving route enjoy Nature     

Japan's longest pedestrian

suspension bridge, world's 2nd 
Graceful Onsen Resort located in the Yufu basin surrounded by Mount Yufu and Tsurumi
One of the most popular among ladies and International tourist visits to here are increasing. 
 Gentle mount Yufu can be seen

 graceful Onsen Resort

 In front of JR Yufuin Station
 a elegant street appear

 70 shops, gift shops, galleries

curiosity items shops, cafes   
The old public outdoor mixed

bath with a thatched

The landmark in Yufuin, hot

water gushes from the bottom 

Reproduced the townscape of

the Cotswold region in England
---
Schedule
Explore Okubungo : Kokonoe yume Otsurihasi, Handa Kogen Plateau 
Exploring Yufuin
・Stay at Yufuin Onsen Resort
---
Day 5  Chikugo region
The Kyuhsu's largest Chikugo River which flows from Mount Aso through the Chikugo region
to Ariake Sea. The Kyushu's largest Chikugo plain spreading in the Chikugo River basin,
where people live from ancient time and the various cultures have been created.
There are a lot of features here such as rural land scape, fruit fields, ancient ruins,
shrines, temples, castle town, Sake brewery, Onsen (hot spring), scrumptious local cosines, 
Japanese cultural experiences.
A former Castle town located in

northern part of Asakura-city

The only area in Japan to use

water wheels for irrigation

A small village located north

side of Asakura-city
A tranquil Onsen located on

the banks of Chikugo River

Breath taking beautiful scenery harmonizes with the Shrine

Time-honored scenery, back to

100 years ago
---
Schedule
Exploring Ukiha
Exploring Asakura
Transfer to Fukuoka
Stay at Fukuoka
---
Day 6 Fukuoka​
Fukuoka-city has a long history as commercial town and castle town, and prospered as important
district to Asian Continent for many years.   Now, Fukuoka-city is the International bub of Kyushu,
the nation's fourth largest economic zone. 
In other words, Fukuoka-city is the heart of Kyushu against various things,
such as food culture, shopping, entertainment, economy and international business.
The largest and busiest JR train

station in Kyushu

The water-front resort area JR

Hakata Station and Tenjin

The biggest shopping district

in Kyushu 
Fukuoka Open top bus tour,

three courses for journey

Japan's highest coastal tower,

magnificent view from the top

The oldest temple of the

Shingon sect in Japan
Hakata Gion Yamagasa Festival

is held in the shrine 

400 m down town street,

100 shops and restaurants

One of the largest entertainment

district in western Japan
---
Highlight
Explore Fukuoka
    There are lot of tourst attaractions,  chose from Fukuoka Travel Guide
Dinner, we will recommend for your best one from many choices 
Stay at Fukuoka : Western style Hotel
Please send your enquiry by selecting the Enquiry Form link below.
You can also contact us by e-mail at info@japan-kyushu-tourist.com
And we would love to chat about your travel plans on the phone as well,
please ring our office a call.    +81-93-521-8897