Itoshima one-day tour
A Resort town belonging to Genkai Quasi National Park
located next to Fukuoka–city.  Itoshima is facing Genkai Sea that the dynamic wave makes beautiful
coast line scenery, and on the other side is surrounded majestic Seburi mountain range makes
beautiful country side landscape.
---
 Travelling route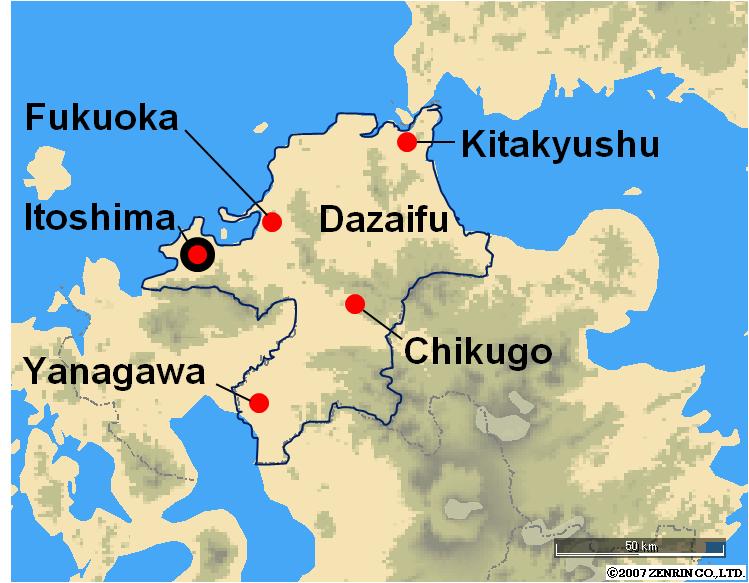 ---
Tour conditions 
The tour is the private tour exclusively for your group.
・Minimum number : 4 person
・Maxum number : 30 person
・Start and end of the tour is 

Fukuoka–city

, please specify the place where you want
・Tour date : please specify the date
・English, Chinese or Korean speaking guide is accompanied
・Chartered vehicle is utilized such as a taxi or bus as per number of person
    if you use a taxi, a foreign language (English, Chainese or Korean ) speaking driver
    can be arranged.   
---
Itinerary
9:00 Depart Fukuoka–city
Anego-hama beach → Mataichino shio ( Salt producing plant)  
Keya Cave → Lunch at Isonoya (sea food ) or Oyster Barbecue Hut
Sake brewery (Suginoya)  → Raizan Sennyoji temple 
Shopping (Ito saisai)
17:30 Arrive  Fukuoka–city
---
Where to visit  
A beautiful sunset scenic spot at Genkai Sea, the place is selected as Japan's 100 scenic 
beauty sunset beach.
---
The salt making plant by the ancient production method. A salt and a magnesium chloride are
produced with Genkai sea water . 
---
The most largest basalt cave in Japan consist of octagon and hexagon columnar joints.
---
Featured seafood restaurant, Isonoya. Special seafood dish used fresh fishes caught in the Genkai
Sea can be enjoyed.
---
There is the tasting corner,  let's sample sake. Sake is unique Japanese liquor made by fermenting rice. 
Suginoya was founded in 1870 in Itoshima.
---
One of the most beautiful beach in Itoshima, when walking on the sandy beach a mysterious 
sound like  " kyu kyu " comes out.
---
One of the most famous temple in Fukuoka-prefecture known for being a great place for cherry
blossom viewing in the spring, and many people visit in the autumn to see the fall foliage.
---
Options
Itoshima oyster growing up in the rich nature of mountain and sea. There are many Oyster Barbecue
Huts at five fishing harbours. The huts only open during the season, from end of October to March or April.
---
Ichirano-no mori, Hakata Ramen
Ichiran is an authentic tonkotsu ramen or pork born soup ramen restaurant, established in 1960.  
The ramen producing factory can be visited and various type of ramen can be enjoyed at Ichiran-no-mori.
---
Should you need further information please feel free to contact us.
Your equiry can be sent by selecting the Enquiry Form link below.
You can also contact us by e-mail at  info@japan-kyushu-tourist.com
Tel :  +81-93-521-8897, Fax : +81-93-521-8898
Address :  AIM buiding 6th floor, 3-8-1 Asano, Kokura-kitaku, Kitakyushu-city, Fukuoka-prefecture 
---
Tour results
We are offering various types of tours, and the tour results up to now are shown links below.
Tailor-made tour      Study tour       Golf tour 
---