Kurume, Yame and Hoshino village tour
 Where to Explore  
・Kurume : the most largest city in Chikugo regin
・Yame :  The city of Japanese Tea and Traditional Crafts
・Hoshino village : The most beautiful village in Japan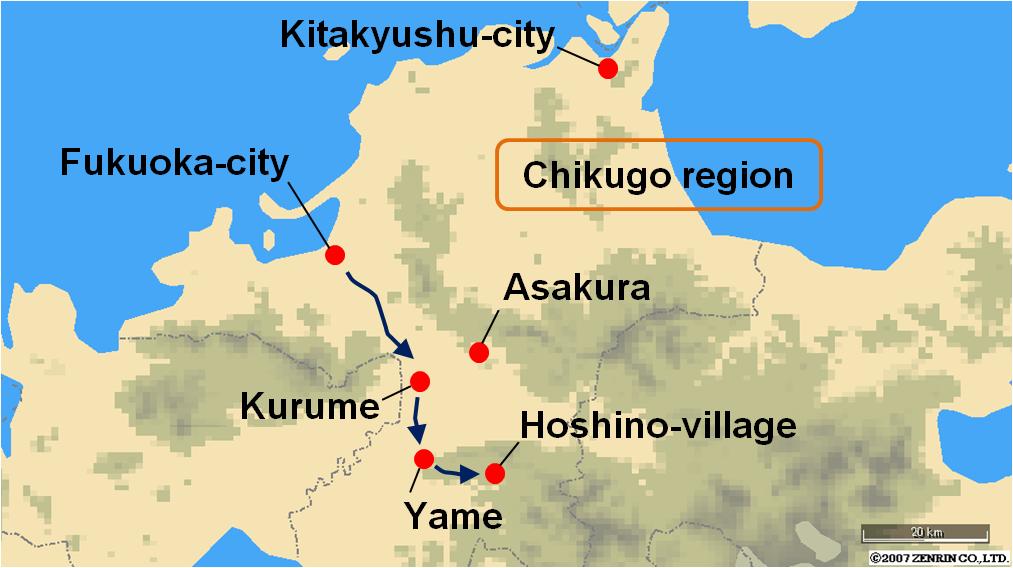 General condition
・Departure and disbandment place is in Fukuoka-city
・Chartered vehicle is used
---
 Itinerary  
8:30 Depart Fukuoka-city
Transfer to Kurume
Visit Kora Taisha Shrine
transfer to Yame
Visit Yame Traditional Craft Museum
Lunch at Yame Ginnoka   → visit Sake brewery Kitaya
Transfer to Hoshino village
Exploring Hoshino village
Transfer to Fukuoka-city  
18:00 Arrive at  Fukuoka-city
---
 Where to Explore
 Kurume
The largest Shrine in Kyushu and the shrine is specified as Ichino-miya or the representative
Shrine in Chikugo region. Located in Kurume-city, stand at the middle of Kora Mountain.
From the Shrine compound, breath taking magnificent view of Chikugo plain can be seen.
| | | |
| --- | --- | --- |
| Torii Gate, entrance of Shrine | Kyushu's largest Shrine building | Magnificent view from the Shrine |
---
The city of Japanese Tea and Traditional Crafts
Located in the southern part of Fukuoka-prefecture, Yame grew in size after the merger
with Kurogi town,Tachibana town,Yabe village,Hoshino village in 2010.
Yame is the Centre of Japanese artificial crafts
The Museum was built in 1986 with the purpose of gathering traditional craft items together
and transferring traditional techniques and development of local industry.
Japan's largest Stone lantern

Japan's biggest Gold Buddhist

Altar

Hina doll
---
White-walled townscape
The Fukushima area is designated as an important traditional buildings preservation
area by the Japanese government. Since the Edo Era (1603 – 1868), the area has flourished as
an economical and political base, and many merchant houses which retain the atmosphere of that
time remain even today, mainly in the towns of Miyano, Kyo, and Furumatsu.
---
Kitaya is renowned Saka brewer in Yame,was founded some 190 years ago during the Edo Era.
The Sake is produced using high-grade rice if brewing quality rice of brewing
cultivated in Fukuoka-prefecture. The Brewery can be visited and enjoy sampling Sake.
---
Featured Japanese restaurant Ginnoka
The restaurant Ginnoka uses Japanese old style house built 100 years ago,
and located next to the Sake brewery Kitaya.
The restaurant opened in 2014 and serving Japanese cuisines which is compatible
with Sake using local abundant ingredients such as vegetables, fruits and fresh river and sea fishes.
---
The most beautiful village in Japan
Located in the southeastern part of Fukuoka Prefecture, and east side of Yame-city,
at altitudes between 200 and 1,000 metres above sea level.
As 84 percent of the village is covered with mountain forests, agriculture and forestry
are the two main industries.
| | | |
| --- | --- | --- |
| Terraced fields made by stonewall | Tea Culture Museum | Star Culture Center |
---
 Option  
The Wisteria Festival takes place between mid-April and early May. 
The tree is more than 600 years old
The total area of its scaffolding structure at 3,000 square meters and its longest flower
clusters measuring in at 150 centimeters, the tree looks truly spectacular when it blooms.   
---
Should you need further information please feel free to contact us.
Your equiry can be sent by selecting the Enquiry Form link below.
You can also contact us by e-mail at info@japan-kyushu-tourist.com
Tel :  +81-93-521-8897 , Fax :  +81-93-521-8898
Address :  AIM buiding 6th floor, 3-8-1 Asano, Kokura-kitaku, Kitakyushu-city, Fukuoka-prefecture 
---