Nagasaki one-day tour
Nagasaki-city is one of the most popular destination in Kyushu,
and one-day tour can be made from Fukuoka. 
Nagasaki became a center of European influences in the 16th century and flourished as a 
trading port & center of Christian missionary activities. The detonation for an atomic bomb over
Nagasaki during the Second World War is a dark page in the cities turbulent history. 
Now, however the city has become a center of peace, blessed with beautiful natural scenery
and eclectic mix of historical sites and architecture
---
Where to explore
Established in 1955 near the Ground Zero where the Atomic Bomb was dropped 
at 11:02 am on Aug. 09, 1945.
Peace Memorial Ceremony is held in front of the statue on August 9 every year and
the Mayor of Nagasaki makes the "Nagasaki peace declaration" for the whole world.
Completed in 1955, ten years

after the atomic bombing

Reminds the tragic scene unfolded shortly after the

dropped Atomic Bomb

The Atomic bomb exploded

about 500m over the central monument              
---
Glover Garden  / UNESCO World Heritage
The garden takes its name from Thomas Glover, his arms-importing operations played 
an important part in the Meiji Restoration, he built the first train line in Japan and he even
helped establish the first modern Mitsubishi ship yard.
Tomas Glover Residence,

World Heritage

Former Mitsubishi second

dock house

Overlooking of Nagasaki

harbour
---
Oura Cathedral   / UNESCO World Heritage
Basilica of Martyrdom of the 26 Saints of Japan
Built in 1865 under the supervision of the French priest Bernard Petitjean.
It was designated as a National Treasure in 1933 for its value as Japan's oldest Gothic-style
Cathedral.
Entrance gate of Oura

Cathedral

Japan's oldest Gothic-style

Cathedral building

Statue of Mary, at entrance of

Cathedral, installed in 1867
---
It is a 333 meter high mountain in close distance to JR Nagasaki Station. The summit can be reached
by ropeway or car and offers great views over the city. And also, the magnificent night views from
Mount Inasa are ranked among Japan's three best night views.
| | | |
| --- | --- | --- |
|  Veiw from Nagasaki harbor |  View from the Summit  |   World's three great night veiw  |
Only the trading port in Japan

 during Natinal isolation              

The oldest stone arch bridge

in Japan

One of the big three china

town in Japan
---
Itinerary 
8:00 Depart Fukuoka-city
Transfer to Nagasaki using Kyushu Expressway and Nagasaki highway, 2hours 
Exploring Peace Park ; Peace Statue, Peace Fountain, Grond Zero, Atomic Bomb Museum 
Exploring Glover Garden and visit Oura Cathedral
Lunch at China Town
Exploring Dejima
Exploring Mount Inasa
Transfer to Fukuoka using Nagasaki Expressway and Kyushu Expressway, 2hours 
18:00 Arrive at Fukuoka-city 
We can arrange any other itinerary considering your preferences.
---
Travelling route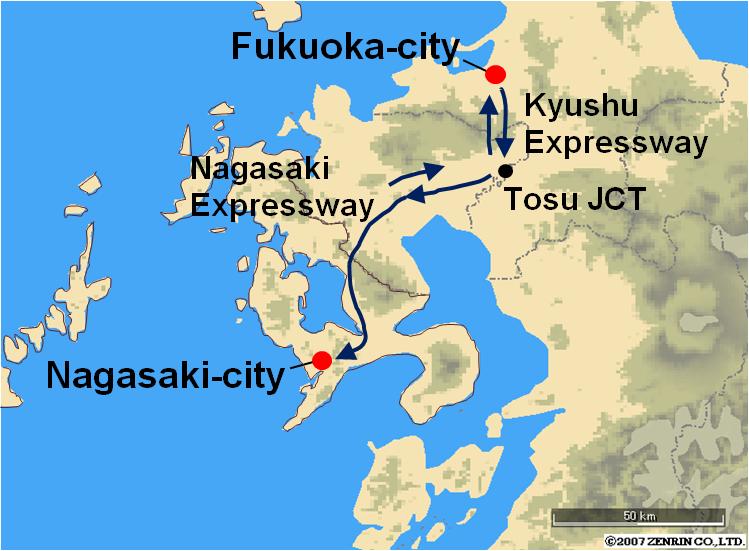 ---
Please send your enquiry by selecting the Enquiry Form link below.
You can also contact us by e-mail at info@japan-kyushu-tourist.com
And we would love to chat about your travel plans on the phone as well,
please ring our office a call.  ☎ +81-93-521-8897
---