6 days North-East Kyushu tour
Where to Explore  
Fukuoka → Chikugo region (Asakura, Ukiha) → Okubungo (Kokonoe, Kuju, Bungo-ono
Takeda) → Yufuin → Beppu → Usa → Kunisaki Peninsula → Kitakyushu → Fukuoka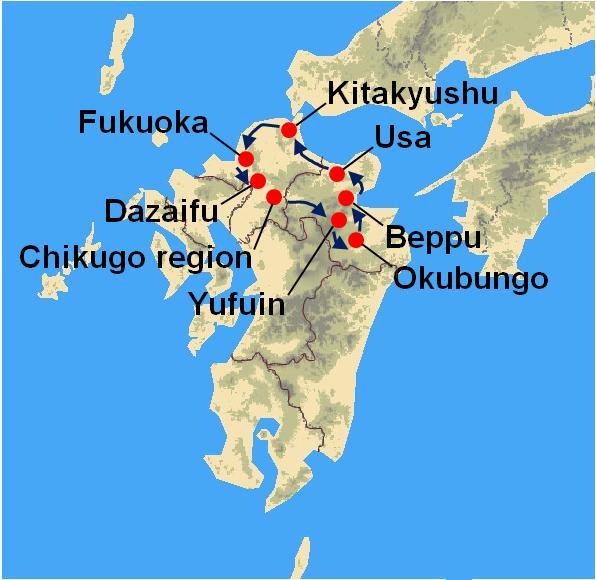 ---
Day 1   Chikugo region  
The Kyuhsu's largest Chikugo River which flows from Mount Aso through the Chikugo region
to Ariake Sea. The Kyushu's largest Chikugo plain spreading in the Chikugo River basin,
where people live from ancient time and the various cultures have been created.
There are a lot of features here such as rural land scape, fruit fields, ancient ruins,
shrines, temples, castle town, Sake brewery, Onsen (hot spring), scrumptious local cosines, 
Japanese cultural experiences.
A former Castle town located in

northern part of Asakura-city

The only area in Japan to use

water wheels for irrigation

A small village located north

side of Asakura-city
A tranquil Onsen located on

the banks of Chikugo River

Breath taking beautiful scenery

harmonizes with the Shrine

Time-honored scenery, back to

100 years ago
---
Schedule
Arrive at Fukuoka
Travel to Chikugo region
Exploring Toho Village and Asakura
Lunch at Featured restaurant Shirakabe
Exploring Shirakabe avenue  
Visit Sake brewery
Stay at Harazuru Onsen Resort 
---
Day 2    Okubungo  
Nature-blessed region at Ono River basin and the northern part is surrounded by Aso & Kuju Mountains
Okubungo region is located in south-east side of Oita prefecture, and consists of Takada, Kuju, 
Bungo-ono, Kusu and Kokonoe.
A magnificent and beautiful

scenery of Kuju plateau

 Yamanami Highway, best

driving route enjoy Nature     

Japan's longest pedestrian

suspension bridge, world's 2nd 
known as one of the world's top carbonate spring

Flows furiously down a cliff and 

creates the Falls

Great Castle wall construction,  magnificent view from the to
---
Schedule 
Travel to Okubungo    

Kokonoe Yume Otsutihashi
lunch : local cuisine such as Dangojiru
Exloring Kuju
Harajiri Waterfall, Oka Castle Ruin
Stay at Nagayu Onsen Resort 
Graceful Onsen Resort located in the Yufu basin surrounded by Mount Yufu and Tsurumi
One of the most popular among ladies and International tourist visits to here are increasing. 
 Gentle mount Yufu can be seen

 graceful Onsen Resort

 In front of JR Yufuin Station
 a elegant street appear

 70 shops, gift shops, galleries

curiosity items shops, cafes   
The old public outdoor mixed

bath with a thatched

The landmark in Yufuin, hot

water gushes from the bottom 

Reproduced the townscape of

the Cotswold region in England
---
The popular hot spring town nestle at the foot of volcanos, Mt. Yufu and Mt. Tsurumi.
Boasting more than 2,800 hot spring sources and flowing rate of nearly 137,000 kiloliters 
Japan's largest hot water yield

Onsen facing to Bappu bay

The highest place Onsen district,

many old style public bathes

 One of the most popular Onsen

 district in Beppu
Collection of hot spring,the water

bubbles forth from underground

Bathing can be enjoy without 

take all clothing off

 About 1700 wild Japanese

monkey are living
---
Schedule
Travel to Yufuin
Exploring Yufuin  
Travel to Beppu
Exploring Beppu 
---
Day 4   Usa & Kunisaki Peninsula
Located at the base of Kunisaki peninsula and spreading around Usa Shrine.
Since ancient time the Kunisaki peninsula has been home of Kyushu's prominent Usa Shrine,
influencing the surrounding hills and valleys with Buddhist culture. Although this is a Shinto shrine,
it has long been holy ground to both Shinto and Buddhist activities, and the Kunisaki Mountains 
and valleys were often chosen by monks as practice ground for meditation.
One of the most beautiful Shrine in Japan, and is the head shrine of Hachiman
Shrine that is composed 44,000 shrines that dedicated to the Hachiman Deity.
Torii Gate, the entrance to the

Shrine compound

 

 Approach to Shrine, through

the sacred area

 Usa Shrine main building, Emperor Ojin, deified as deity
---
Began to develope 1,300 years ago as a sacred religions goround influenced by mountain and nature worship, Buddhism, and Usa shrine rising in the region. 
Here remains in Bungo-takada city the historical background for "home of prayer" consecrating a mass
the Shinto deity, Buddha, and ancestral spirit. And one of major industry is agriculture and entire area of 
Kunisaki peninsula including Usa are listed on the World Agricultural Heritage.
One of worthwhile place to visit 

in Kunisaki Peninsula

The oldest wooden structure

in Kyushu

Hewn in a rock Mt. Tahara, two 

largest Buddhist stone carvings
The resort park features a beach, restaurant and more

Shiitake mushroomsShiitake mushrooms cultivatedrtificially in the forest

A prominent temple with a history

of more than 1300 years
Once considered the most

important estate of Usa Shrine

The temple houses nine

Buddhists images

A marriage monument at

Awashima Park
---
Alternative route
A small city on the north coast of Oita-prefecture, just east of its border
with Fukuoka-prefecture.
 Nakatsu Castle

Built in 1588 on the estuary of

Nakatsu river

Yabakei

The approximately 1 km high monolithic rockey mountain

Maple Yaba Cycling Road

Cycling road built on the site of

the old Yabakei Railroad
---
Schedule
Trensfer to Usa
Visit Usa Shrine
Explore Kunisaki Peninsula
Transfer to Kitakyushu
Stay in Kitakyushu
---
The Industrial Innovation city with many different fascinating feature.
Kitakyushu offers amazing possibilities for tourism and travel with a combination of spectacular
scenery, rich cultural experiences as well as learning possibilities through Study tours based on
the environmental and industrial themes.
Kitakyushu's land mark, walking

distance of Kokura Stations

Down town shopping street,

various shops, restaurants, bars

One of the three largest karst

plateau in Japan 
The suspended bridge crossing the Kanmon Straits

The exotic district, former trading port coal and other products

Only the place in the world,
can be crossed the strait on foot
Sites of Japan's Meiji Industrial

Revolution

The birth place of Steel making

Industry in Japan 

The most dynamic night view

in the world
---
Explore Kitakyushu
Where to visit
Kokura Caltle, Mojiko-retro, Konamon Pedstrian tunnel, Higashida,  Mt. Sarakura  
Industrial tour can be arranged as an alternative
Toyota, TOTO, Nippon Steel and Sumitomo Metal, Yaskawa Electric
lunch at Mojiko Retro or Karato Fish Market in Shimonoseki
Travel to Fukuoka 
Dinner : we will recommend for your best one from lot of choices 
Stay at Fukuoka,  Western style Hotel

---
Has a long history as commercial town and castle town, and prospered as important
district to Asian Continent for many years. Now, Fukuoka-city is the International hub of Kyushu,
the nation's fourth largest economic zone. 
In other words, Fukuoka-city is the heart of Kyushu against various things,
such as food culture, shopping, entertainment, economy and international business.
The largest and busiest JR train

station in Kyushu

The water-front resort area JR

Hakata Station and Tenjin

The biggest shopping district

in Kyushu 
Fukuoka Open top bus tour,

three courses for journey

Japan's highest coastal tower,

magnificent view from the top

The oldest temple of the

Shingon sect in Japan
Hakata Gion Yamagasa Festival

is held in the shrine 

400 m down town street,

100 shops and restaurants

One of the largest entertainment

district in western Japan
---
Highlight
Explore Fukuoka
   There are lot of tourst attractions, please chose from Fukuoka Travel Guide.
Dinner : we will recommend for your best one from lot of choices
Stay at Fukuoka, Western style Hotel 
---
Please send your enquiry by selecting the Enquiry Form link below.
You can also contact us by e-mail at info@japan-kyushu-tourist.com
And we would love to chat about your travel plans on the phone as well,
please ring our office a call.  ☎  +81-93-521-8897