Saga-prefecture travel guide
Saga-prefecture is located in the northern part of Kyushu and are adjacent to
Fukuoka-prefecture in the east and to Nagasaki-prefecture in the west.
The north side faces Genkai Quasi-National Park with scenic coast line.
In the south, the Saga plain that is adjacent to Ariake Sea is spreading.
The capital of the prefecture is Saga-city.
---
Location of Saga-prefecture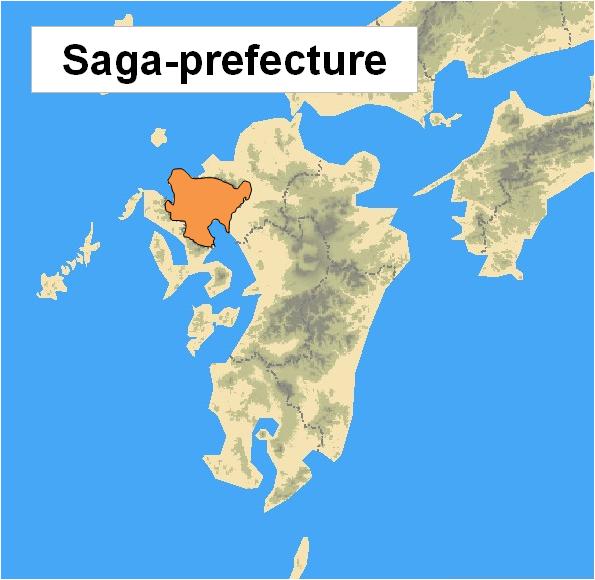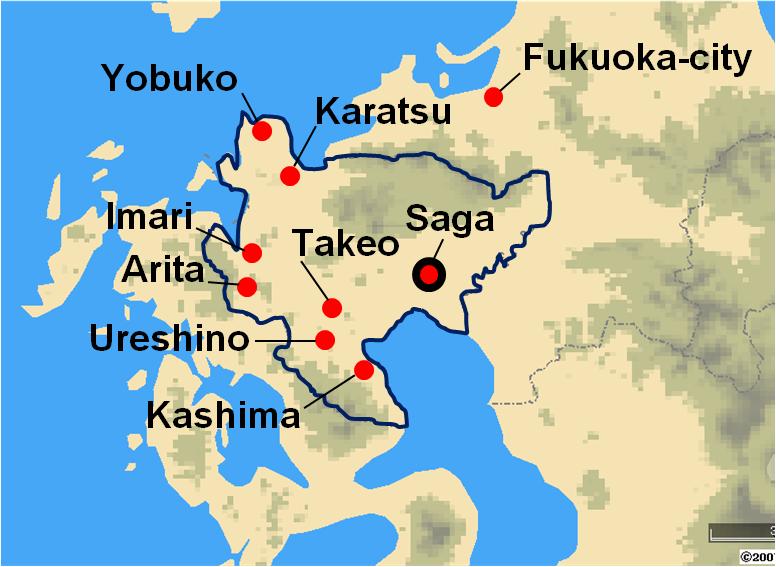 ---
Where to Explore  
It faces the Ariake Sea on the south and is home to Saga Airport. In the center of the city is
the Saga Castle History Museum, which also serves as the city's symbol. The castle itself is no
longer standing, but the main keep has been reconstructed, resulting in one of the largest
wooden structures in Japan.
---
Located on the Higashi Matsuura Peninsula in the north-western part of Saga-prefecture,
have been prosperous from ancient times as an important point for trade with Mainland China.
Karatsu is a part of Genkai Quasi-National Park, and has many scenic spots.
---
Located in the western part of Saga-prefecture. The hot spring temperature is 18 to 52 degrees.
Spring quality is smooth with alkaline simple hot spring.  It is said that the color is colorless and
transparent and has an outstanding effect on recovery from fatigue.
---
Famous for Arita yaki which is 400-years old porcelain. The piece is bright, elegant pictures
drawn in transparent white porcelain. 
---
The porcelain town, has 400years history. Imari is most notable because of Imari porcelain,
which is the European collectors' name for Japanese porcelain wares made in the town of
Arita, Saga-prefecture.
---
Located about 60 kilometers southwest of Saga-city. It borders the Ariake Sea to the
east and Nagasaki-prefecture to the southwest.
Feature sightseeing spot is Yutoku Inari Shrine and also Sake brewery visiting are recommended.
---
Featured tours  
・ Takeo & Yutoku Inari Shrine one-day tour
・ Karatsu & Yobuko one-day tour
Kyushu Round tours
・ 8 days Northern & Central Kyushu tour
・ 6 days North-West Kyushu tour
・ 6 days North-Eest Kyushu tour
---
Should you need further information please feel free to contact us.
Your equiry can be sent by selecting the Enquiry Form link below.
You can also contact us by e-mail at info@japan-kyushu-tourist.com
Tel :  +81-93-521-8897, Fax :  +81-93-521-8898
Address :  AIM buiding 6th floor, 3-8-1 Asano, Kokura-kitaku, Kitakyushu-city, Fukuoka-prefecture 
---