Self-guided tours
Kyushu is a fascinating destination like a Treasure Chest of Japan.
If you love travel independently
We will provide right amount  of support and logistical planning to make you feel comfortable 
in Kyushu.  Our Self-guided tour is a fully tailored Kyushu travel. 
You can start on any day of the year, giving you  complete flexibility over itinerary, duration
and budget
Our Self-guided tour
No Tour Guide will attend the tour,  however we will make full suport during tour; 
you can comunicate with us by telephone or e-mail at any time if you need.  We will provide the
elaborated itinerary and all the arrangement and booking are done prior to start the tour.
Please enjoy your Self-guided tour in Kyushu
---
Exclusive Elaboreted Itinerary
For making your fantastic and enjoyable travel, the elaborated itinerary to suit your requirement will
be previded by showing the schedule, how to get each destination, meal places, accommodation,
excursions as well as tourist information for visiting places.
We have various theme of Kyushu Tour Itinerary for your journey and we can create your
own elaborated plan in accordance with your requirement.
Please find your suitable tour from the Kyushu Tour itinerary.
And also Featured Kyushu tour shown below.
 And all the support you need to make travelling in Kyushu an absolute pleasure.
---
Transpotation 
We can organize it from a wide variety of options depending on your destination & number of pax
such as chartered vehicles or public transportation.
Chartered Jumbo taxi with 9 seats, English speaking driver is available
 Accommodation
Japanse style Inn called Ryokan or Western style hotel can be arranged 
Levels of accommodation; comfort  (3 star ), superior (4 star), or deluxe (5 star)
Meal arrangement
The dining experience of Japanese cuisines and local foods is one of the best excitement
during the trip to Kyushu.  We propose and book the best restaurants to suit your preference
and budget from information on restaurants and meals available only at local travel agent.
Furthermore, Halal meals can be arranged.
Excursion arrangement 
We can arrange various excursions such as fruits picking, Sake brewery, boat cruising, cycling
trekking, shopping as well as farm stay. 
If you have any particular activities or hobbies you would like to incorporate into your trip.
---
Featured Destinations map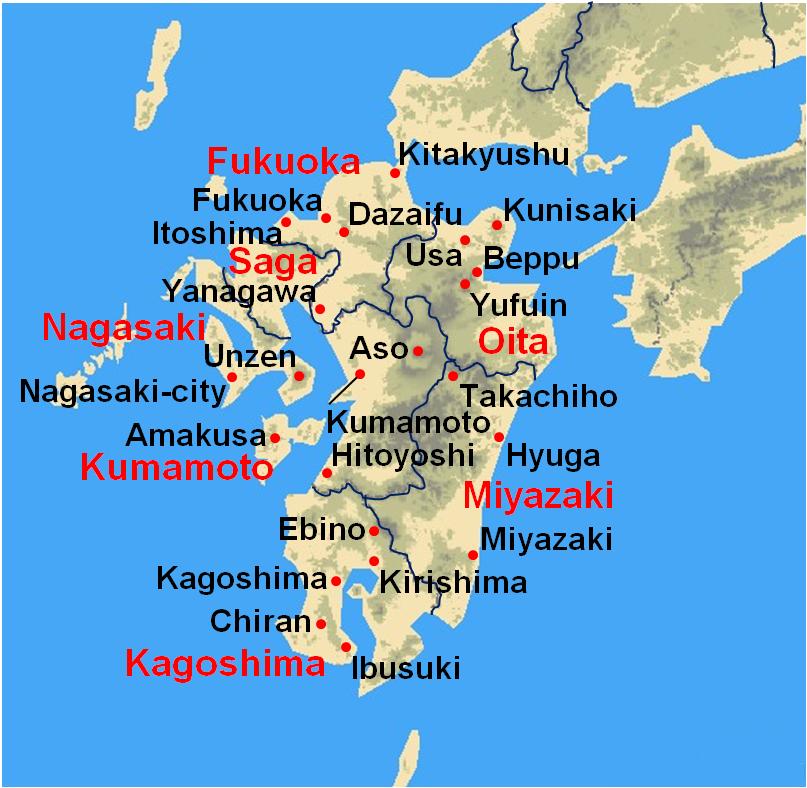 Note
  Red letter indicates prefecture
  Black letter indicates destination
---
Please send your enquiry by selecting the Enquiry Form link below.
You can also contact us by e-mail at info@japan-kyushu-tourist.com
And we would love to chat about your travel plans on the phone as well,
please ring our office a call.  ☎ +81-93-521-8897
---