Shimabara travel guide
Region spread in the foot of gentle mountain and facing to calm sea
Shimabara is consist of two cities on Shimabara peninsula, Shimabara-city west side of
peninsula and Minami-Shmabara-city south-west side of peninsula.
Located in the foot of mount Unzen and facing Ariake Bay,  and those geographical conditions
and mild climate create natural scenic beauty
in the east and Mt. Unzen including Mt. Fugen. 
The region offers various enjoyable things such as Nature, Onsen, Castle town of Shimabara-city,
Hidden Christian history as well as Local Gourmets.
---
Exploring Shimabara
Located in Shimabara-city and was built in 1625 by the feudal load Matsukura Shigemasa, who was
regarded as a master of castle building.
The castle, which took 7 years to complete, is also known as "Moritake Castle".
---
Samurai was a term for the military nobility in pre-industrial Japan.
The Samurai Houses in Shimabara along the old Samurai street nearby Shimabara Castle
were built in 18th century.
---
Site of Historic Battle field of Shimabara Rebellion, registered on UNESCO's World Heritage Site
as Hidden Christian Site, to tell the Christian faith continued even during the ban on Christianity.
Located in Minami-Shimabara-city, the Battle field of Shimabara Rebellion which was a peasant
uprising agaist bakufu's persecution of Christians under the leadership of Amakusa Shiro in 1637.
---
Ferry to Kumamoto, from Shimabara
Two ferries are operated form Shimabara to Kumamoto
Kyusho Ferry : operated by Kyusho Ferry, 60 minutes ride
Ocean Arrow : operated by Kumamoto Ferry, 30 minutes ride
| | | |
| --- | --- | --- |
|              Shimabara port |                  Ocean Arrow |                 Kumamoto port |
---
Ferry to Amakusa (Oniike) , from Kuchinotsu (Minami-Shimabara-city)
Shimatetsu Ferry : operated by Shinabara Rail Way, 30 minutes ride.
| | | |
| --- | --- | --- |
|             Kuchinotsu port |                    Kuchinotsu |                  To Amakusa |
---
                 Location of Shimabara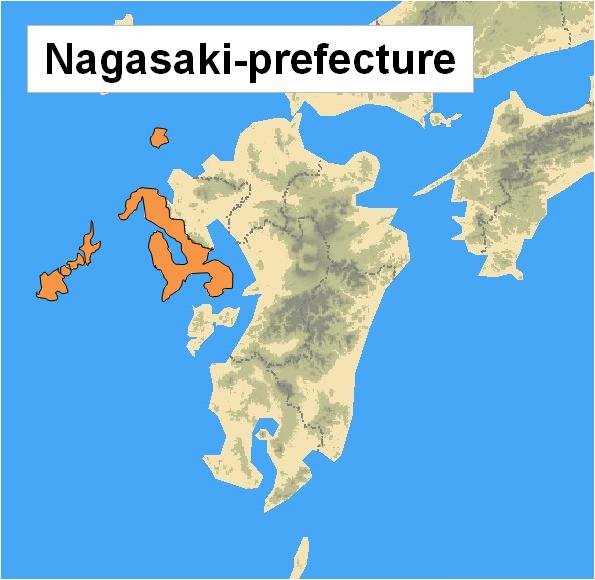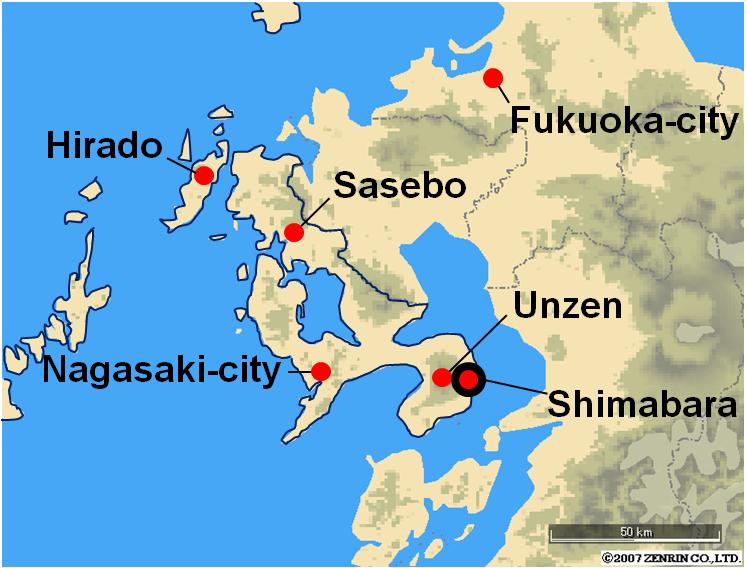 ---
General information
Address

Shimabara-city, Nagasaki-prefecture

Access

90 minutes by a vihecle from Nagasaki-city

70 minutes by a vihecle from Nagasaki Air port

30 minutes by a vihecle from Unzen-city
---