Tailor-made tour in Kyushu
We offer the private tour exclusively for you.
We can design your customized tour exactly matches your requirements and preferences. 
We can also consider for making tour that pick in many activities and locations as possible,
or incorporate some relaxation and free time to explore on your own time.
---
Featured destinations map in Kyushu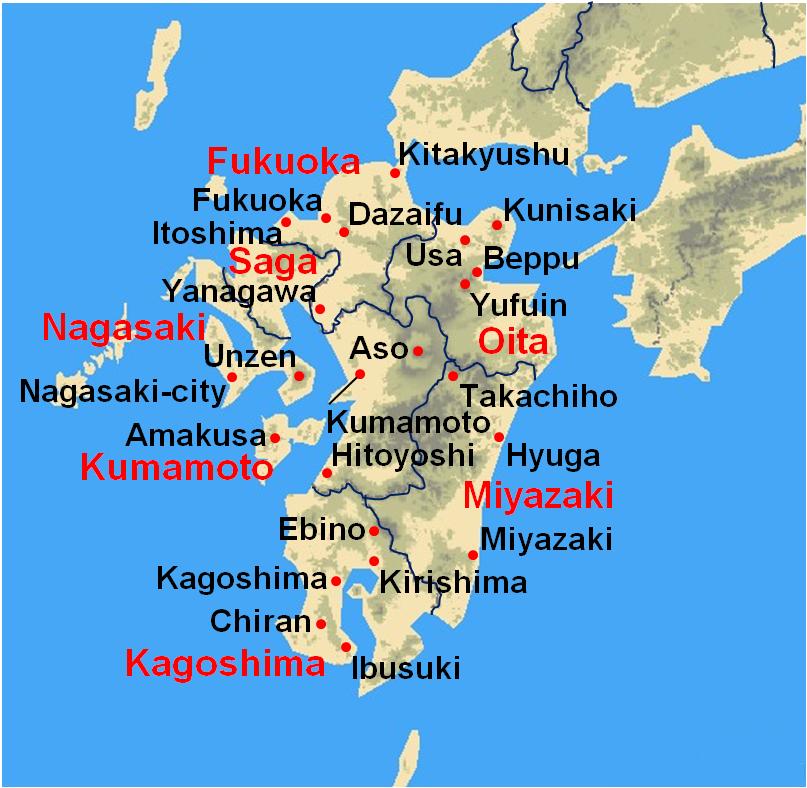 Note
  Red letter indicate prefecture
  Black letter indicate destination
---
The customized tour itineraries

We have prepared a various Kyushu tour Itineraries for your journey and we can design your 
customized private tour based on tour sample itineraries in condideration of your requirement.
Please refer the customized tour Itineraries by clicking the photos below.
---
Tailor-made tour conditions
Our Tailor-made tour is offered for your as a package tour including Accommodations,
Chartered  vehicle, English speaking tour attendant, meals as well as activities.
・Minimum number : 2 person
・Maxum number : 30 person
・Start and end of the tour is Fukuoka–city, please specify the place where you want
・Tour date : please specify the date
・Accommodations is selected as per your required grade, room conditions and budget
 and the location is considered sightseeing, dinner and nightlife as well.
・Chartered vehicle is utilized as per number of person.
・English speaking tour attendant escorts your journey to produce a pleasant trip.
・For making enjoyable our company staff always assist during tour by  
 communicating with you using a communication tool such as WhatsApp.
---
Our consideration on Tailor-made tour 
For enjoyable journey, the itinerary is to be planned in accordance with your own
pace and considering a physical conditions as well.
・Travelling route: Driving from destination to destination is a part of travel, so the best route
 is to be selected where you can enjoy the beautiful scenery.
・Local cuisines and special gurmet are to be included.
・Shoppings are included on the travelling route ; local market and Michino-eki for local
    specialties and fruits etc.
---
What and where to enjoy in Kyushu
The followings can be included as per your preference.
・Unique activities : Yanagawa Canal boat cruice,  Keya Cave cruise, Gunkan-jima islamd cruise
    Amakusa cruise or dolphin watching , Sand bath, Wild horse watching, Beppu Hell tour,
    Foot bath in Beppu and Unzen Obama,  Japan's three major night view of Kitakyushu and Nagasaki
    Aso tourist tram, Sake brewery in any places in Kyushu, Fruits picking in any places in Kyushu
・Dynamic and beautiful Nature  : Amakusa, Unzen, Satsuma Peninsula,  Sakurajima Island
    Aso, Takachiho, Nichinan, Hyuga,  Okubungo, Yufuin
・Onsen experience :Amakusa, Takeo, Shimabara, Unzen, Obama, Ibusuki,  Aso, Kurokawa,
・UNESCO World Heritage  /  Meiji Japan's Industrial Revolution: Kitakyushu, Saga, Nagasaki
 Kagoshima
・UNESCO World Heritage/ Hidden Chiristian sites: Nagasaki, Shimabara, Unzen, Amakusa
・Japanese Cultural Historical sites : Nagasaki, Shimabara, Kumamoto, Chiran, Kagoshima
 Kirishima, Obi, Mimitsu, Takachiho, Aso, Kitakyushu-city, Fukuoka-city
---
Should you need further information please feel free to contact us.
Your equiry can be sent by selecting the Enquiry Form link below.
You can also contact us by e-mail at info@japan-kyushu-tourist.com
And we would love to chat about your travel plans on the phone as well,
please ring our office a call in English    Tel : +81-93-521-8897
Address :  AIM buiding 6th floor, 3-8-1 Asano, Kokura-kitaku, Kitakyushu-city, Fukuoka-prefecture 
---
Tour results
We are offering various types of tours, and the tour results up to now are shown links below.      
Tailor-made tour     Study tour     Golf tour
---
 HOME    About us   Our Services    Terms and Conditions
---