Ukiha and Yanagawa one-day tour
Exploring the two most featured destinations in southern part of Fukuoka-prefecture.
Ukiha: Located in the Chikugo plain, spread out at the foot of Mino mountain range
Enjoy a breath taking view in Ukiha and a time-honored scenery, back to 100 years ago
in Yoshii.
Yanagawa : The beautiful Canal town, recommended experience is Canal boat cruise
---
Traveling route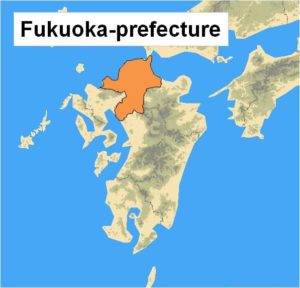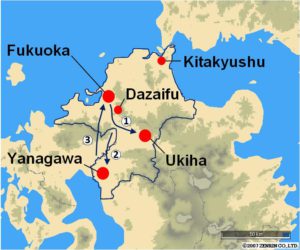 ---
Tour conditions

The tour is the private tour exclusively for your group.
・Minimum number : 2 person
・Maxum number : 30 person
・Start and end of the tour is 

Fukuoka-city

, please specify the place where you want
・Tour date : please specify the date
・English speaking tour attendant escorts your journey to produce a pleasant trip.
・Chartered vehicle is utilized as per number of person.
---
Itinerary  
9:00 Depart Fukuoka-city
Transfer to Ukiha
Visit Ukiha Inari Shrine
Exploring Shirakabe-dori Avenue
Lunch at Featured Restaurant, Shirakabe
Transfer to Yanagawa
Exploring Yanagawa
Back to Fukuoka-city
17:00 Arrive at Fukuoka-city
---
Where to visit
Breath taking scenery harmonizes with the Shrine, Ukiha Inari Shrine, located at foot of Mino
mountain range, 130 m height from sea level. The 90 vermilion coloured Torii Gates stand on
the 300 steps stairs is introduced you from bottom area to the Shrine main building.
| | | |
| --- | --- | --- |
|              To the Shrine |             Shrine main building |   Breath taking view from Shrine |
---
Time-honored scenery, back to 100 years ago, Located in Yoshii-machi, Shirakabe, literary meaning is
white wall. The avenue of houses with white wall were constructed about 100 years ago.  About 250
houses in the area has been designated as National important raditional buildings preservation district.
---
Featured Restaurant, Shirakabe
The restaurant Shirakabe is in the former merchant's building constructed in 1928. Japanese
cuisines using best local ingredients that vary by season can be enjoyed. The chef who makes
that cuisines also experienced the imperial family's cook.
---
Yanagawa Canal boat cruise is to board a small boat called the Donkobune and slowly 
go down the river skillfully maneuvered by a boatman with bamboo pole.
| | | |
| --- | --- | --- |
| | | |
---
Listed on National Scenic Landmark, was built in 1697 as the villa of the Fourth Lord
Tachibana Akitora. At that time the region was called Hanabatake (Field of flower), so
the villa was named Ohana or Flower.
---
Birthplace of Hakushu Kitahara
Yanagawa is the birthplace of renown poet Hakushu Kitahara, whose accomplishments 
are marked by a memorial park and the many stone monuments bearing his works placed
throughout the city.
---
Option
Sake breweries in Yanagawa
There are two authentic Sake breweries where you can enjoy tasting in Yanagawa.
Yanagawa Shuzo Sake brewery founded in 1890 and Kikubijin Shuzo Sake brewery
founded in 1735.
| | | |
| --- | --- | --- |
|      Yanagawa Shuzo |            Kikubijin Shuzo |             Kikubijin Shuzo |
---
Should you need further information please feel free to contact us.
Your equiry can be sent by selecting the Enquiry Form link below.
You can also contact us by e-mail at  info@japan-kyushu-tourist.com
Tel :  +81-93-521-8897, Fax : +81-93-521-8898
Address :  AIM buiding 6th floor, 3-8-1 Asano, Kokura-kitaku, Kitakyushu-city, Fukuoka-prefecture 
---
Tour results
We are offering various types of tours, and the tour results up to now are shown links below.
Tailor-made tour    Study tour     Golf tour
---