Usa & Kunisaki peninsula one-day tour
Usa including Kunisaki peninsula is located Eastern part of Oita-prefacture
If you want to meet real Japan and Cool Japan, we really recommend to visit this region.
You can feel Japanese mind in the Japan's local landscape.
And also you can enjoy many type of local Cuisines and local specialties.
Since ancient time the Kunisaki peninsula has been home of Kyushu's prominent Usa Shrine,
influencing the surrounding hills and valleys with Buddhist culture. Although this is a Shinto shrine,
it has long been holy ground to both Shinto and Buddhist activities, and the Kunisaki Mountains 
and valleys were often chosen by monks as practice ground for meditation.
---
 Location of USA and Kunisaki peninsula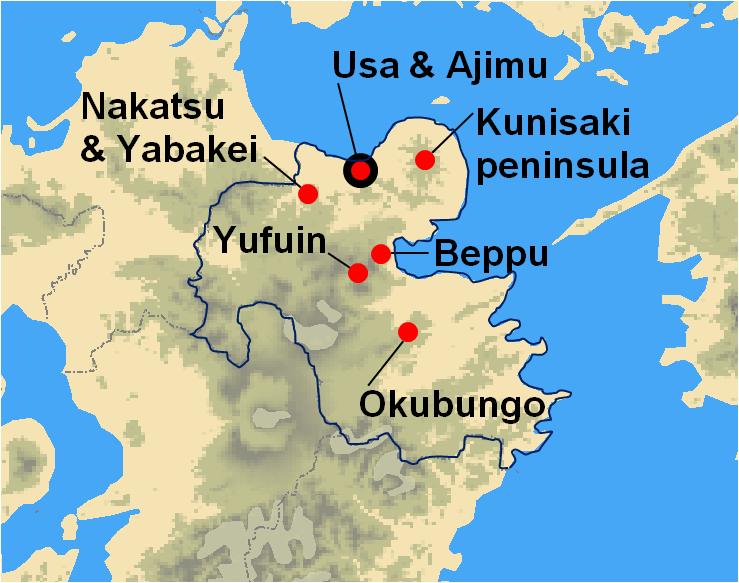 ---
Tour Conditions
The tour is the private tour exclusively for your group.
・Minimum number : 4 person
・Maxum number : 30 person
・Start and end of the tour is 

Fukuoka–city

, please specify the place where you want
・Tour date : please specify the date
・English, Chinese or Korean speaking guide is accompanied
・Chartered vehicle is utilized such as a taxi or bus as per number of person
    if you use a taxi, a foreign language (English, Chainese or Korean ) speaking driver
    can be arranged.    
---
Itinerary 
8:00 Depart Fukuoka-city
Transfer to Usa using Kyushu highway and Higashi-Kyushu highway, 2hours & 15minutes
Exploring Usa Shrine
Transfer to Kunisaki Peninsula
Exploing Bungotakada Showano Machi
Lunch at Featured Restaurant Fukinoto
Exploring Kunisaki Paninsukala; Fuki-ji temple, Maki odo, Onieno sato
Transfer to Fukuoka using Higashi-Kyushu highway and Kyushu highway, 2hours & 30mimutes
17:30 Arrive at Fukuoka-city 
---
Where to explore
One of the most beautiful Shrine in Japan, and is the head shrine of Hachiman Shrine that
is composed 44,000 shrines that dedicated to the Hachiman Deity. 
Torii Gate, entrance to the

Shrine

Approach to Shrine

Shrine main building 
---
Grows high-quality grapes by taking advantage of the temperature fluctuations found in the
extreme climate unique
to this region

.
---
Showa is the era that lasted till about 30 years ago in Japanese history, Bungo Takada was
the most prosperous in Kunisaki Peninsula for over 300 years from the Edo period up to 1900.
Here remains various old structures and remnants of regional Japanese.
| | | |
| --- | --- | --- |
| Shopping street | Red post | Showa Roman Gura |
---
The temple is a Tendai Buddhist temple located on the slopes of Mount Futago. The temple was
established in 718 and the temple building is the oldest extant wooden structure in Kyushu
| | | |
| --- | --- | --- |
| Entrance of the Temple | Stone lantern | The oldest Temple building |
---
Located in the precincts of Fuku-ji temple, the local cuisines can be enjoyed such as Bungo beef,
Dangojiru, Soba noddle as well as Special meals used locally harvested ingredients.
| | | |
| --- | --- | --- |
| Welcome to Fukinoto | Japanese style restaurant | Soda noddle making experience |
---
The resort park features a beach, a campsite, restaurant and more. The entire premises gets
painted beautifully with colors of each and every seasonal flower in season.
| | | |
| --- | --- | --- |
|   Beach |   Seasonal flower premises |   Sunflower |
---
Hewn in a rock Mt. Tahara are two of largest Buddhist stone carvings in all Japan.   A Fudo-myu-o
8 meter in heigt and Dainich-nyurai 6.8 meter height. Said to have been carved in the Heian period,
they have received government designation as Important Cultural Properties.
| | | |
| --- | --- | --- |
|   Entrance |   Daiichi nyorai |    Fudo myoou |
---
The temple houses nine Buddhists images said to be masterpieces of the Heian period,
including the Maki-Odo Seated Amida Nyorai (Amitabha). Figure and statues of the Four Devas.
All are designated as important national cultural properties.
---
This district was once considered the most important estate of Usa Shrine. It has been ascertained
from ancient documents that the rural landscape seen today has remained unchanged since Heian
period. Now included this are, Kunisaki peninsula is listed on the World Agricultural Heritage.
| | | |
| --- | --- | --- |
| World Agricultural Heritage | Paddy field | Farmers houses |
---
Featured tours  
Oita-prefecture tours
・ Yufuin & Beppu Onsen 2 days tour
Kyushu Round tours
・ 8 days Northern & Central Kyushu tour
・ 6 days North-West Kyushu tour
・ 6 days North-Eest Kyushu tour
---
Should you need further information please feel free to contact us.
Your equiry can be sent by selecting the Enquiry Form link below.
You can also contact us by e-mail at info@japan-kyushu-tourist.com
Tel :  +81-93-521-8897, Fax :  +81-93-521-8898
Address :  AIM buiding 6th floor, 3-8-1 Asano, Kokura-kitaku, Kitakyushu-city, Fukuoka-prefecture 
---