Yanagawa and Dazaifu one-day tour
The tour takes you to two popular destinations around Fukuoka-city, Yanagawa and Dazaifu.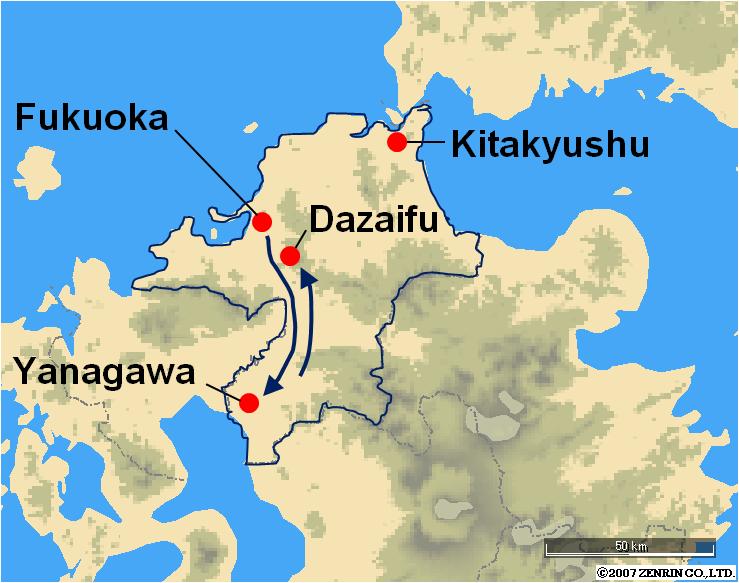 Tour condition

Start and end of the tour is to be  Fukuoka-city 
English speaking guide is accompanied
Chartered vehicle such as a jumbo taxi or bus
is 
utilizes as per number of pax
Yanagawa is the estuary town facing the Ariake Sea; Canal boat cruise can be enjoyed while
experience the atmospheres of castle town. Surprisingly, 60km lengh canal in total was
constructed in the town of Yanagawa and the Yanagawa prospered as a castle town because
the canals were used for the moats, which was the protection of enemy during Edo period.
The heart of Yanagawa

Beautiful canal town

A boat called Donkobune,

slowly go down the river

Skillfully maneuvered by a

boatman with bamboo pole
Built in 1697 as the villa of the 

Lord Tachibana Akitora

Listed on the National Scenic

Landmark

Built as the guest house of

Tachibana family in 1910
---
Lunch at Yanagawa
Yanagawa is the birthplace of Steamed Eel that has more than 300 years history.
There are many restaurants which have their long history and each restaurants have
been keeping the traditional source and brand value.
Yanagawa is facing to Ariake Sea where many fresh and unique fishes are caught.
Japanese cuisine using local delicacies is also reccomended. 
---
Dazaifu, time back to 1300 years ago, historical place Dazaifu About 1300 years ago, 
there was a government office to manage the entire Kyushu for a long period of 500 years at
the present Dazaifu. The most popular tourist destination is Dazaifu Tenmangu Shrine.
​
Many gift shops, restaurants,

Umegae-mochi shops

Unique architecture designed by renown designer Kengo Kuma

Cows bringing good fortune

when touching
The bridge approach to the

sacred area

The landmark lantern, to the

Shrine compound

Enshrine the deity of scholorship, Sugawara Michizane
---
The Zen temple famous for its 

beautiful stone garde

Japan's fourth national museum

after Tokyo, Kyoto and Nara   

Known as TOFURO during the

Nara and Heian period
---
Itinerary
9:00 Depart Fukuoka-city
Transfer to Yanagawa  by vehicle
Arrive at Yanagawa
Canal boat cruise
Exploring Yanagawa : Ohana Shotoen Garden, Birthplace of Hakushu Kitahara and Shopping
Lunch at Yanagawa  : Unagi (eel ) cuisine or seafood cuisine of Ariake sea
Trasfer to Dazaifu by vehicle
Exploring Dazaifu : Shrine Approach path, Komyozen-ji temple, Dazaifu Tenmangu Shrine
Transfer to Fukuoka by vehicle
16:30 Arrive at Fukuoka-city 
---
Please send your enquiry by selecting the Enquiry Form link below.
You can also contact us by e-mail at info@japan-kyushu-tourist.com
And we would love to chat about your travel plans on the phone as well,
please ring our office a call.  ☎ +81-93-521-8897
---
Price of the tour
Price for a person is subjected to the number of participant a group,
if a chartered vehicle with 9 seats is utilized, the price list is as follows;
Number of

perticcipant

2 person

3 person

4 person

5 person

6person

7 person

8 person

9 person

Price per

person (JPY)

44,000

29,000

23,000

18,000

16,000

14,000

11,000

9,500
Included items
 Transport by a chartered vehicle
 English speaking driver
Exculuded items
 Meal
 Tourist attraction fees