Yanagawa & Dazaifu one-day tour
Explores two popular destinations, Yanagawa & Dazaifu.
Yanagawa is the beautiful canal town where the Canal boat cruise and local cuisines can
be enjoyed. Dazaifu is the most recommended place to visit in Fukuoka-prefecture where
has 1300 years history, featured spot is Dazaifu Tenmangu Shrine.
---
 Travelling route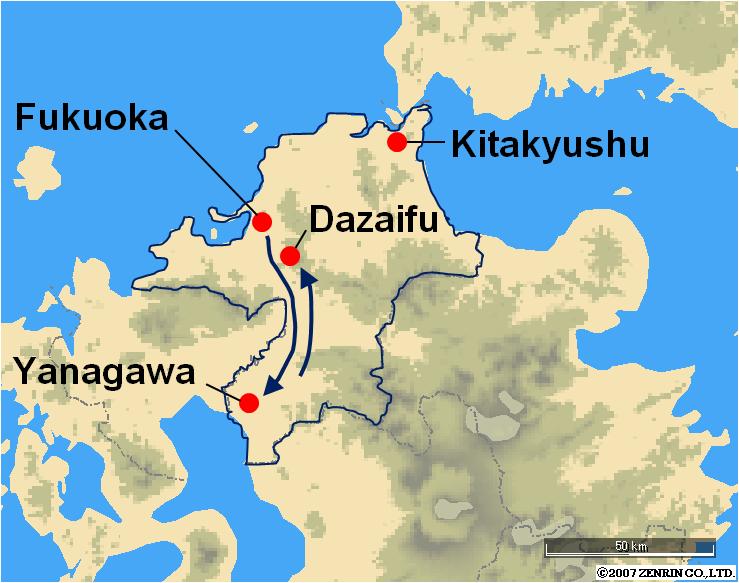 ---
Tour Conditions
The tour is the private tour exclusively for your group.
・Minimum number : 2 person
・Maxum number : 30 person
・Start and end of the tour is 

Fukuoka–city

, please specify the place where you want
・Tour date : please specify the date
・English speaking tour attendant escorts your journey to produce a pleasant trip.
・Chartered vehicle is utilized as per number of person.
Itinerary
9:00 Depart Fukuoka-city
Transfer to Yanagawa  by a vehicle
Exploring Yanagawa : Ohana Shotoen Garden and Shopping
Lunch at  Yanagawa  : Unagi (eel ) cuisine or seafood cuisine of Ariake sea
Trasfer to Dazaifu by a vehicle
Exploring Dazaifu  : Shrine Approach path,  Komyozen-ji temple,  Dazaifu Tenmangu Shrine
Transfer to Fukuoka-city by a vehicle
17:00 Arrive at Fukuoka-city
Options : the following sites can be arranged as a option.
Sake breweries in Yanagawa
Site of Dazaifu Government Office
---
Where to explore
The Beautiful Canal town Yanagawa located about 60km south of Fukuoka-city and is
a former Castle town facing the Ariake Bay and spreading in the Chikugo plain.
Canal boat cruise is most recommended experience.
Yanagawa Canal boat cruise is to board a small boat called the Donkobune and slowly 
go down the river skillfully maneuvered by a boatman with bamboo pole.
 Enjoy Canal boat cruise

 at the beautiful Castle town 

 A leisurely cruise along the

streets & houses which still

retain remnants of castle town

Hearing the boatman's

explanation of the history &

landscape of Yanagawa
Listed on National Scenic Landmark, was built in 1697 as the villa of the Fourth Lord
Tachibana Akitora. At that time the region was called Hanabatake (Field of flower), so
the villa was named Ohana or Flower.
Built as the villa of the Fourth

Lord Tachibana Akitora

A 3300 square meters

Japanese style garden

Western style building

built in 1910
---
Lunch at Yanagawa  
Yanagawa is the birthplace of Steamed Eel that has more than 300 years history.
There are many restaurants which have their long history and each restaurants have
been keeping the traditional source and brand value.
Yanagawa is facing to Ariake Sea where many fresh and unique fishes are caught.
Japanese cuisine using local delicacies is also reccomended. 
 Featured Ariage Sea food

 Restaurant, Yoakejaya

 Typical Sea food meal used

  fresh and unique fishes

 Sushi, used fresh and unique 

 fishes caught in Ariake Sea
---
Dazaifu is a historical place, about 1300 years ago, in Dazaifu, there was a government
office to manage the entire Kyushu  for a long period of 500 years at the present Dazaifu. 
​
The Shrine dedicated to the deity of learning. Many Japanese visit the Shrine to pass the
examination successfuly. Built on the site of grave of Sugawara Michizane, who is deified
as the Deity of scholarship. The shrine is the headquarter shrine of 12,000 Tenmangu
shrines in Japan.
  

  Approch path to the Shrine,

  there are many gift shops

  and restaurants

Sacred Cow welcome you to

Shrine

 Dazaifu Tenmangu Shrine,

 dedicated to the deity of

 learning
---
The Zen temple famous for its beautiful stone garden built during the Kamakura period just
next to Dazaifu Tenmangu Shrine and is within walking distance of Nishitetsu Dazaifu station.
| | | |
| --- | --- | --- |
|  Beautiful stone garden |  Japanese garden |  Temple bell |
---
Option
Sake breweries in Yanagawa
There are two authentic Sake breweries where you can enjoy tasting in Yanagawa.
Yanagawa Shuzo Sake brewery founded in 1890 and Kikubijin Shuzo Sake brewery
founded in 1735.
| | | |
| --- | --- | --- |
|   Yanagawa Shuzo |   Kikubijin Shuzo |    Kikubijin Shuzo |
---
Kyushu National Museum was opened in 2005 in Dazaifu-city next to Dazaifu Tenmangu
Shrine, as Japan's fourth national museum after Tokyo, Kyoto and Nara.
---
Site of Dazaifu Government Office
Government site of Ancient Kyushu, Known as TOFURO, the site was used during the
Nara (710 to 794 AD) and Heian (794 to 1185 AD) period. The Dazaifu was responsible
for supervising Japan's maritime frontier, as well as for administering the nine provinces 
and two island of the Saikaido (modern Kyushu).
---
Should you need further information please feel free to contact us.
Your equiry can be sent by selecting the Enquiry Form link below.
You can also contact us by e-mail at info@japan-kyushu-tourist.com
Tel :  +81-93-521-8897,  Fax :  +81-93-521-8898
Address :  AIM buiding 6th floor, 3-8-1 Asano, Kokura-kitaku, Kitakyushu-city, Fukuoka-prefecture 
---
Tour results
We are offering various types of tours, and the tour results up to now are shown links below.   
Tailor-made tour     Study tour     Golf tour
---
 HOME    About us   Our Services    Terms and Conditions
---