Yufuin & Beppu Onsen 2 days tour
Exploring the most recommended Onsen Resorts Beppu and Yufuin.
Two Onsen Resorts are located in Oita-prefecture, and have different fascinating
features.
Oita-prefecture is on the north-eastern area of Kyushu and a representative
Onsen Resort area in Japan, total boasting hot spring sources and hot spring flowing
volume are both Japan's largest.
---
Travelling route
Day 1 : Fukuoka–city  → Yufuin sightseeing,  stay Yufuin or  Beppu
Day 2 :  Beppu sightseeing  →   Fukuoka-city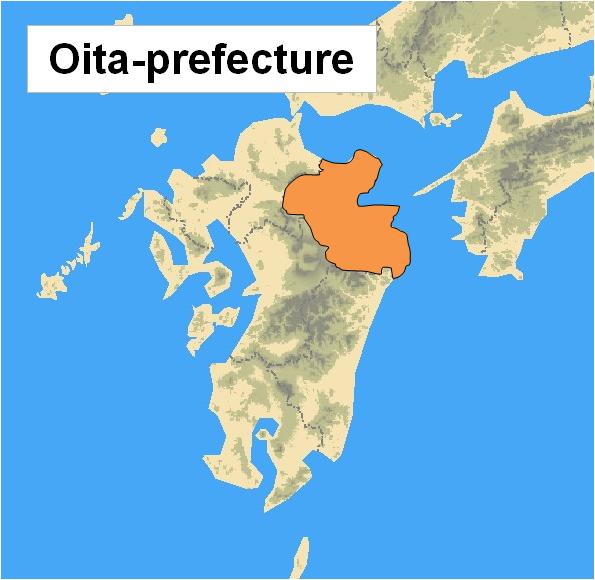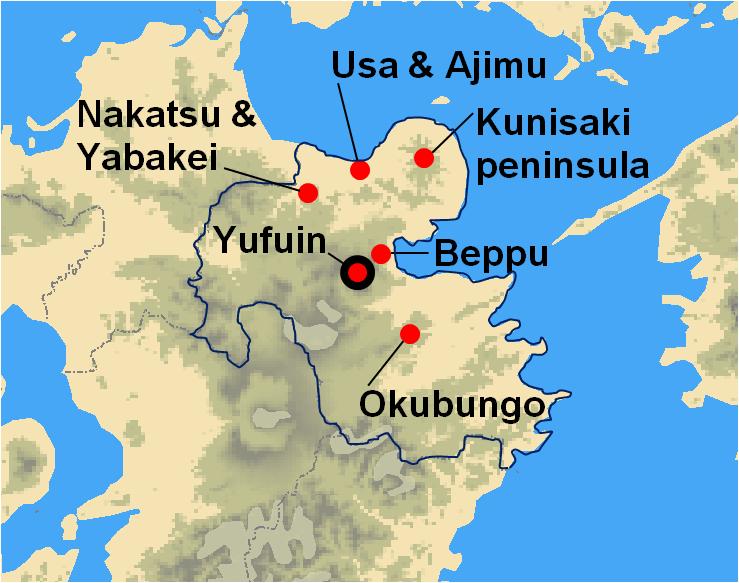 ---
Tour conditions

The tour is the private tour exclusively for your group.
・Minimum number : 2 person
・Maxum number : 30 person
・Start and end of the tour is 

Fukuoka

–

city

, please specify the place where you want
・Tour date : please specify the date
・Chartered vehicle is utilized as per number of person.
   (1) less than 8 person
     a chartered taxi is used with English speaking driver
     English speaking driver assist the tour as tour guide and tour attendant
   (2) more than 9 person
  a chartered bus is used with Japanese speaking driver
  English speaking guide who also works as a tour attendant is accompanied
    for assist the tour in the case of using a chartered bus
・Accommodations is selected as per your required grade, room conditions and budget
    and the location is considered sightseeing, dinner and nightlife as well.
---
Day 1  Yufuin
Itinerary
Depart Fukuoka-city → transfer to Kokonoe 
transfer to Yufuin
Lunch at Yufuin
Exploring  Yufuin
  Yunotsubo Avenue   → Yufuin Floral Village → Kinrinko lake
Stay at Yufuin or Beppu Onsen
  Japanese style accommodation included dinner
Option : the following sites can be arranged as a option before exploring Yufuin.
---
Where to explore
The longest pedestrian suspension bridge in Japan and the 2nd leongest in the World
Splendid and beautiful view from the thrilling sunpension bridge over the Naruko river valley.
 Entrance of the pedestrian

 suspention bridge

Beautiful scenery of Naruko

river valley

390 metre long, 173 metre

height from Nariko River valley
---
A beautiful and tranquil Onsen Resort, Yufuin is located about 15 km west of Beppu and is spreading
in the Yufu basin at the mountain foot of Yufu. 
Main street in Yufuin located at the foot of mount Yufu. The avenue is started near JR Yufuin
Station and connected to Kinrinko lake. Through Yunotsubo Avenue, it takes about 30 minutes
on foot from JR Yufuin Station to Kinrinko lake. There are 70 shops, gift shop, galleries, curiosity
item shops as well as cafes.
Main street in Yufuin located

at the foot of mount Yufu 

70 shops, gift shop, galleries,

curiosity item shops

 Many  souvenios can be found
---
Reproduced the townscape of the Cotswold region in England. The place was also used for
Harry Potter's shooting location.
Welcome to Yufuin Floral

Village

Theme area "spring of girl

Heidi in the Alps"

Reproduced the townscape

of the Cotswold region
---
One of landmark in Yufuin. Hot water gushes from the bottom of the lake, and hot
steam rises from its surface on a cold day.  The lake is located at the end of the
town's main walking route, about a kilometer and a half from the Yufuin station.
Hot water gushes from the

bottom of the lake

Hot steam rises from

its surface on a cold day

Cafe restaurant by the lake
---
Lunch at Yufuin
Yufumabushi
Yufumabushi is a local cuisine which serves really nice BUNGO Beef.
But surprisingly, the way they serve beef is not BBQ or SUKIYAKI style that are seen in
most cases, but "Yufumabushi " style which we rarely see for beef dish.
Local gourmet restaurants
There are many kind of restaurants and cafes around Kinrinko lake and at the Yunotsubo Avenue,
---
Stay Yufuin or Beppu
The best Onsen life to suit your requirement can be chosen from the various options.
Where to stay : Yufuin Onsen, Sujiyu Onsen, Beppu eight Onsen including Kannawa.
Japanese style room or Western style room can be chosen and the local cuisines
including Bungo beef can be enjoyed at dinner.
 

  Onsen Resort

 Relaxing at Onsen Resort

 Japanese style room
---
Option
In the harvest time, the northern Kyushu boasts many area with beautiful fruit orchards.
Fukuoka is one of the leading fruit-producing prefecture in all Japan.
The fruit production in Fukuoka is primarily concentrated in the southern Chikugo region
such as Ukiha, Asakura and Tanushimaru.
Strawbery : December to May

 

Grape : August to October

 Apple : August to December

 Persimmon : Oct. to Dec.
---
Kuju Flower Park
The Park offers stunning seasonal displays of flowers set against beautiful mountain scenery.
Over 3 million flowers in 500 different varieties from spring to late autumn. The park covers 49
acres of the beautiful Kuju plateau, the Kuju mountain range making a stunning alpine back
drop and the sleeping buddha of Mount Aso, a vista in the distance.
 Entrance of Kuju Flower Park

Over 3 million flowers in 500

different varieties  

Seasonal displays of flowers

set against beautiful mountain

scenery
---
Day 2   Beppu  
Itinerary
Leave accommodation
Exploring Beppu
Lunch at Beppu, JIgoku Mushi kobo
transfer to Fukuoka-city
Option : the following sites can be arranged as a option.
Mount Tsurumi
Onsen Hoyo land
---
Where to explore
Hell (Jigoku Meguri ) tour that is a collection of hot spring where the water bubbles forth from 
underground, often with unusual result.  

Seven of the hells are located in the Kannawa district
where over 4 km northwest of Beppu station, 

and two in the more remote Shibaseki district. 
Umi Jigoku, Sea Hell

 Chi-no-ike Jigoku,

 Blood Pull  Hell

Oniishi Bozu Jigoku,

Oniishi shaving Head Hell
---
Have you tried Foot bath before? 
Foot bath is called Ashiyu in Japanese and is a public bath in which people can bath their feet.
Lunch at Beppu
Jigoku Mushi kobo
Jigoku Mushi,  literally "hell-steaming" is an unusual cooking method found in Beppu.
It's a simple but impactful method that dates back to the Edo Period. Jigoku Mushi Kobo
features an interesting hands-on workshop where you can cook food yourself in the
searing onsen steam.
---
Option
Mount Tsurumi
Soaring 1375 metres into the sky, Mount Tsurumi is a breathtaking mountain overlooking
Beppu that offers some decent hiking, rare flora and outstanding vistas. Visitors can take
a ropeway 800 metres up and revel in being surrounded by acres of rolling greenery.
On clear days, you can see as far as the Kuju Mountains, a famous mountain range
that runs between Oita and Kumamoto-prefectures.
---
About 1700 wild Japanese monkey are living in the park. The monkeys are fed regularly
by park wardens in order to keep them on the mountain and prevent conflicts with farmers
and residents in the neighborhood.
 

  Slope car to the Park

  Wild Japanese monkey living

  in the Park

  The monkeys are fed regularly

  by park wardens
---
Onsen Hoyo land
The Onsen is a public bath located in Myoban Onsen Resort.
This place is known by its mud looks like a cream, and is rarely found in Japan.
The mud has an excellent skin beautifying effect. The outdoor mud is a mixed-gender bath.
---
Onsen Resort where Alum is being collected. The Onsen Resort town where the Yunohana or Alum
have been collected since more than 200 years ago.  Myoban means Alum in Japanese.
Myoban is a geothermal area located at an altitude of 400 metre at the middle Garan mountain
and a little away from the centre of Beppu-city.
Middle Garan mountain area

a little away from the Beppu

Onsen Resort town where 

Yunohana or Alum is collected

Yunohana flower huts stand

side by side
---
Should you need further information please feel free to contact us.
Your equiry can be sent by selecting the Enquiry Form link below.
You can also contact us by e-mail at   info@japan-kyushu-tourist.com
And we would love to chat about your travel plans on the phone as well,
please ring our office a call.  +81-93-521-8897
---
Tour results
We are offering various types of tours, and the tour results up to now are shown links below.
Tailor-made tour      Study tour       Golf tour 
---
 HOME    About us   Our Services    Terms and Conditions
---