Day 1 Exploring Aso
                                                                                     Self-guided Aso & Takachiho 3 days tour
Itinerary
Depart Fukuoka-city
Transfer to Kumamoto by JR Bullet train from Hakata to Kumamoto station
   38 minutes by Sakura or 28 minutes by Mizuho
Transfer to Aso by Limited express train from Kumamoto to Aso station, 1 hour and 20 minutes
Exploring north Aso region including the following site by the use of a chartered taxi
Stay at Kurokawa Onsen
Where to explore
The perfect spot view the five peak of Mount Aso, Daikanbo literally means a big observatory peak.
The circumference of the Aso caldera is about 130 kilometers. From the observation site, you can
clearly see its conical shape.
| | | |
| --- | --- | --- |
| | | |
---
The hidden tourist spot in Kumamoto prefecture, located just outside Oguni town in Aso region.
One of the area's more well-known waterfalls. Looking like a mini-Niagara. It is very unique
waterfalls, you can actually climb behind the falls to see how the water has carved out the rock
over the year.
---
The most popular Onsen resort in Aso region, located on the northern side of Mount Aso.  Widely
known for its open-air baths, it is one of the best places to enjoy the atmosphere of old town in Japan, 
more than 20 Japanese style accommodations and gift shops standing in a row along the river.
---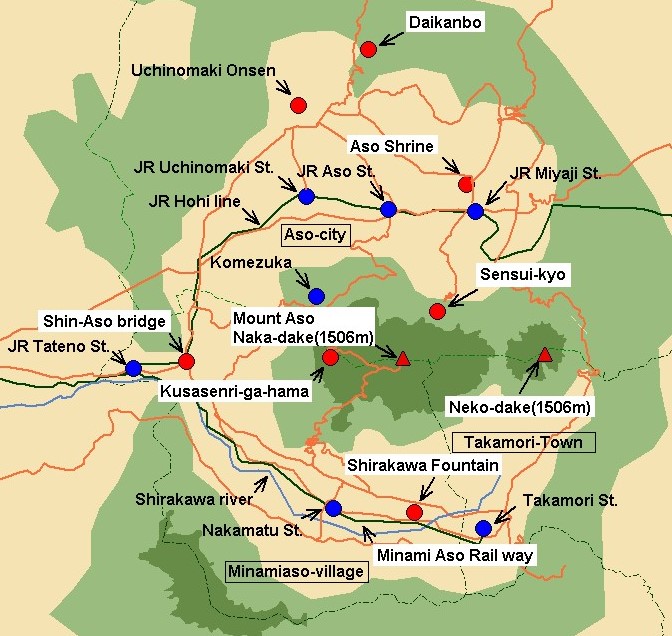 ---