Day 1 Nagasaki
                                                                             Self-guided Christian Pilgrimage 3 days tour
Japan's unique practice of the Christian faith continued in Nagasaki region even during the ban
on Christianity from 1587 to 1859.There are many Christian Pilgrimage site and
Hidden Christian Sites in Nagasaki region is registered on UNESCO's World Heritage in 2018.
---
Itinerary
8:00 Depart Fukuoka-city
Transfer to Nagasaki by JR Limited express train from Hakata to Nagasaki, 2 hours 
Exploring Nagasaki, Tram is used for the following sites
Visiting  Peace Park  
Lunch at Nagasaki Wharf
Martyrdom of the 26 Saints of Japan   
Stay Western style hotel in Nagasaki-city
Where to explore
Established in 1955 near the Ground Zero where the Atomic bomb was dropped at 11:02 am
on Aug. 09, 1945. Peace Memorial Ceremony is held in front of the statue on August 9 every
year and the Mayor of Nagasaki makes the "Nagasaki peace declaration" for the whole world.
The museum exhibits a number of photograph that depict the devastation caused by atomic
bomb showing the lead-up to this tragic day, the history of the development of nuclear arms
and our desire for peace.
---
The plutonium Atomic bomb exploded about 500m over the central monument at 11:02 a.m. on
August 9, 1945.  The most part of Nagasaki was destroyed, and a tremendous number of lives
were lost. And about 70,000 of Nagasaki's 240,000 residents died instantly, and up to 60,000
were injured. 
---
Completed in 1955, ten years after the Atomic bomb. The 9.7 meter high statue sitting on
a 4 meter tall pedestal, made by renown sculptor Kitamura Seibo. The raised arm points to
the threat of nuclear weapons and the out-stretched arm symbolizes peace.
---
Lunch 
Elegant international & domestic tourist harbour. Made up of around 20 unique shops and
restaurants lined up at the water front, offering various choices such Japanese, Western,
and Italian cuisine, to beauty salons, outdoor shops and more.
---
Martyrdom of the 26 Saints of Japan
Nishizaka hill is the most significant Christian Pilgrimage site in Japan. The 26 Martyrs of Japan
Oura Cathedral   / UNESCO World Heritage
The Cathedral is one of the significant Christian Pilgrimage site in Japan. Established 1865, this
church is officially known as "Oura Cathedral, the Church of 26 Martyrs." It was built by the French
priest Bernard Petitjean of Fier who had been dispatched by the Foreign Missionary Church of
Paris to dedicate prayers to the 26 saints martyred on Nishizaka hill.
---
Glover Garden   / UNESCO World Heritage
The garden takes its name from Thomas Glover, his arms-importing operations played an important
part in the Meiji Restoration, he built the first train line in Japan and he even helped establish the
first modern Mitsubishi ship yard.
---
Stay
Nagasaki
Most Hotels are located close to the main street and walking distance from Nagasaki tram
stations. And you can find many restaurants around the Hotels.
---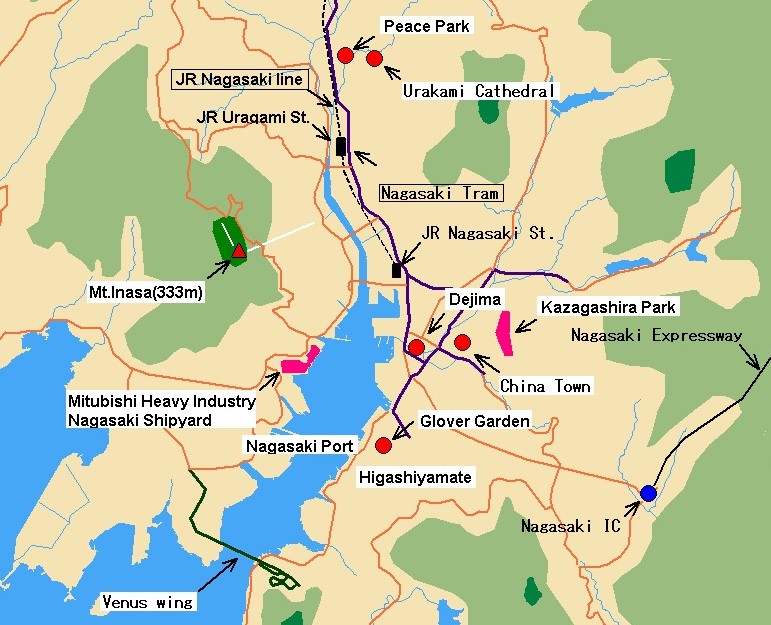 ---