Day 1 Saga-prefecture
Saga-prefecture is located in the northern part of Kyushu and are adjacent to Fukuoka-prefecture
in the east and to Nagasaki-prefecture in the west. The north side faces Genkai Quasi-National
Park with scenic coast line. In the south, the Saga plain that is adjacent to Ariake Sea is
spreading. The capital of the prefecture is Saga–city.
---
There are two travelling routes to be offered, please select as per your preference.
Stay at Ureshino Onsen Resort
 Japanese style Hotel, included dinner and breakfast
Option 
  Great Camphor tree at Takeo Shrine
---
Where to explore
Route 1
Saga-city in Kyushu is the seat of the Saga-prefectural government. Saga is also known as the
place where it has made a great contribution to the Japanese Industrial Revolution. 
---
Lunch at Saga or Tara
Saga beef is esteemed as one of the best Wagyu beef brands in Japan. The cattle used for our
meats are fattened in adherence to the regulations of the Japan Agriculture Co-operative, and
we use only Japanese black cattle registered with their cattle traceability system.
---
Takezaki crab is the local specialty of Tara, and is well-known for its rich flavor. Takezaki crabs are
available almost year around. From summer into fall the male crabs are delicious, with the females
and their eggs most delicious during the autumn and winter. You could even try one of each.
---
Kashima is located about 60 kilometers southwest of Saga-city. It borders the Ariake Sea to the east
and Nagasaki Prefecture to the southwest. Feature sightseeing spot is Yutoku Inari Shrine and also
Sake brewery visiting is recommended.
---
Ochacha Mura Village
Visitors get to taste test green teas and products, see and tour the warehouse factory where green
tea is cultivated and packaged, and leave with a better understanding of the ever-so-popular tea.
You can even experience the process of picking young green leaves for cultivation.
---
Stay
Ureshino Onsen is a hot spring town in south-western Saga-prefecture. Its clear Onsen waters are
high in sodium bicarbonate and sodium chloride and feel extremely smooth on skin, giving rise to
its popularity as a "Bihada no Yu" ( beautiful skin waters).
---
Route 2
Fishing industry town famous for Squid and Morning Market called Asaichi, it opens from
7:30 to 12:00, every day at just next to Yobuko Port. The street of 200 m borrowed from the
eaves of the shopping street is named "Asaichi Street".
---
Lunch at Yobuko
Fresh Squid
Famous for fresh Squid, transparent in body and firm in texture. The squid has a sweetness that melt
upon the tongue. In the finely crafted style of sashimi known as Ikezukuri, the flesh of still-living
seafood is served.
---
Imari is the porcelain town, has 400years history and is most notable because of Imari porcelain,
which is the European collectors' name for Japanese porcelain wares made in the town of Arita,
Saga-prefecture.
---
It is known for producing Arita porcelain, one of the traditional handicrafts of Japan. Famous for Arita
yaki which is 400-years old porcelain. The piece is bright, elegant pictures drawn in transparent white
porcelain. 
---
The Onsen resort, has 1200 years history. Takeo is located in the western part of Saga-prefecture.
The hot spring temperature is 18 to 52 degrees. Spring quality is smooth with alkaline simple hot
spring.  Romon Gate is the landmark of Takeo Onsen Resort, which was designed by a renowned
architect in the Meiji Era, Kingo Tatsuno, and is at the entrance of the Onsen area.
---
Stay
Takeo Onsen Resort
Spring quality is smooth with alkaline simple hot spring.  It is said that the color is colorless
and transparent and has an outstanding effect on recovery from fatigue.
---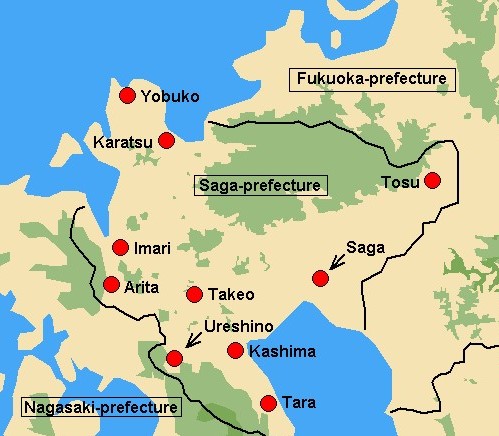 ---