Day 10 Kitakyushu
                                                                                    Self-guided 11 days Kyushu tour
Kitakyushu is the second largest city in Kyushu with a population of 940,000. The city is the
Industrial Innovation city greatly contributed to Japan's Industrial modernization. Now the city
offers a lot of sightseeing spots such as scenic beauty places, UNESCO World Heritage site,
industrial heritages placed introduce cultures of people living there, and various historic sites.  
---
---
Where to explore
---
Lunch, local cuisines at Kokura
---
Dr. Albert Einstein awarded Nobel Prize in Physic visited Moji in 1922, and he acclaimed that
everything could see were Arts. The exotic district of Mojiko Retro is visited by more than 2 
million tourists a year. Moji-ko Port flourished following its 889 designation as a Special National
Port for exporting coal and other products. 
It was built by the Mitsui Co., Ltd in 1921 as a reception centre and to provide accommodation for
VIP's.   Albert Einstein (1879-1955), one of the world's most famous theoretical physicists, stayed
here during his visit to Japan with his wife in 1922.
---
The shopping area in the Mojiko Retro district located by the sea. "Full of a romance market which
stir up forgetting contentment" is the direct translation of the concept Kaikyo Plaza is based on. 
The area has a very romantic ambience and evokes feeling of nostalgia and contentment that will 
never be forgotten. 
---
It is the only Station building that is designated as an Important National Cultural Property 
together with Tokyo Station. Mojiko Station is a beautiful station built in the Renaissance 
style and modeled on the Termini Station in Italy. 
---
Situated on the 31st floor of the high-rise apartment building "Retro Hi-Mart".  The 103 metre-high
observatory offers magnificent views of the Mojiko Retro district, the Kanmon-kyo Bridge over the 
Kanmon Strait, as well as the Shimonoseki area.
| | | |
| --- | --- | --- |
| | | |
---
​
Japan's modern steel industry was started as Yawata steel Works at Higashida district in 1901.
Since then, the Works greatly contributed to Japan's industrial modernization. The three sites in
Higashida have been registered on UNESCO World Heritage  as Sites of Japan's Meiji Industrial
Only the Blast  Furnace in the world which preserved as it was. The birth place where Japan's
steel industry began in 1901. It contributed greatly to the development of the Japanese steel 
industry and was used until 1972, and has been preserved just as it was.
---
First Head Office of the Steel Works  / UNESCO World Heritage
Built in 1899, ahead of production facilities. It is an architectural fusion of Japanese and European
design, a two story red brick building with bilateral symmetry and a central dome set in a Japanese
 tile roof.
---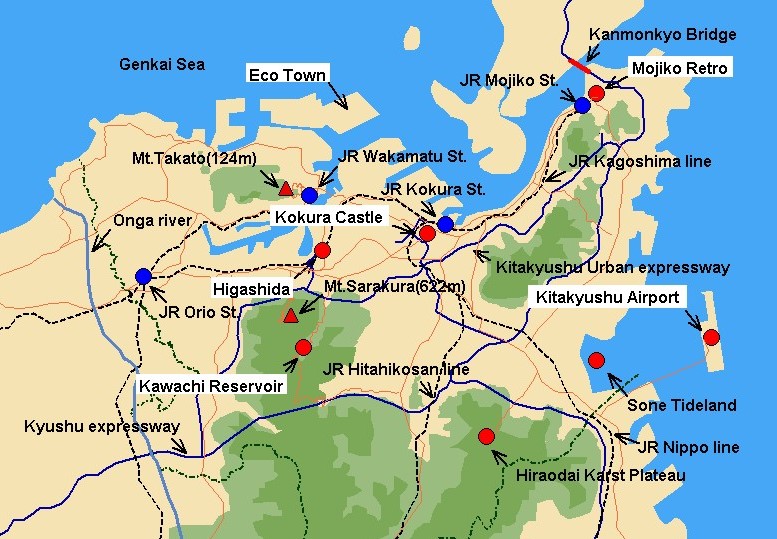 ---