Day 11 Fukuoka-city
                                                                                               Self-guided 11 days Kyushu tour
A long history as commercial town and castle town, and prospered as important district to Asian
Continent for many years.   Now, Fukuoka-city is the International bub of Kyushu, the nation's
fourth largest economic zone. You can enjoy various things by selecting from the following.
---
Itinerary
Exploring  Fukuoka-city
Stay in   Fukuoka-city, Western style Hotel, included breakfast
Dinner at Fukuoka-city, local specialty cuisines
---
Where to explore
Shopping and meals
---
Seaside Momochi is the water-front resort area, only a 15 minute drive from Tenjin in the centre
of Fukuoka-city.  The park is surrounded by Fukuoka Tower and high rise contemporary buildings,
 all of which help make a modern urban landscape.
One of the must visit spots is the 234 metre high Fukuoka Tower. It  is the highest coastal tower
in Japan and is covered with 8000 two way mirrors. 

The observation room located at a height of
123m offers a breath taking and
spectacular 360 degree
panoramic view of 
Fukuoka-city and
---
The complex facility for the wedding hall, shops and restaurants and is located in Seaside
Momochi Park.
---
---
Japanese traditional Shopping Street where you can find a lot of Cool Japan. The entrance of the
shopping street is located next to Kushida Shrine. Approximately 130 shops built in the 400 metre
arcade. There are also souvenir shops including Hakata dolls, shops collected Hakata Gion
Yamakasa goods. ​Enjoy lunch, Hakata Ramen at the birth place of Nagahama Ramen.
---
In the middle of Hakata Bay Beautiful flowers can be enjoyable throughout the year. Rapeseed
blossom, Cherry blossom, Livingstone daisy Poppy, Rhododendro, Marigold, Hydrengea, Plumed 
cockscomb, Dahlia, Sunflower, Cockspur coral tree Bougainvillea, Scarlet sage, Cosmos, Dahlia,
Autumn leaves, Scarlet sage, Japanese narcissus, Japanese camellia, Plum.
---
The aquarium focuses on the aquatic life found around Kyushu. The main tank is a huge, 7 meter
deep pool filled with all different kinds of marine life including over 120 sharks of 20 different varieties.
There are also several outdoor tanks where you can experience feeding dolphins and sea lions.
---
The sprawling, family oriented public park, located on a narrow peninsula across the bay from
central Fukuoka. The park is made up of several different areas including flower gardens, playgrounds,
an amusement park with ferris wheel, sports fields, a water park, a zoo and large open spaces and
lawns perfect for picnicking.
---
The Japanese traditional Garden; it was originally built in the 1754 for Kuroda Tsugutaka who was
the lord of Fukuoka clan. You can feel Japanese traditional cultures and enjoy Tea Ceremony.
---
The urban living area where you can enjoy a resort lifestyle full of fun and entertainment.
There is a large shopping mall, a sports equipment store, a car accessories store, an interior
design shop, a baby specialty mega store, some restaurants, a Ferris wheel, and many 
amusement attractions.
---
Food stalls "Yatai" is one thing to enjoy in Fukuoka. Despite a decline in recent year,
there are said to be more than 160. The food stalls have all kind of food, but you have
to try Hakata ramen, usually made with white soup from pork bone and thin noodles.
---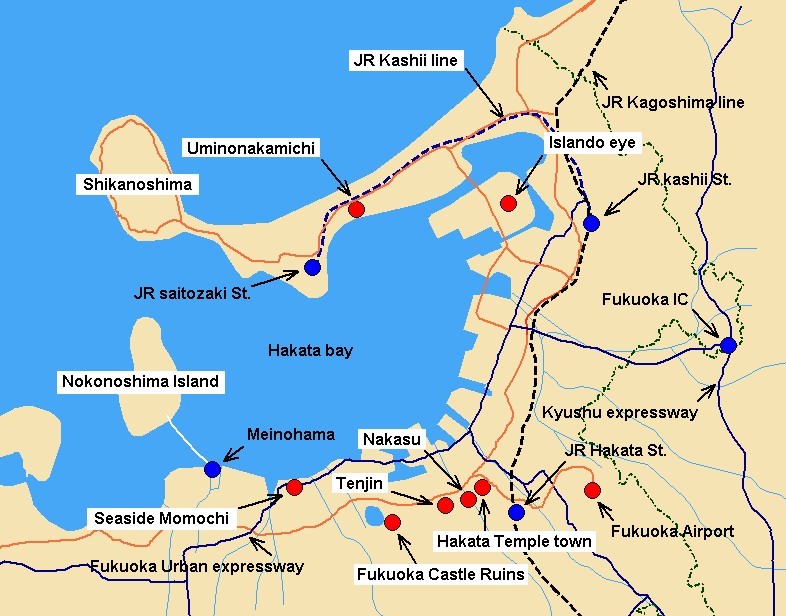 ---