Day 2 Beppu
                                                                                    Yufuin & Beppu Onsen 2 days tour
Beppu is one of the most famous Onsen resort in Japan. The popular hot spring town nestle
at the foot of volcanos, Mount Yufu and Mount Tsurumi. Boasting more than 2,800 hot spring
sources and flowing rate of nearly 137,000 kiloliters per day, Beppu is considered a paradise
of hot springs famous for high therapeutic effects.
---
Itinerary
Leave accommodation
Exploring Beppu
Lunch at Beppu, JIgoku Mushi kobo
transfer to Fukuoka-city
Option : the following sites can be arranged as an option.
---
Where to explore
The popular hot spring town nestle at the foot of volcanos, Mt. Yufu and Mt. Tsurumi. Boasting
more than 2,800 hot spring sources and flowing rate of nearly 137,000 kiloliters per day.
Hell (Jigoku Meguri ) tour that is a collection of hot spring where the water bubbles forth from 
underground, often with unusual result.  Seven of the hells are located in the Kannawa district
where over 4 km northwest of Beppu station, and two in the more remote Shibaseki district. 
Sea Hell, it resemble of sea, this 200 metre deep, cobalt blue pond of boiling water emerge
1200 years ago after a volcano explosion.
---
Oniishi shaving Head Hell, large and small bubble of hot gray mud that boiling up here look
like the shaven head of monks.
---
Blood Pull Hell, the clay is steaming hot point that the steam is red. Japan's oldest
natural
Jigoku as written about in the Bungo Topography described as Akayusen, 
a reddish hot spring.
---
Have you tried Foot bath before? 

Foot bath is called Ashiyu in Japanese and is a public bath in
which people can bath their feet. Ashiyu in

Beppu

set up at Kannawa Onsen near the Hell tour spot.
Lunch at Beppu
Jigoku Mushi kobo
Jigoku Mushi, literally "hell-steaming" is a unique cooking method found in Beppu. The ingredients
such as vegetables, seafood and meals are cooked using the steam from natural hot spring.
You can operate the steam cookers all by yourself and you can cook whatever you want.
---
Option
Soaring 1375 metres into the sky, Mount Tsurumi is a breath taking mountain overlooking Beppu
that offers some decent hiking, rare flora and outstanding vistas. Visitors can take a ropeway 800
metres up and revel in being surrounded by acres of rolling greenery. You can see as far as the
Kuju Mountains, a famous mountain range that runs between Oita and Kumamoto-prefectures.
---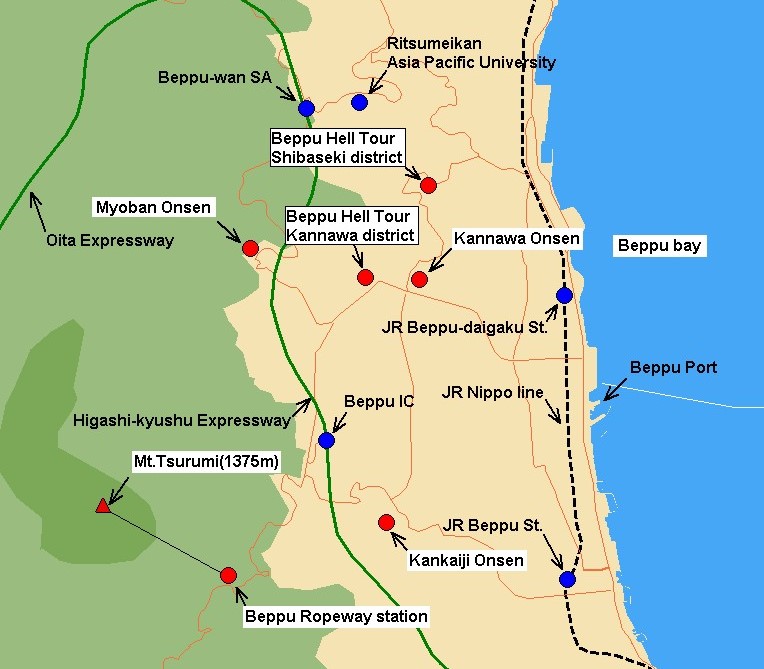 ---