Day 2 Satsuma Peninsula
The Satsuma Peninsula which projects south from the southwest part of Kyushu.
To the west lies the East China Sea, while to the east it faces the Osumi Peninsula
across Kagoshima Bay. Near the southern tip of the peninsula is the 924-metre Mount
Kaimon and the hot springs of Ibusuki Hot Spring.
---
​Itinerary
Leave Hotel in Ibusuki  
Exploring Satsuma Peninsula
   Ryugu Shrine and Nagasakibana Cape
Lunch at Tosenkyo : Somen noodel nagashi
Transfer to Chiran
Exploring Chiran  including Samurai Residence and Chiran Peace Museum  
Transfer to Kagoshima
Stay in Kagoshima, Western style Hotel, included breakfast
Dinner at Kagoshima-city, local speciality Cuisines
Option : the following sites can be arranged as option.
---
Where to explore
It is the Urashima Taro legendary shrine peninsula and this shrine is becoming popular as a power spot
of matchmaking and good fortune in love.
---
The cape is the southernmost point of Satsuma peninsula, where a white lighthouse stands.
You can enjoy the view of the magnificent Mount Kaimondake and rocks with the sea spray
wearing them. The Cape is said to be the birthplace of the legend of Ryugu.
---
A circumference of 15 km and a maximum depth of 233 meter, where was created by volcanic
activity long ago. Large eel with a length of 2 meter and circumference of 50 cm inhabit the lake.
It was also known as the lake of a legendary monster called " Issy" purported to live in the lake. 
---
The unique Somen noodle nagashi in Tosenkyo ravine in Kaimon open throughout the 
year serving cold Somen noodle that swim in the revolving container.
---
Called a small Kyoto in Kagoshima, offer you a fine collection of Samurai houses and gardens
and Chiran Peace Museum for the Kamikaze Pilots.
Those Samurai Houses were built about 250 years ago. Their gardens are beautiful
designed, with Mt. Hahaga-dake as the background. Other natural elements are
also incorporated, making the whole area resemble a series of miniature of Japanese
gardens housed in boxes. Seven of the gardens are designated as natural scenic spots.
---
Chiran Peace Museum for the Kamikaze Pilots
This museum exhibits precious materials such as pictures, letters, wills, articles and
mementos of the 1,036 Kamikaze pilots based in Chiran who participated in the Battle for
Okinawa towards the end of World War 2.  It also houses a No.3 type fighter aircraft, Hien.
---
Option
Enjoy tasting Shochu at the most famous Shochu brewery in Kagoshima Meiji-gura is
Satsuma Shuzo's Shochu brewery and museum.
---
The Station is the southern most railway station in Japan operated by JR, boasts a
breath taking view of Kaimon-dake volcano to the front.
---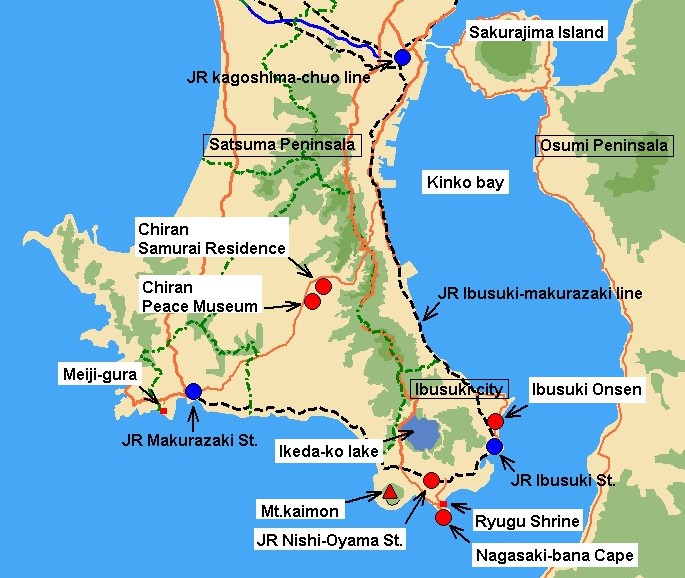 ---