Day 2 Sotome & Unzen
                                                                                   Self-guided Christian Pilgrimage 3 days tour
Sotome is a rural, coastal area on the peninsula north of central Nagasaki. During the ban on
Christianity, Sotome was home to communities of "Hidden Christians", many of whom emigrated
there from other parts of Nagasaki as the remote region allowed them to practice their religion in
secret.   
Unzen is Located in the centre of Shimabara peninsula, at the southwest part of
Mount Unzen with an altitude of 700m. It is started receiving foreign tourists around the
year 1900 when Kaempfer and Siebold introduced the city to Europe and China.
---
Itinerary
Check out Hotel in Nagasaki
A Chartered taxi is use for traveling 
Visiting Sotome Pilgrimage sites
Transfer to Unzen
---
Where to explore
Sotome Pilgrimage site / UNESCO World Heritage
Sotome is a rural, coastal area on the peninsula north of central Nagasaki. During the ban on
Christianity, Sotome was home to communities of "Hidden Christians", many of whom emigrated
there from other parts of Nagasaki as the remote region allowed them to practice their religion in
secret.    
On an elevation commanding a view over the Sea of Goto, Father Marc Marie de Rotz established
a church at his own expense 1882. The building was extended and renovated again and again.
A statue of Mary that he ordered from France is standing in the bell tower.
---
I want to save people in the Sotome from poor life.  Former Shitsu Aid Centeris indispensable in
talking about the history and culture of the region.
---
The setting of Endo Shusaku's novel Silence. Sotome is blessed with a unique history and
culture of Christianity. In particular, the area in which the Endo Shusaku Literary Museum
stands is known as the site of a Christian village, one of Endo's most notable work, Silence.
---
Unzen is a beautiful mountain and Onsen resort, and was the first area to be designated as   
a National Park in Japan. At any time of the year the natural scenery of Nita-toge Pass in Unzen
is magnificent. Azaleas, green leaves, brilliant autumnal tints of maples and silver frost
represent each season of the year.
---
Means Hell, is the number one attraction of Unzen with a peculiar smell of sulfur emitted from
the springs, and with white smoke rising from the ground over a wide area. Unfortunately, this
was once put into reality nearly 350 years ago during the time of religious persecution in Japan. 
 30 Japanese Christians, failing to renounce their faith met their death here in the scalding spring
of Jigoku.
---
Stay
There are 17 Hotels and Japanese style inns around Unzen Jigoku. From every hotel, beautiful 
scenery which changes by season can be enjoyed.
---
Sotome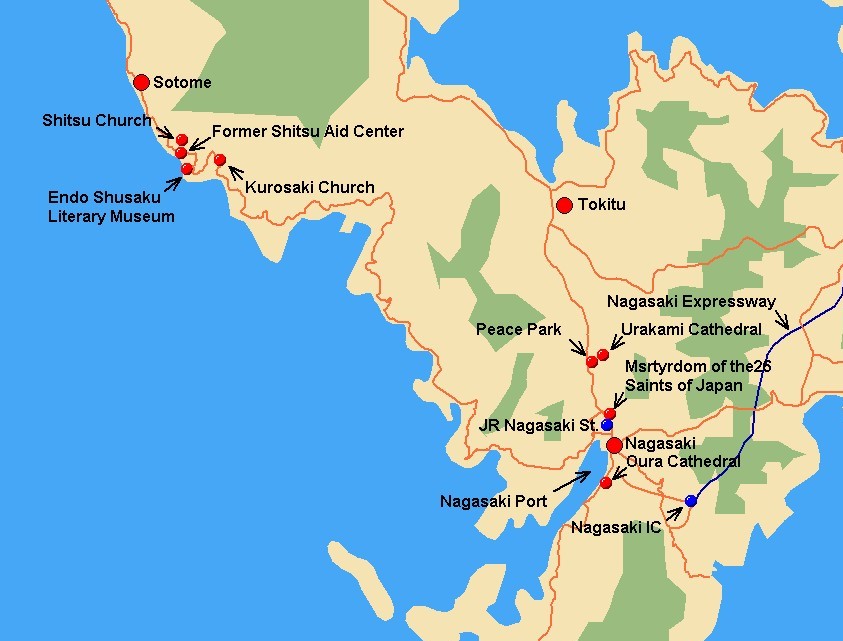 ---
Unzen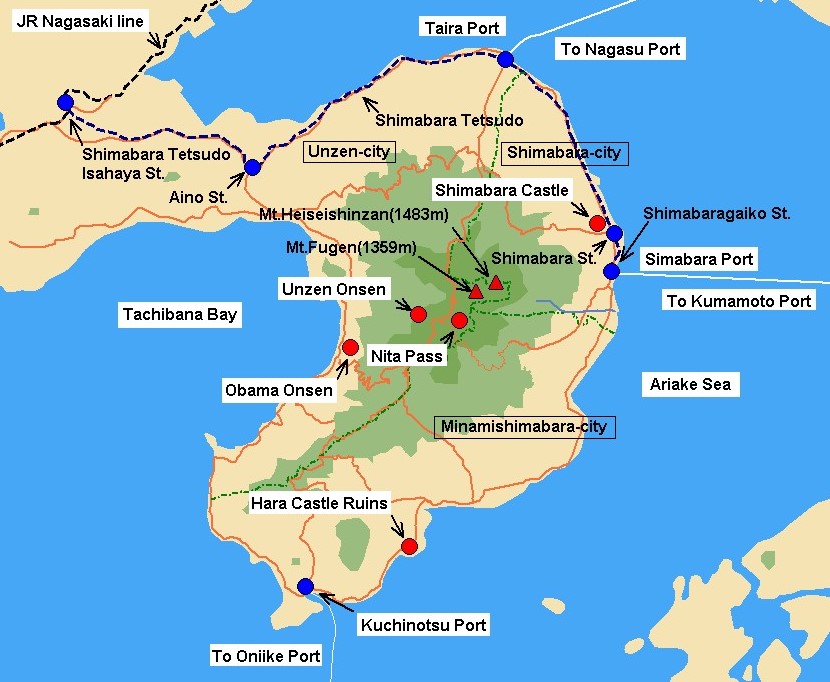 ---