Day 2 Nagasaki & Unzen
                                                                                        8 days Northern & Central Kyushu tour
Hashima is a ruins now called "Gunkanjima", so called after its resemblance
to the silhouette of a battleship, the cruise ship take you exploring Tachibana bay from
Nagasaki port and landing on Hashima island.
Unzen is a beautiful highland Onsen resort in Shimabara peninsula situated Unzen National
Park. The first area to be designated as a National Park in Japan and then the area has been
developed as Onsen resort for both tourist Japanese and foreigner. Even now, many tourist
from all over the world are visiting here for enjoying Nature.
---
Itinerary
Check out Hotel 
Lunch at Nagasaki Wharf 
Transfer to Isahaya by JR Limited express train from Nagasaki to Isahaya, 14 minutes
Drive to Unzen via Nita pass by a chartered taxi
Check-in Onsen Ryokan, Japanese style accommodation
Walk around Unzen Onsen town and Unzen Jigoku
Dinner at Onsen Ryokan
---
Where to explore
Gunkan-jima island cruise  / Hashima Coal Mine
Hashima coal mining island is an artificial reclaimed island and the site of Japan's first major
undersea coal exploitation pioneered by Mitsubishi. Hashima Island is located 3 km southwest of
Takashima. The site has been registered on UNESCO World Heritages as Sites of Japan's Meiji
Industrial Revolution.  Now Hashima is a ruins called "Gunkanjima", so called after its resemblance
to the silhouette of a battleship.
---
Elegant international & domestic tourist harbour. Made up of around 20 unique shops and
restaurants lined up at the water front, offering various choices such Japanese, Western,
and Italian cuisine, to beauty salons, outdoor shops and more.
---
One of the best scenic spot in Unzen. At any time of the year the natural scenery of Nita Pass 
in Unzen is magnificent. Azaleas, green leaves, brilliant autumnal tints of maples and silver frost
represent each season of the year.
---
Jigoku, means Hell, is the number one attraction of Unzen with a peculiar smell of sulfur emitted
from the springs, and with white smoke rising from the ground over a wide area. This is a striking
reminder that Unzen Volcano is still very much alive.
---
Stay 
There are 17 Hotels and Ryokan (Japanese style accommodation)  around Unzen Jigoku.
rom every hotel, beautiful scenery which changes by season can be enjoyed.
---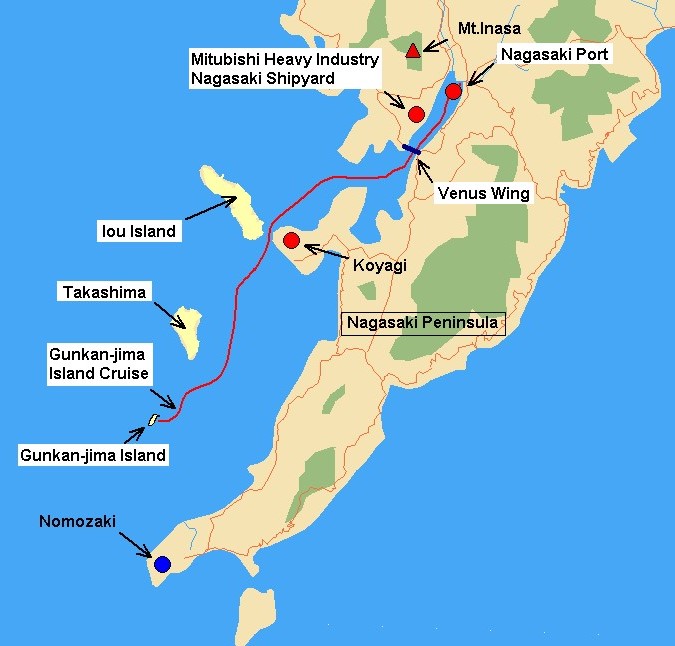 ---
Unzen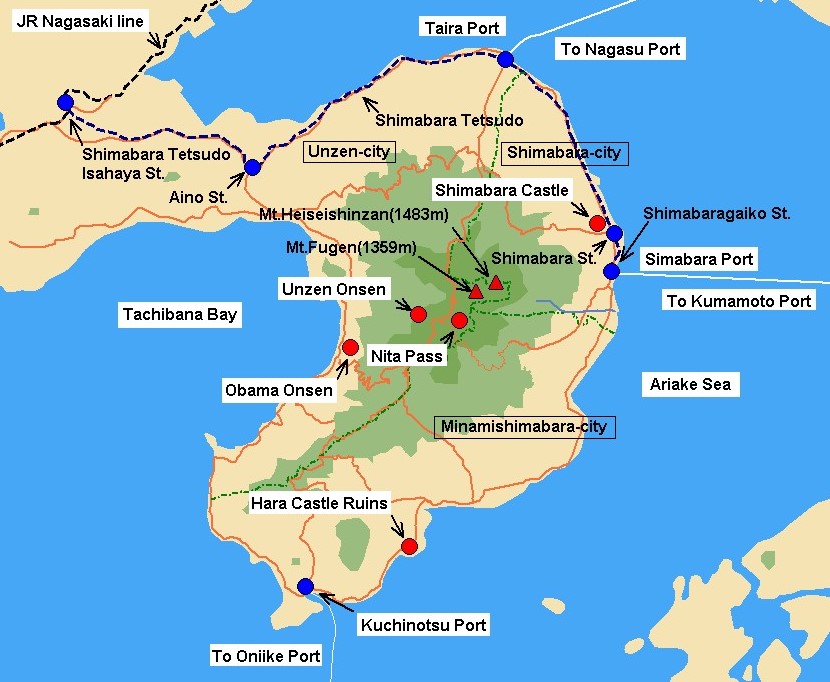 ---