Day 3 Exploring Takachiho
                                                                                  Self-guided Aso & Takachiho 3 days tour
Itinerary
Check-out hotel at Minami-Aso
Exploring Takachiho including the following sites by the use of a chartered taxi
lunch at Takachiho, Somen nagashi
Transfer to JR Kumamoto station by a chartered taxi
Transfer to Fukuoka by Bullet train from JR Kumamoto to Hataka station, 
  38 minutes by Sakura or 28 minutes by Mizuho
Where to explore
Located just west of the town center, is nestled in a grove of tall cedars. During the day the
shrine's nondescript, unpainted buildings blend in naturally with the surrounding trees. In the
evening, you can enjoy the Yokagura Dance.
---
A narrow chasm cut through the rock by the Gokase River.  The nearly sheer cliffs lining the
gorge are made of slow forming volcanic basalt columns which resemble the scales of a dragon
where the stone twisted and flowed as it formed.
---
The most recommended activity at Takachiho Gorge is riding the river that flows down the
base of the gorge on a rental boat. The spot you can see waterfalls and the columnar shaped
valley together is rare in the world. Please enjoy this amazing view from the boat.
---
Somen nagashi
Somen is a kind of noodle which is made by wheat and is usually eaten by dipping style.
Somen nagashi is the way of eating Somen with waterslide traditionally made by bamboo
like as video below. Nagashi means flowing.
---
About ten kilometers outside of central Takachiho the Shrine was built near the cave where
Amaterasu is said to have hid herself away.  The cave cannot be approached, however,
there is an observation deck behind the shrine's main building.
---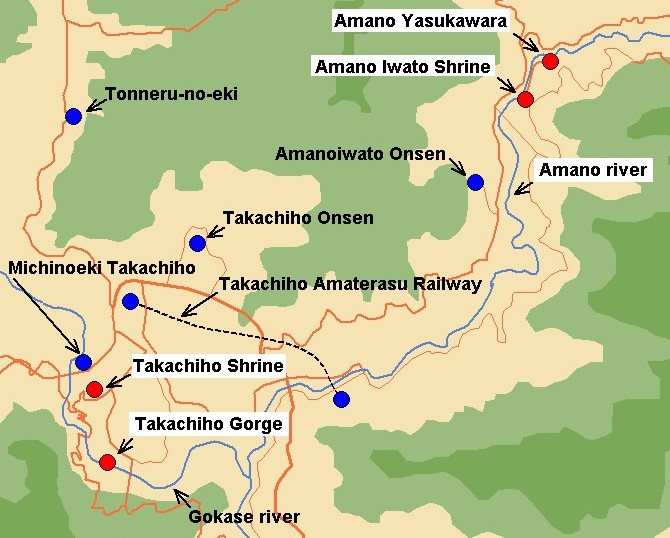 ---