Day 3 Kagoshima & Kirishima
Kagoshima-city is the southernmost major city in Kyushu which can see Sakura-jima Island
which raises the smoke across the Kagoshima Bay. Kagoshima prospered in the Edo period
as a castle town. Sakurajima has active volcano with three peaks, Kita-dake, Naka-dake and
still active Minami-dake.
Kirishima is located in the north-eastern part of Kagoshima and is the entrance to the Kirishima
district of Kirishima Yaku National Park.
---
Itinerary
Leave hotel in Kagoshima
Exploring Kagoshima-city
   Sengan-en Garden and Shoko Shuseikan ( UNESCO World Heritage site  )
Transfer to Sakura-jima Island by Sakura-jima Ferry
Exploring Sakura-jima Island
Transfer to Kirishima
Stay at Kirishima Onsen Resort,  Japanese style Hotel,  included dinner and breakfast
Dinner at Hotel : Japanese style kaiseki dinner included local speciality cuisines
Option : the following site can be arranged as a option.
 Black Vinegar factory in Kirishima
---
Where to explore
Sengan-en / UNESCO World Heritage
Sengan-en is the most famous garden in Kagoshima-ken, made by Shimazu lord in the 
19th century at the beautiful bay side Kinko bay. The garden contains many historic artifact
that tell of its long history.
---
Shoko Shuseikan Modern Industrial Complex   /  UNESCO World Heritage
The museum of the Classics located here exhibits a various of objects related to the Shimazu
family and the Satsuma domain, introducing a Shimazu family tree chart and many other
belongings. The stone building which houses the collection has been designated on the
UNESCO World Heritage,  Sites of Japan's Meiji Industrial Revolution
---
Sakura-jima Ferry connects Kagoshima-city and Sakura-jima Island in 15 minutes
and is operated for 24 hours.
---
An active volcano with three peaks, Kita-dake, Naka-dake and still active Minami-dake.
Formerly an island, it became connected with the Osumi Peninsula in 1914 when lava from its
summit closed the channel between the two.
---
Option
The Fukuyama area along Kinko Bay is home to the famous Japanese black vinegar.
Over here, one can tour the old-fashioned Tshubobatake which letterally means a field of
vinegar jars, witness the traditional manufacturing process of the black vinegar, taste and
purchase the finished product.
---
Stay
Lying on the lower slopes of the Kirishima Mountain with a distant view over
Kagoshima Bay and Sakurajima below. The area is made up of over a dozen Onsen,
of which the largest and best know is Maruo Onsen.
---
Kagoshima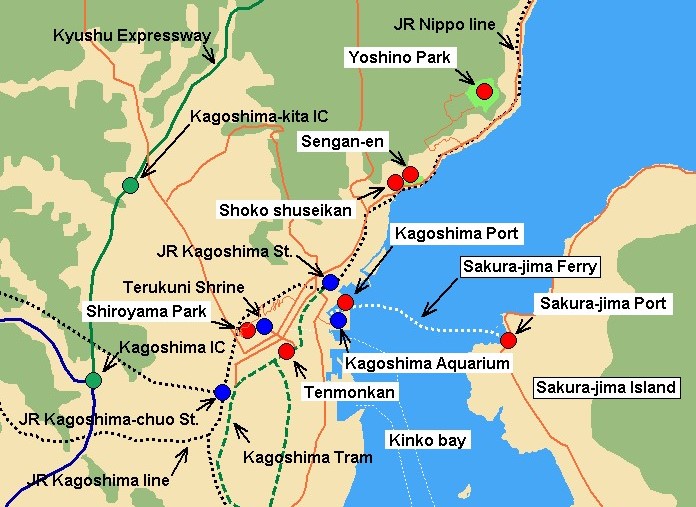 ---
Kirishima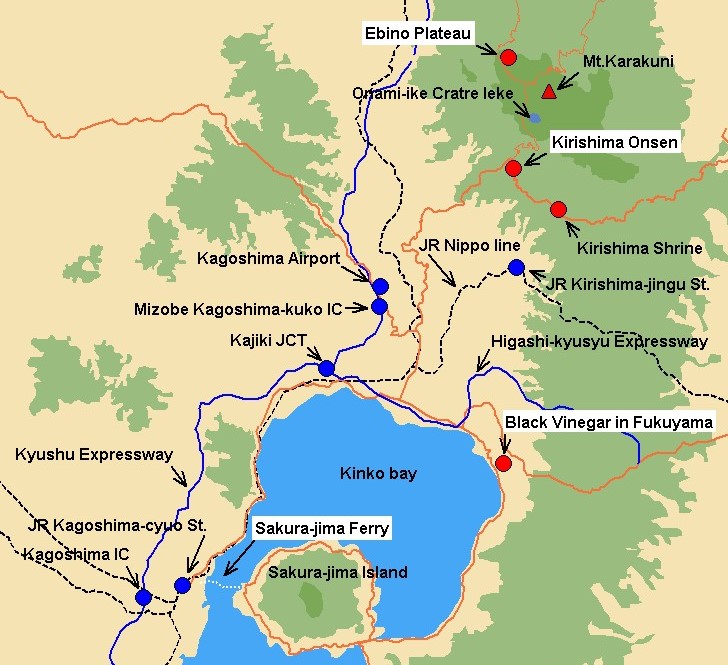 ---