Day 3 Kumamoto
                                                                                   Self-guided 11 days Kyushu tour
Kumamoto is the third largest city in Kyushu with a population of 740,000.Must visit place is
Kumamoto Castle listed on the three great castle in Japan.
The city is situated roughly in the center of Kumamoto-prefecture, is the government and
economic center of the prefecture. From the early 17th century to the end of the 19th
century, Kumamoto was prosperous as a castle town. The Shira-kawa River and its branches
run through the downtown area around Kumamoto Castle. Therefore, the city is called "City
of Forest and Fresh Water."
---
Itinerary 
Check out Unzen Onsen Resort
Transfer to Shimabara port from Unzen by a Shimatetsu bus, 30 minutes
Travel to Kumamoto from Shimabara port to Kumamoto port by a Kumamoto ferry, 30 minutes
Transfer to Kumamoto Castle from Kumamoto port by Sanko bus
Exploring  Sakurano-baba Josaien and Kumamoto Castle 
Stay at  Kumamoto , Western style Hotel, included breakfast
Dinner at  Shimo-tori Shopping Street , local specialty cuisines
---
Where to explore
Transfer to Kumamoto from Shimabara by a ferry
Two ferries are operated form Shimabara to Kumamoto–city
  Kyusho Ferry : operated by Kyusho Ferry, 60 minutes ride
  Ocean Arrow : operated by Kumamoto Ferry, 30 minutes ride.
---
Josaien is located in Sakurano-baba, at the foot of Kumamoto Castle, one of Japan's three major
castles. It is a popular tourist attraction designed to enhance the appeal of the old castle town and
convey to visitors the food, history and cultural traditions of the region from Kumamoto Castle, a
symbol of the Kumamoto-city.
---
The Castle is one of the three great castles and one of the 100 best places in Japan to view cherry
blossoms. Due to the Earthquakes in 2016, the Castle have heavy damages and many of Castle
buildings were destroyed. After that the restoration activities are being performed as fast as possible
and now Kumamoto Castle can be seen from the outside of the moats surrounding the castle.
---
Stay
Kumamoto near  Shimo-tori Shopping Street       
The largest shopping arcade in Kumamoto–prefecture, the center of fashion and amusement
where department stores and boutiques line up and also there are gourmet area where cafes
and restaurants including local cousin restaurants opened daytime and night time.
---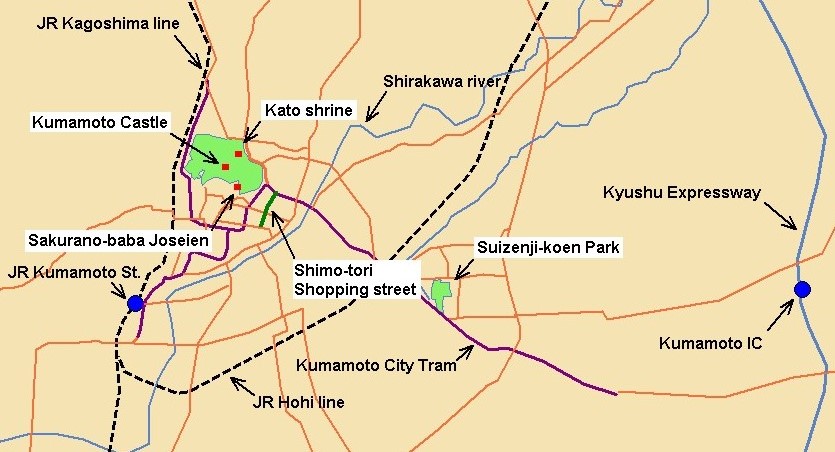 ---