Day 3 Shimabara & Unzen
                                                                                        8 days Northern & Central Kyushu tour
Shimabara is located in the Shimabara peninsula, the region spread in the foot of gentle mountain
and facing to calm sea.  Offers various enjoyable things such as Nature, Onsen, Castle town of
Shimabara-city and Christian Pilgrimage sites.
Unzen is a beautiful highland Onsen resort in Shimabara peninsula situated Unzen National
Park. The first area to be designated as a National Park in Japan and then the area has been
developed as Onsen resort for both tourist Japanese and foreigner. Even now, many tourist
from all over the world are visiting here for enjoying Nature.
---
Itinerary
Leave Hotel in Nagasaki
Transfer to Shimabara
Lunch at  Shimabara,  local cuisine Guzoni
Transfer to Unzen
Stay at Unzen Onsen Resort  Japanese style Hotel,  included dinner and breakfast
---
Option : the following sites can be arranged as an option.
The Japan's longest foot bath in Obama
---
Where to explore
Located in Shimabara-city and was built in 1625 by the feudal load Matsukura Shigemasa, who
was regarded as a master of castle building. The castle, which took 7 years to complete, is also 
known as "Moritake Castle".
---
Samurai was a term for the military nobility in pre-industrial Japan. The Samurai Houses in
Shimabara along the old Samurai street nearby Shimabara Castle were built in 18th century.
---
The street lined with stone walls and a spring water canal running down the center commemorates
the old samurai section of Shimabara. Three Samurai houses have been restored and opened 
as exhibits.
---
Lunch
local delicacy food, Guzoni
Guzoni is said to created during the Shimabara Rebellion of 1637. When Cristians were fought
under the leadership of Amakusa Shiro, they brought various ingredients such as rice cake,
fishes and vegetables, and made a stew.   This is the origin of Guzoni.
---
Obama Chanpon 
It is a local cuisine in Obama Onsen resort, made of noodles, seafood, and vegetables. The feature
of the restaurant in Obama Onsen serving everything from any Japanese style including Susi and
Chanpon. Shrimp are found in abundance along the beaches near the Onsen, and a special soup
is made from them.
---
Indian restaurant, TAJ MAHAL
---
One of the best scenic spot in Unzen. At any time of the year the natural scenery of Nita Pass 
in Unzen is magnificent. Azaleas, green leaves, brilliant autumnal tints of maples and silver frost
represent each season of the year.
---
Jigoku, means Hell, is the number one attraction of Unzen with a peculiar smell of sulfur emitted
from the springs, and with white smoke rising from the ground over a wide area. This is a striking
reminder that Unzen Volcano is still very much alive.
---
Option
Approximately 300 wild Dolphins live in the sea between the Shimabara Peninsula and Amakusa.
The dolphin watching cruises have become increasingly popular for all ages, especially because
it is possible to see the dolphins so close that you could almost touch them.
---
The Christian pilgrimage site, registered on UNESCO's World Heritage Site as Hidden Christian
Sites in the Nagasaki Region. The battle field of Shimabara Rebellion which was a peasant
uprising agaist bakufu's persecution of Christians under the leadership of Amakusa Shiro in 1637. 
---
The Japan's longest foot bath in Obama
Called "Hot foot 105"  The length of foot bath is 105m which is same number of the hot spring
source temperature of 105 degree Celsius.
---
Local specialities, Souvenir shop
---
Stay
There are 17 Hotels and Japanese style inns around Unzen Jigoku. rom every hotel, beautiful 
scenery which changes by season can be enjoyed.
---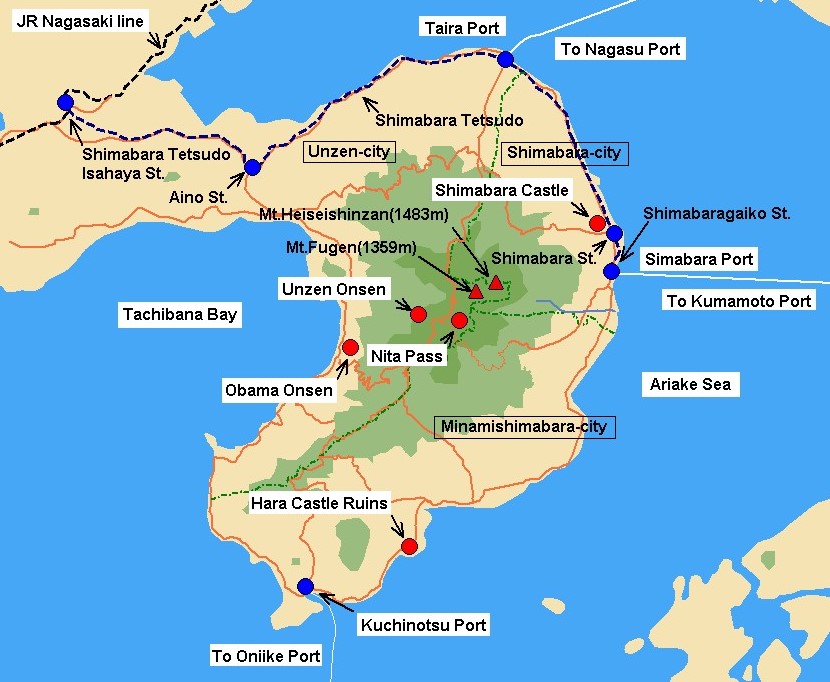 ---