Day 4 Ibusuki & Satsuma Peninsula
                                                                                       Self-guided 11 days Kyushu tour
Ibusuki and surrounded area Satsuma peninsula extends about 50 kilometers south from
Kagoshima-city, making up the south-western section of Kagoshima-prefecture. The peninsula
offers a mixture of hot springs, subtropical natural attractions and cultural sites. Ibusuki is an
Onsen resort that is famous for its sand baths, where bathers are buried in naturally heated sand.
---
Itinerary
Check out Hotel in Kumamoto
Transfer to Kagoshima and Ibusuki
   from Kumamoto to Kagoshima-chuo station by JR Shinkansen
   from Kagoshima-chuo to Ibusuki station by JR
Limited express train 
A chartered taxi is used from JR Ibusuki station for exploring Satsuma Peninsula
  Lunch at Tosenkyo :  Somen Noddle Nagashi
Enjoy the sand bath at Ibusuki
Stay at Ibusuki Onsen Resort, Japanese style Hotel,
 Dinner at Hotel : Japanese style kaiseki dinner including local specialty cuisines
---
Where to explore
A circumference of 15 km and a maximum depth of 233 meter, where was created by volcanic
activity long ago. Large eel with a length of 2 meter and circumference of 50 cm inhabit the lake.
It was also known as the lake of a legendary monster called " Issy" purported to live in the lake. 
---
The unique Somen noodle nagashi in Tosenkyo ravine in Kaimon open throughout the year
serving cold Somen noodle that swim in the revolving container.
---
It is the Urashima Taro legendary shrine peninsula and this shrine is becoming popular as a power
spot of matchmaking and good fortune in love.
---
The cape is the southernmost point of Satsuma peninsula, where a white lighthouse stands. You
can enjoy the view of the magnificent Mount Kaimondake and rocks with the sea spray wearing
 them. The Cape is said to be the birthplace of the legend of Ryugu.
---
stay 
Ibusuki Onsen resort   Enjoy sand bath
It is best known for its steaming sand baths along the beach, where bathers in a yukata, or
Japanese bathrobe get buried in the sand up to their neck.  The sand heated by steam containing
marine minerals is scientifically proven to have therapeutic effects on neuralgia, rheumatism, back
pain and other ailments.
---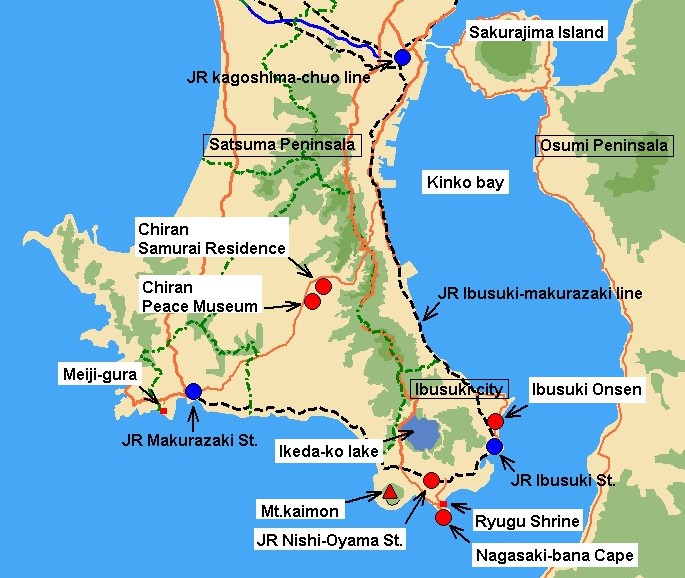 ---