Day 4 Kirishima & Nichinan & Miyazaki
Must visit place in Kirishima is Kirishima Shrine which is one of the most beautiful shrine
in Kyushu.
Nichinan and Miyazaki are facing the Pacific Ocean with a beautiful coastline contains placed
of natural beauty, like Aoshima and Toi-misaki Cape.
---
Itinerary
Leave Hotel in Kirishima Onsen Resort 
Visit Krishima jingu Shrine   
Transfer to Nichinan
Exploring Nichinan and Miyazakii : to be selected three places where you want to visit
  Nichinan Coast, Horikiri Pass 
Stay at Miyazaki, Western style Hotel, included breakfast
Dinner at Miyazaki-city, local speciality Cuisines
Option : the following sites can be arranged as option.
---
Where to explore
One of the most beautiful shrine in Kyushu, and is surrounded by forest. The Shrine buildings
are constructed in 1715 and designated as Important Cultural Property of Japan.
---
Wild horses are living here. Gentle hills extend, and you can observe wild horses, called
Misaki-uma, living and grazing there. It is said that the Misaki-uma are the descendants of
army horses left grazing and which became wild 300 years ago.
---
Beautiful and exciting Shine,  located the cave of the cliff side facing the Pacific Ocean.
In legend, a goddess of sea built a hut to give birth to a great god here.
Then it is said that Empress Suiko (554-628) built the shrine there.
---
Japan's own replica of Moai Statues.
Enjoy a breath taking panoramic view of the Pacific Ocean, the Sun Messe Nichinan has
replicas of the Moai statues from the Easter Island placed here and there in the area.
---
The suggested sightseeing spot in Nichinan.
The 60m altitude pass allows you to look down at a beautiful view of the Pacific Ocean.
The coastline here is lined with rocks that have been worn away by the waves splashing
against them, as well as beautiful phoenix palm trees.
---
Stay
Miyazaki
---
Option
The moss-covered stone walls, broad stone steps in front of the Ote-mon main gate, moat ruin,
and old samurai residences all bring back the past. The Matsuo-no-Maru residence and Ote-mon
have been reconstructed using the treasured Obi cedar wood.
---
Miyazaki Shrine is the oldest and the most important shrine in the city.
Dedicated to Emperor Jimmu, the mythical first emperor of Japan, it is said to have been
established over 2600 years ago.
---
Kirishima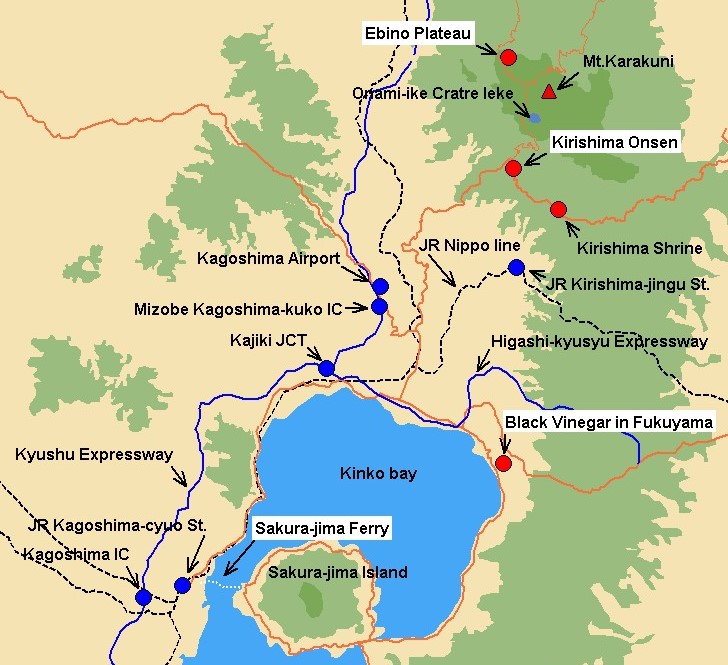 ---
Nichinan & Miyazaki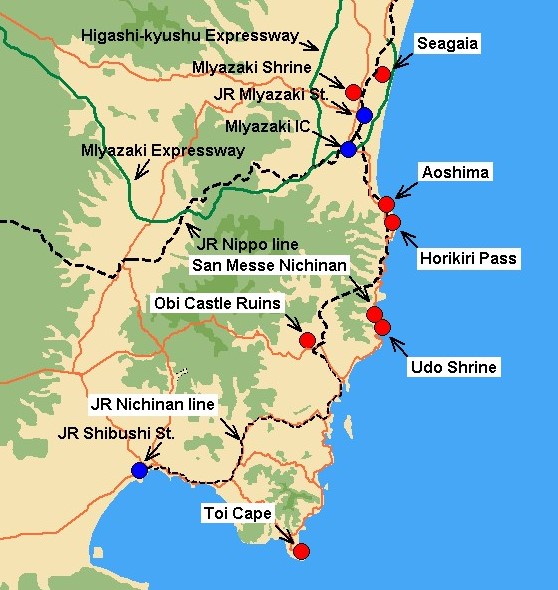 ---