Day 4 Yanagawa & Kitakyushu
Yanagawa is the estuary town facing the Ariake Sea; Canal boat cruise can be enjoyed while
experience the atmospheres of castle town. Surprisingly, 60km length canal in total was
constructed in the town of Yanagawa and the Yanagawa prospered as a castle town because
the canals were used for the moats, which was the protection of enemy during Edo period.
---
Dinner at Tanga Market  : the traditional local food stall 
---
Yanagawa Canal boat cruise is to board a small boat called the Donkobune and slowly 
go down the river skillfully maneuvered by a boatman with bamboo pole.
---
Listed on National Scenic Landmark, was built in 1697 as the villa of the Fourth Lord Tachibana
Akitora. At that time the region was called Hanabatake (Field of flower), so the villa was named
Ohana or Flower.
---
Lunch
Yanagawa is the birthplace of Steamed Eel that has more than 300 years history. There are many
restaurants which have their long history and each restaurants have been keeping the traditional
source and brand value.
---
Seafood of Ariake sea, local delicacies 
Yanagawa is facing to Ariake Sea where many fresh and unique fishes are caught. Japanese
cuisine using local delicacies is also recommended. 
---
Kitakyushu
Kitakyushu is the dynamic city where one million people are living and working, is creating the
beautiful Night view which you have never seen before. The night view from the mount Sarakura
is chosen the three major Night View in Japan. The area of Night view is the largest in the World ;
about 40km east to west and 10km south to north and also the number of lighting to create the
night view is the largest in the World. 
Ekikara sanjippo yokocho
The place is located on the ground floor of JR Kokura Station. There are 8 restaurants where
local cuisines can be enjoyed.
---
Tanga Yatai
At night time, food stalls called Yatai open in the square in front of Tanga Market.
Here you can try delicious oden (a stew made from various ingredients) and ramen.
---
Sushi restaurant
---
Yanagawa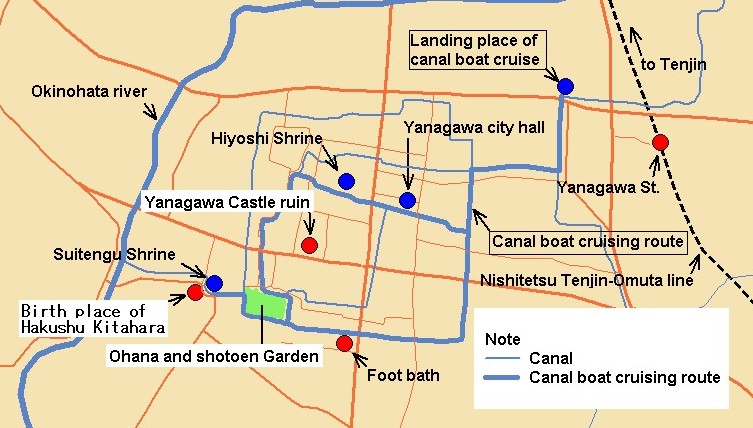 ---
Kitakyushu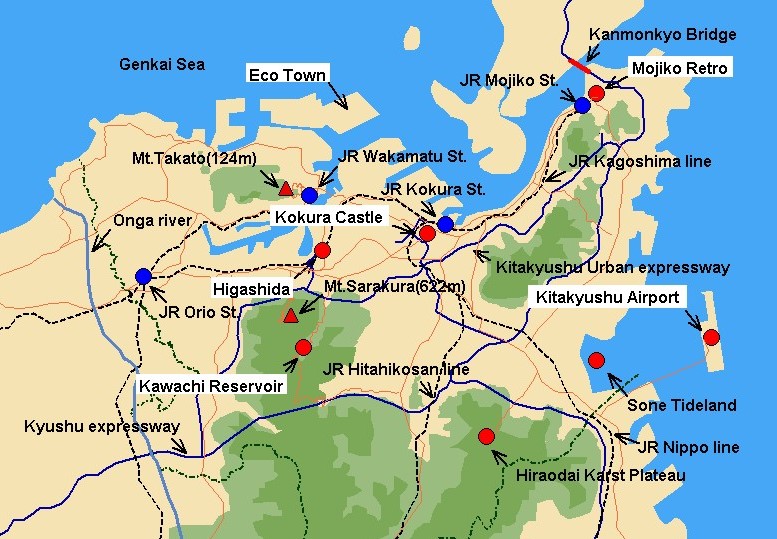 ---