Day 5 Hyuga
A bay city, facing the Hyuga nada Sea. The whole area along Hyuga Cape with its many
exposed rocks is designated as the Nippo-Kaigan Quasi-National Park.  Umagase at the
top of Hyuga Cape is a precipitous cliff of pillar-like rock, towering as high as 70m.
---
Itinerary
Leave Hotel in Miyazaki
Transfer to Hyuga
Exploring Hyuga Cape
Lunch at Hyuga : local cuisine in Miyazaki
Transfer to Takachiho
Stay in Takachiho, Japanese style Hotel, included dinner and breakfast
Japanese style kaiseki dinner included lacal spesiality cuisines
---
Where to explore
Your dream come true here. The Cruz Sea is an area of ocean that appears to have a cross
in it when viewed from an observatory. This cape is known as a ria coast; the "cross shape"
was created by the narrow terrain here being eroded by rivers, resulting in a cross-shaped
sea route.
---
Exciting scenery created by raging wave of Hyuga Sea. The coastline here is a ria coastline,
marked by intricate waterways sandwiched between cliffs. The cliffs here are 70m high and
the waves' splashing against them is an enchanting sight.
---
Let's meet the old days of Japan. The area in the city is designated a National Important
Preservation District for Groups of Historic buildings, and there remain much of the atmosphere.
---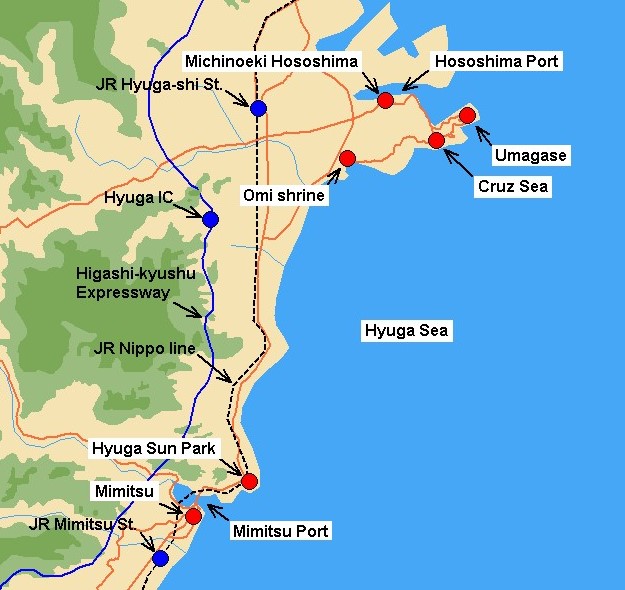 ---