Day 5 Kagoshima & Sakurajima Island
                                                                                    Self-guided 11 days Kyushu tour
Kagoshima is the southernmost prefecture in Kyushu which can see Sakura-jima which raises
the smoke across the Kagoshima Bay. Kagoshima prospered in the Edo period as a castle
town, and is a hometown of Takamori Saigo who contributed to the Meiji Restoration
Sakurajima has active volcano with three peaks, Kita-dake, Naka-dake and still active 
Minami-dake.
---
Check out Hotel in Ibusuki
Transfer to Kagoshima, from Ibusuki to Kagoshima-chuo station by JR Limited express train 
Chartered taxi is used from JR Kagoshima-chuo station for exploring
Kagoshima and Sakurajima Island
Exploring  Kagoshima
Transfer to Sakurajima Island by a Ferry
Exploring Sakurajima Island
Stay at Kagoshima-city Tenmonkan, Western style Hotel, included breakfast
Dinner at Kagoshima-city, local specialty cuisines 
---
Where to explore
Sengan-en is the most famous garden in Kagoshima-prefecture, made by Shimazu lord
in the 19th century at the beautiful bay side Kinko bay. The garden contains many historic 
artifact that tell of its long history.
---
Shoko Shuseikan Modern Industrial Complex   / UNESCO World Heritage
The museum of the Classics located here exhibits a various of objects related to the Shimazu
family and the Satsuma domain, introducing a Shimazu family tree chart and many other
belongings. The stone building which houses the collection has been designated on the
UNESCO World Heritage,  Sites of Japan's Meiji Industrial Revolution
---
Sakura-jima Ferry connects Kagoshima-city and Sakura-jima Island in 15 minutes and 
is operated for 24 hours.
---
An active volcano with three peaks, Kita-dake, Naka-dake and still active Minami-dake.
Formerly an island, it became connected with the Osumi Peninsula in 1914 when lava from its
summit closed the channel between the two.
---
Stay
Kagoshima, Tenmonkan
Tenmonkan is the main shopping district where the Tenmonkan arcade abounds with shoppers
at all sorts of restaurants, some of which specialize in Kagoshima cuisine, as well as cafes and
boutiques.
---
Kagoshima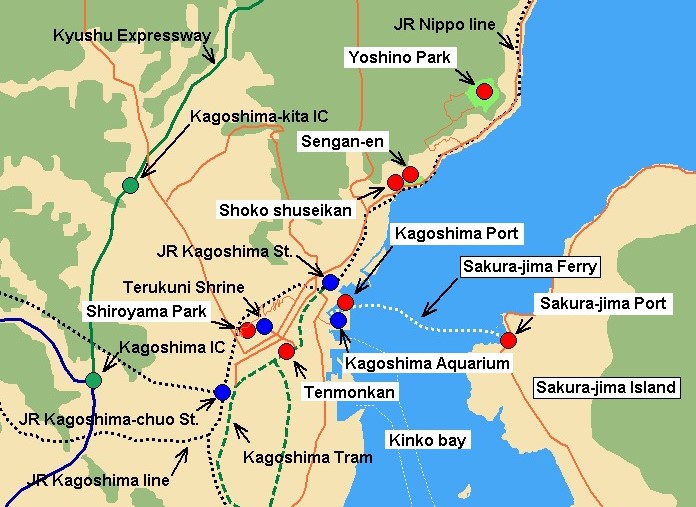 ---
Sakura-jima Island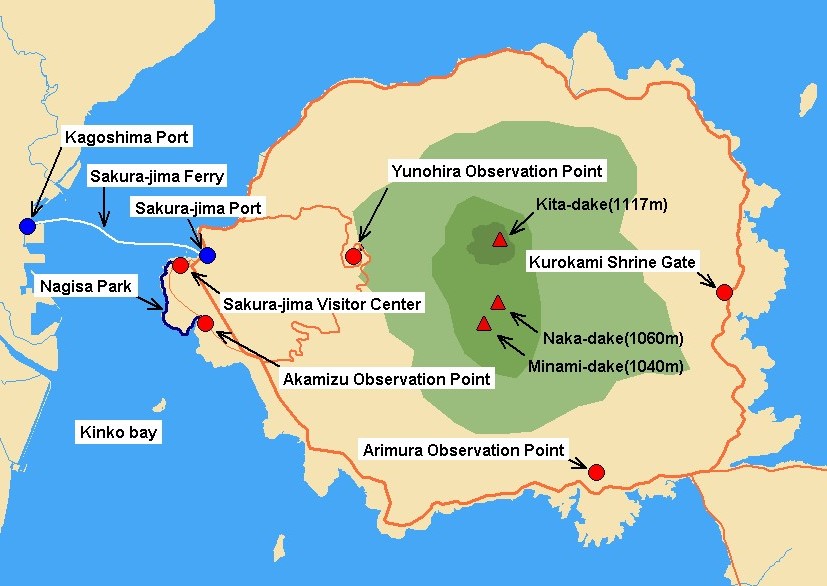 ---