Day 5 Kitakyushu-city
Kitakyushu is the Industrial Innovation city with many different fascinating feature. Kitakyushu
offers amazing possibilities for tourism and travel with a combination of spectacular scenery,
rich cultural experiences as well as learning possibilities through Study tours based on the 
environmental and industrial themes.
---
---
Option
Hiraodai Karst Plateau & Caves 
---
Fukuoka–prefecture only in Japan is selected by CNN Travel as one of the top 19 places
to visit in 2019.  And the Photo of Kokura Castle is used for introducing Fukuoka-prefecture.
The Castle located within a walking distance of JR Kokura Station.
---
Lunch, local cuisines at Kokura
---
Dr. Albert Einstein awarded Nobel Prize in Physic visited Moji in 1922, and he acclaimed that
everything could see were Arts. The exotic district of Mojiko Retro is visited by more than 2 
million tourists a year. Moji-ko Port flourished following its 889 designation as a Special National
Port for exporting coal and other products. 
It was built by the Mitsui Co., Ltd in 1921 as a reception centre and to provide accommodation for
VIP's.   Albert Einstein (1879-1955), one of the world's most famous theoretical physicists, stayed
here during his visit to Japan with his wife in 1922.
---
The shopping area in the Mojiko Retro district located by the sea. "Full of a romance market which
stir up forgetting contentment" is the direct translation of the concept Kaikyo Plaza is based on. 
The area has a very romantic ambience and evokes feeling of nostalgia and contentment that will 
never be forgotten. 
---
It is the only Station building that is designated as an Important National Cultural Property 
together with Tokyo Station. Mojiko Station is a beautiful station built in the Renaissance 
style and modeled on the Termini Station in Italy. 
---
Situated on the 31st floor of the high-rise apartment building "Retro Hi-Mart".  The 103 metre-high
observatory offers magnificent views of the Mojiko Retro district, the Kanmon-kyo Bridge over the 
Kanmon Strait, as well as the Shimonoseki area.
| | | |
| --- | --- | --- |
| | | |
---
Japan's modern steel industry was started as Yawata steel Works at Higashida district in 1901. 
Since then, the Works greatly contributed to Japan's industrial modernization until rapid  post war
economic growth. The three sites in Higashida have been registered on UNESCO World Heritage  
as Sites of Japan's Meiji Industrial Revolution.
Only the Blast  Furnace in the world which preserved as it was. The birth place where Japan's
steel industry began in 1901. It contributed greatly to the development of the Japanese steel 
industry and was used until 1972, and has been preserved just as it was.
---
First Head Office of the Steel Works  / UNESCO World Heritage
Built in 1899, ahead of production facilities. It is an architectural fusion of Japanese and
European design, a two story red brick building with bilateral symmetry and a central dome
set in a Japanese tile roof.
---
Option
Kawachi Wisteria Garden is a private garden at the Mountain foot of Sarakura and famous for its
spectacularly presented, large numbers of wisteria flowers. The garden is opened to the public
seasonally during the wisteria season which usually peaks around late April to middle of May.
---
Kokua Castle Garden made at the former site of lord's guest house, located next to Kokura Castle.
This garden consists of a Japanese garden and a lord's house, a building of the style of Japanese
domestic architecture. In this garden, not only can you see Japanese traditional architecture,
but also enjoy the Tea Ceremony at the Experience Zone.
---
Only the place in the world !   You can cross the strait on foot.  The Kanmon Strait, separating
Honshu and Kyushu, is a very beautiful and busy waterway with as many as 700 small and 
large ships a day passing through it. the Kanmon Pedestrian Tunnel, which enables people to 
cross on foot.
---
Manga Museum is located next to JR Kokura station. The museum is located on the 6th floor
of Aru Aru City, a multi-floored shopping mall devoted to products and services for anime, manga,
idol culture, and cosplay fans, a kind of Harajuku in miniature.
---
Hiraodai Karst Plateau & Caves 
One of the three largest karst plateau in Japan. It is located in southe-astern part of Kitakyushu-city. 
At altitudes between 400 and 600 meters above sea level and stretching 6 km from north to south
and 2 km from east to west.  
---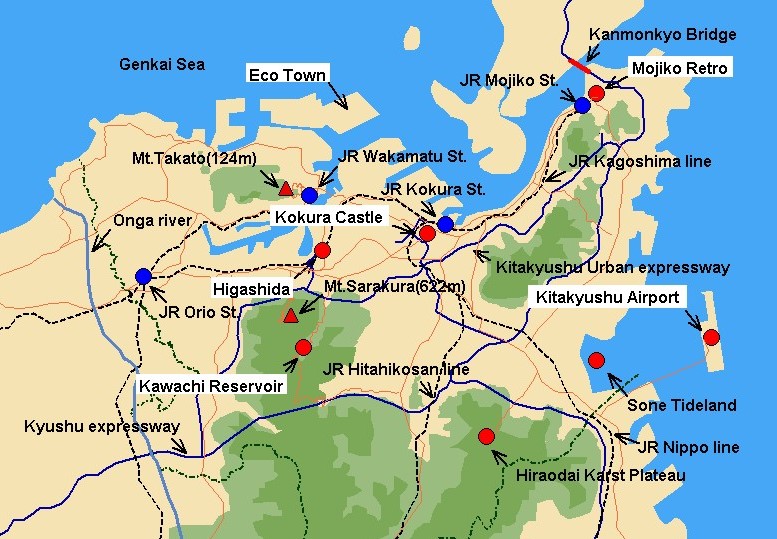 ---