Day 6 Takachiho
                                                                                     Self-guided 11 days Kyushu tour
Located in the center of the Kyushu mountain area where about 40km away from Aso and is steeped
in Japanese mythology. It is the supposed site of legend where Amaterasu, the Shrine Sun Goddess,
disturbed by her brother's cruel pranks, hid herself in a cave, prompting the other gods and goddesses
to try and lure her out.
Check out Hotel in Kagoshima
Transfer to Kumamoto by JR Shinkansen from Kagoshima-chuo to Kumamoto station
Transfer and exploring Takachio by the use of a Chartered taxi
Lunch at Takachiho, Somen nagashi
Transfer to Aso and stay Aso
---
Where to explore
Lunch
Somen nagashi
Somen is a kind of noodle which is made by wheat and is usually eaten by dipping style. Somen
nagashi is the way of eating Somen with waterslide traditionally made by bamboo like as video
below. Nagashi means flowing.
---
The narrow chasm cut through the rock by the Gokase River. The nearly sheer cliffs lining the gorge
are made of slow forming volcanic basalt columns which resemble the scales of a dragon where the
stone twisted and flowed as it formed.
---
The most recommended activity at Takachiho Gorge is riding the river that flows down the base
of the gorge on a rental boat. The spot you can see waterfalls and the columnar shaped valley
together is rare in the world. Please enjoy this amazing view from the boat.
---
Japanese indigenous religion, Shinto born here. There is a story of Shinto origin in the Cave
behind of Amano Iwato Shrine, and Amano Yasugawara. About ten kilometers outside of central Takachiho, Amano Iwato Shrine was built near the Cave where is place of the Shinto origin story.
---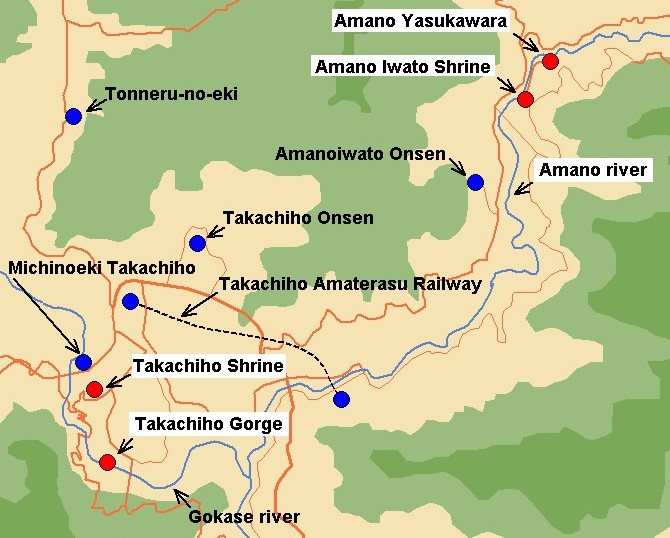 ---