Day 6 Takachiho
Takachiho offers dynamic and powerful Takachiho Gorge and birthplace of Shinto which is
Japanese indigenouse religion. It is the supposed site of legend where Amaterasu, the Shrine
Sun Goddess, disturbed by her brother's cruel pranks, hid herself in a cave, prompting the 
other gods and goddesses to try and lure her out.
---
Itinerary
Leave Hotel in Takachiho
Exploring Takachiho
Lunch at Takachiho : local cuisine in Takachiho
Transfer to Aso
Stay at Aso, Japanese style Hotel,  included dinner and breakfast
Dinner at Hotel : Japanese style kaiseki dinner included local speciality cuisines
Option : the following site can be arranged as an option.
---
Where to explore
The narrow chasm cut through the rock by the Gokase River. The nearly sheer cliffs lining 
a dragon where the stone twisted and flowed as it formed.
---
The most recommended activity at Takachiho Gorge is riding the river that flows down the
base of the gorge on a rental boat. The spot you can see waterfalls and the columnar shaped
valley together is rare in the world. Please enjoy this amazing view from the boat.
---
 located just west of the town center, is nestled in a grove of tall cedars. During the day
the shrine's nondescript, unpainted buildings blend in naturally with the surrounding trees.
The light that filters through, brings with it an air of calm, peaceful reverence.
---
Japanese indigenous religion, Shinto born here.
There is a story of Shinto origin in the Cave behind of Amano Iwato Shrine, and Amano
Yasugawara. About ten kilometers outside of central Takachiho, Amano Iwato Shrine
was built near the Cave where is place of the Shinto origin story.
---
Lunch
Somen nagashi
Somen is a kind of noodle which is made by wheat and is usually eaten by dipping style.
Somen nagashi is the way of eating Somen with waterslide traditionally made by bamboo
like as video below. Nagashi means flowing.
---
Option
Gokase Winery is located near Takachiho, in the beautiful plateau at an altitude of 600m.
All the wines are being made from locally grown grapes. There is the tasting corner, you can
enjoy sample wines. Winery also can be visited.
---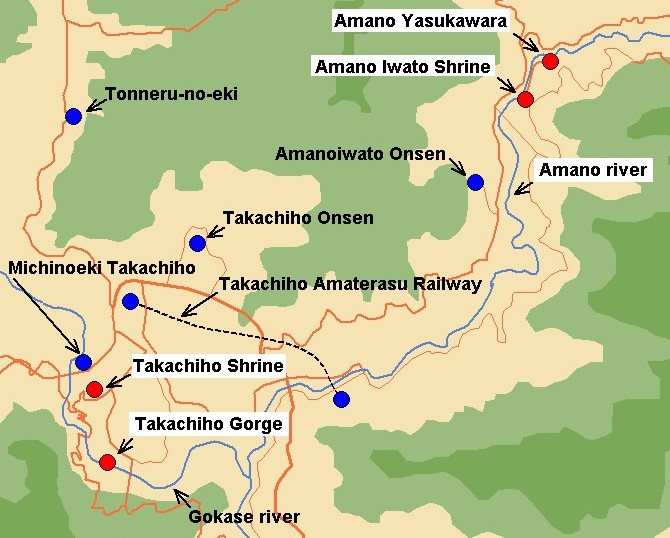 ---