Day 8 Chikugo region
                                                                                    Self-guided 11 days Kyushu tour
The Kyuhsu's largest Chikugo River which flows from Mount Aso through the Chikugo
region 
to Ariake Sea. The Kyushu's largest Chikugo plain spreading in the Chikugo River
basin, 
where people live from ancient time and the various cultures have been created.
There are a lot of features here such as rural land scape, 

fruit fields

, ancient ruins,
---
Check out Hotel in Kurokawa Onsen
Exploring Chikigo region by the use of Chartered taxi
 Lunch at the featured restaurant Shirakabe
Stay at Harazuru Onsen
  Japanese style Hotel, including dinner and breakfast
---
Breath taking scenery harmonizes with the Shrine. Ukiha Inari Shrine, located at foot of Mino
mountain range, 130 m height from sea level. The 90 vermilion coloured Torii Gates stand on
the 300 steps stairs is introduced you from bottom area to the Shrine main building.
---
Time-honored scenery, back to 100 years ago. Located in Yoshii-machi, Shirakabe, literary
meaning is white wall. The avenue of houses with white wall were constructed about 100
years ago.  About 250 houses in the area has been designated as National important traditional
buildings preservation district.
---
Lunch 
Shirakabe, authentic Japanese local restaurant
The chef who makes that cuisines also has experienced the imperial family's cook.
The building is designated by Government as Traditional building at the Conservation district
in Ukiha-city. Japanese cuisines using best local ingredients that vary by season can be
enjoyed.
---
Akizuki is a former Castle town located in northern part of Asakura. You can enjoy the
harmony of countryside landscape and former castle town scenery that makes the
atmosphere like a time of 400 years ago.
---
A tranquil Onsen Resortnear Fukuoka-city and is located on the banks of Chikugo River. 
The quality hot spring is weakly alkaline and sulfur is mixed and has the effect of dropping
old horn and creating beautiful skin.
---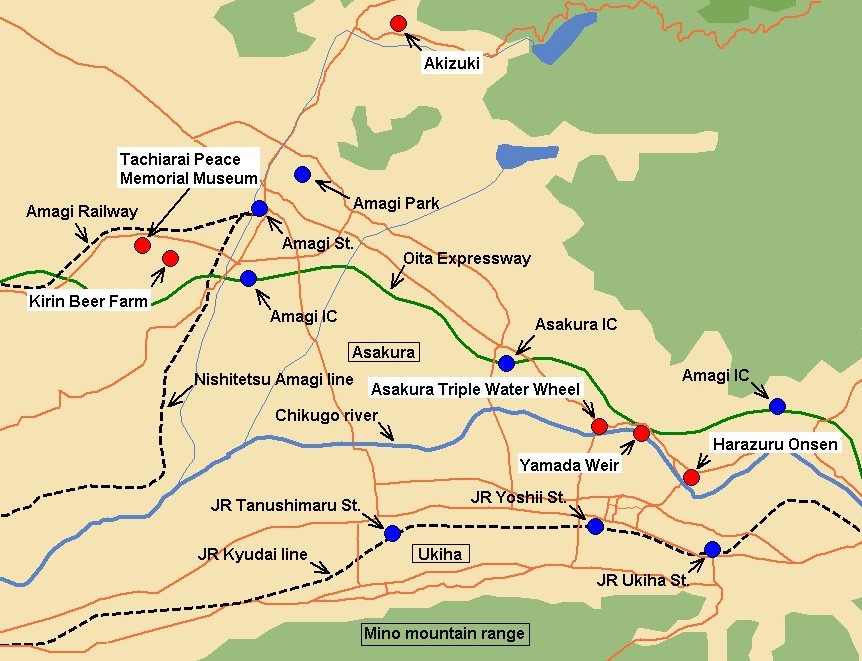 ---