Day 9 Yanagawa
                                                                                    Self-guided 11 days Kyushu tour
A beautiful canal town Yanagawa, Canal boat cruise can be enjoyed while experience the
atmospheres of Japanese castle town and rural Japanese  life style. The estuary town facing
the Ariake Sea through the Chikugo River and Yabe River. People started to live here since
ancient times and the agriculture and fishery have been engaged in by making Horiwari literary
means the artificial canal.
Check out Hotel in Harazuru Onsen
Transfer to Kurume by JR Chikugo-yoshii to Kurume station by a local train, 40 minutes
Transfer to Nishitetsu Kurume station from JR Kurume station by a local bus, 10 minutes
Transfer to Yanagawa by Shishitetsu train from Nishitesu Kurume to Nishitesu Yanagawa
Walk to Canal boat cruise landing place, 10 miutes
Canal boat cruise, 60 minutes
lunch at Yanagawa  Eel (unagi) cuisine
Exploring Yanagawa included Ohana Shotoen Garden
Transfer to Kurume by Nishitetsu train from Yanagawa 
Transfer to Kitakyushu by a Shinkansen from Kurume to Kokura
stay Kitakyushu
---
Where to explore
Yanagawa Canal boat cruise is to board a small boat called the Donkobune and slowly 
go down the river skillfully maneuvered by a boatman with bamboo pole. A 30minutes
cruise starting Okinohata and go around Ohana & Shotoen Garden is most recommended.
---
Lunch 
Yanagawa is the birthplace of Steamed Eel that has more than 300 years history. There are many
restaurants which have their long history and each restaurants have been keeping the traditional
source and brand value.
---
Listed on National Scenic Landmark, was built in 1697 as the villa of the Fourth Lord Tachibana
Akitora. At that time the region was called Hanabatake (Field of flower), so the villa was named
Ohana or Flower.
---
stay
The Industrial Innovation city with many different fascinating feature. Kitakyushu offers amazing
possibilities for tourism and travel with a combination of spectacular scenery, rich cultural 
experiences as well as learning possibilities through Study tours based on the environmental 
and industrial themes.
---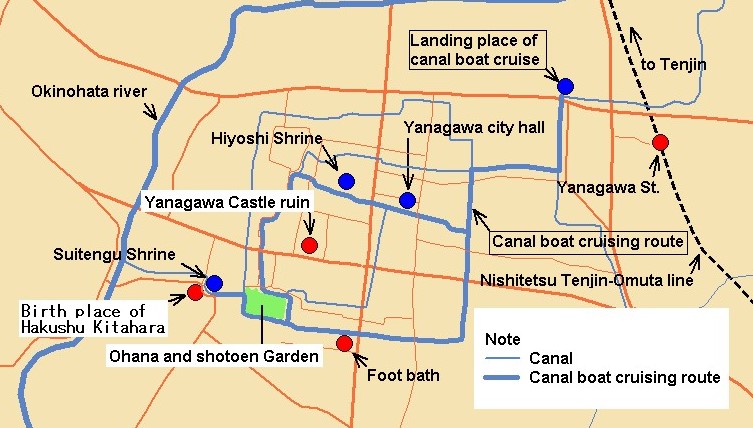 ---