Day 9 Yufuin & Beppu
Yufuin is graceful Onsen Resort located in the Yufu basin surrounded by Mount Yufu and
Tsurumi One of the most popular among ladies and International tourist visits to here are
increasing. 
Beppu is the popular hot spring town nestle at the foot of volcanos, Mt. Yufu and Mt. Tsurumi.
Boasting more than 2,800 hot spring sources and flowing rate of nearly 137,000 kiloliters 
per day.
---
Itinerary
Leave Hotel in Kurokawa Onsen or Aso
Transfer to Yufuin
Exploring Yufuin
  Yunotsubo Avenue  → Yufuin Floral Village → Kinrinko lake
Lunch at Yufuin
Transfer to Beppu
Exploring Beppu
Option
Jigoku Mushi kobo
---
Where to explore
Main street in Yufuin located at the foot of mount Yufu. The avenue is started near JR Yufuin
Station and connected to Kinrinko lake. Through Yunotsubo Avenue, it takes about 30 minutes
on foot from JR Yufuin Station to Kinrinko lake. There are 70 shops, gift shop, galleries, curiosity
item shops as well as cafes.
---
Floral Village is the amusement facility that recreated the street of the Cotswolds region in
England, which was also used as the location for Harry Potter. Cute owls welcome you in
OWL's FORESR. You can enjoy strolling, gourmet and shopping with beautiful flowers in
the Village, and there is Alice in Wonderland shop here.
---
One of landmark in Yufuin. Hot water gushes from the bottom of the lake, and hot steam rises from
its surface on a cold day.  The lake is located at the end of the town's main walking route, about a
kilometer and a half from JR Yufuin station.
---
Lunch at Yufuin
Yufumabushi
Yufumabushi is a local cuisine which serves really nice BUNGO Beef. But surprisingly, the way
they serve beef is not BBQ or SUKIYAKI style that are seen in most cases, but "Yufumabushi "
style which we rarely see for beef dish.
Local gourmet restaurants
There are many kind of restaurants and cafes around Kinrinko lake and at the Yunotsubo Avenue,
---
Hell (Jigoku Meguri ) tour that is a collection of hot spring where the water bubbles forth from 
underground, often with unusual result.  Seven of the hells are located in the Kannawa district
where over 4 km northwest of Beppu station, and two in the more remote Shibaseki district
.    
Sea Hell, it resemble of sea, this 200 metre deep, cobalt blue pond of boiling water emerge
1200 years ago after a volcano explosion.
---
Have you tried Foot bath before?  Foot bath is called Ashiyu in Japanese and is a public bath in
which people can bath their feet. Ashiyu in Beppu set up at Kannawa Onsen near the Hell tour spot.
---
Option
Soaring 1375 metres into the sky, Mount Tsurumi is a breath taking mountain overlooking Beppu
that offers some decent hiking, rare flora and outstanding vistas. Visitors can take a ropeway 800
metres up and revel in being surrounded by acres of rolling greenery. You can see as far as the
Kuju Mountains, a famous mountain range that runs between Oita and Kumamoto-prefectures.
---
Jigoku Mushi kobo
Jigoku Mushi, literally "hell-steaming" is a unique cooking method found in Beppu. The ingredients
such as vegetables, seafood and meals are cooked using the steam from natural hot spring.
You can operate the steam cookers all by yourself and you can cook whatever you want.
---
The most popular pubulic bath in Beppu.
You can enjoy various type of Onsen including the sand bath.
---
Stay
Yufuin or Beppu
The best Onsen life to suit your requirement can be chosen from the various options.
Where to stay : Yufuin Onsen, Sujiyu Onsen, Beppu eight Onsen including Kannawa.
Japanese style room or Western style room can be chosen and the local cuisines
including Bungo beef can be enjoyed at dinner.
---
Enjoy local specialty cuisines in Oita-prefecture
Bungo Beef, Seki  Aji & Seki Saba, mackerels, Oita fugu, blowfish
---
Yufuin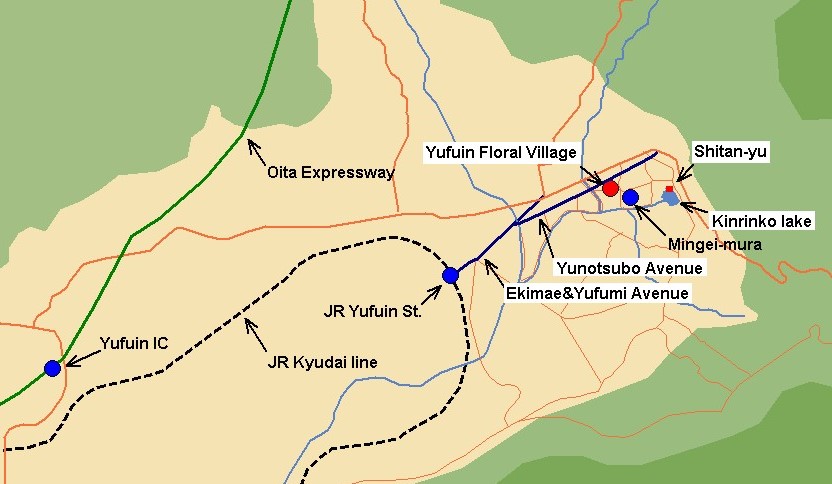 ---
Beppu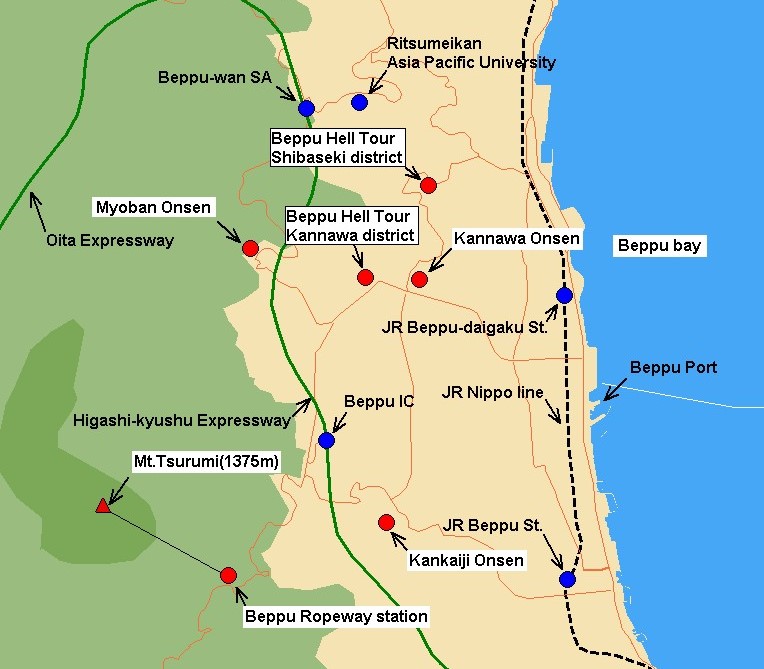 ---