Exploring Fukuoka
The Heart of Kyushu and the energetic city bustling as the center of Kyushu's politics, economy,
culture, fashion as well as tourism. Fukuoka-city has many kind of fascinating tourist attractions
and abundant tourism materials which are different from the other destinations in Kyushu. For
this tour, we take you to historical places and local traditional areas for introducing the real Japan. 
---
Map of Fukuoka-city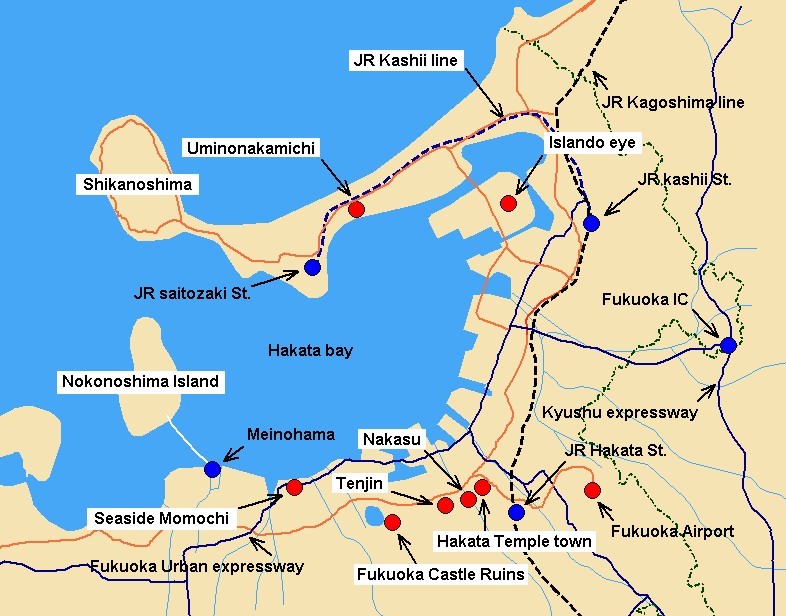 ---
Itinerary  
9:00 Depart the designated place in Fukuoka-city
Lunch :Ramen stadium or Local restaurants
16:00 Arrive the Hotel in Fukuoka-city
---
Where to explore
The most exciting summer festival in Kyushu, Hakata Gion Yamagasa is held in the shrine
in July. The tall Kazari Yamakasa, a luxuriously decorated float, is always displayed which 
was constructed without using even a single nail.
---
It is a folk museum depicts the life and culture of Hakata Fukuoka. Exhibition hall, many faces 
and facets of the Hakata way of life can be found, Machiya hall, is a superb example of
traditional architecture and has been moved here and restored to provide a glimpse into the past.
---
The Temple was founded in 806 by Kobo-daishi Kukai and it is the oldest temple of the Shingon
sect in Japan that  Kobo-daishi set up. The Fukuoka Daibutsu called Great Buddha of Fukuoka
completed in 1993 stands 10.8 meters tall and is the largest seated wooden image of Buddha
in Japan.
---
Japanese traditional Shopping Street where you can find a lot of Cool Japan. The entrance of the
shopping street is located next to Kushida Shrine. Approximately 130 shops built in the 400 metre
arcade. There are also souvenir shops including Hakata dolls, shops collected Hakata Gion 
Yamakasa goods. ​Enjoy lunch, Hakata Ramen at the birth place of Nagahama Ramen.
---
Lunch
Ramen Stadium
Ramen Stadium isn't really a stadium as the name suggests, but a food court on the fifth floor
of Canal City Cinema Building. It carries not one, but eight famous ramen stalls that serves
different ramen styles from across Japan. Ramen Stadium has eight ramen stalls with ramen
from Hakata, Kurume, and as far as Tokyo, Kyoto, and Sapporo.
| | | |
| --- | --- | --- |
| | | |
Local restaurants
There are many restaurants for lunch and dinner where you can enjoy authentic Japanese cuisines
and local specialties.
---
Seaside Momochi
Seaside Momochi is the water-front resort area, only a 15 minute drive from Tenjin in the
centre of Fukuoka-city.  The park is surrounded by Fukuoka Tower and high rise 
contemporary buildings, all of which help make a modern urban landscape. 
One of the must visit spots is the 234 metre high Fukuoka Tower. It  is the
highest coastal
tower in Japan and is covered with 8000 two way mirrors.

The observation room located at
a height of 123m offers a breath taking and spectacular 360 degree panoramic view of 
---
The complex facility for the wedding hall, shops and restaurants and is located in Seaside
Momochi Park.
---
Fukuoka castle, was built in 1601.  Part of stone wall and canal, and the Tamon tower are
still left intact as they were back then. There is also a nice view of the city from the former
main Parts of the castle's former moats were used to construct nearby Ohori-koen Park.
---